Govt spaces offered on rent to corporate hospitals for setting up Covid units
Several healthcare centres show interest in requisitioning such facilities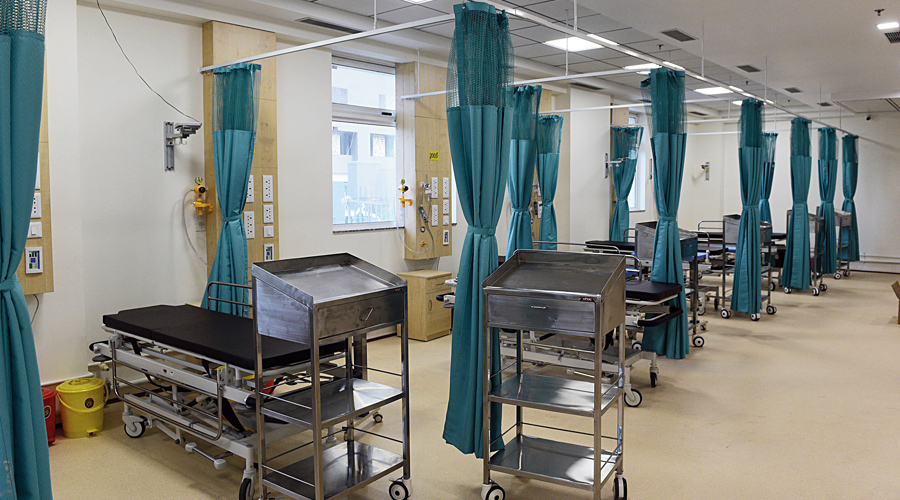 The Covid unit set up in the new building of AMRI Hospital, Mukundapur.
Picture by Pradip Sanyal
---
Calcutta
|
Published 23.04.21, 02:59 AM
|
---
The state government on Thursday offered it's facilities like stadiums, auditoriums and conference halls to big private hospitals to set up extended treatment units and satellite facilities for Covid patients.
"We are offering government spaces against rent to corporate hospitals who have a minimum 250 beds, for setting up treatment facilities and satellite centres for Covid. These spaces would be available for rent for three months which can be extended upto one year," a senior state government official said on Thursday. 
He said several hospitals had shown interest in requisitioning such facilities.
The official said although private and government hospitals are increasing beds but unlike last year, this time Covid is spreading much faster affecting more people. So, there is a need to have as many facilities as possible to accommodate patients.
"The facilities will be given out on nominal rents. The facilities should be in proximity to the hospitals," said the official.
Some of the hospitals said they are interested in setting up treatment units at such government facilities. Medica Superspeciality Hospital wants to take the Kishore Bharati Stadium in Santoshpur on rent.
"We want to set up a 200-bed unit for treating mild to moderate Covid patients. The unit will have oxygen support," said Alok Roy, chairman of Medica.
Hospitals across Calcutta have started creating more Covid beds by opening new wings taking over entire floor in a building where earlier only non-Covid patients were treated.
AMRI Hospital, Mukun-dapur is opening its new twin buildings for Covid treatment. The construction was complete last year but the hospital was waiting for the clinical establishment licence for the buildings which it received on Wednesday evening, said officials.
"We will start with 30 Covid beds, including 10 in the critical care unit from Friday and eventually there will be 110 beds," said an AMRI official.
RN Tagore International Institute of Cardiac Sciences took over an intensive care unit in its non-Covid building to set up 50 critical care beds for Covid patients.
"Last year we didn't have to set up Covid beds in this building which has non-Covid wards. But with the increasing number of cases we decided to create more facilities," said R. Venkatesh, regional director, east of Narayana Health of which RN Tagore hospital is a flagship unit. 
He said one of the five elevators has been cordoned off and dedicated for the Covid ward on the second floor. The hospital now has 161 Covid beds. 
Peerless Hospital now has 63 beds and will start vacating non-Covid patients from other wards from next week.
"These patients are recovering and are set to be released. Once these are vacated, we'll add more beds," said Sudipta Mitra, chief executive of Peerless Hospital. The hospital has requested the West Bengal Clinical Establishment Regulatory Commission to help get clearance from the Calcutta Municipal Corporation for extension of wards which would help them have more beds.
The government hospital too are increasing beds. All medical colleges in the state must have at least 100 beds each reserved for Covid patients, the state health department has decided. 
As per an order issued by the state health department on Thursday, 944 beds will be added in hospitals in Calcutta immediately, while 5,673 beds will be added in 49 hospitals across the state.
Thursday's order mentioned that RG Kar Medical College and Hospital will add 150 beds, with 50 of them being high-dependency unit (HDU) beds. Four hundred Covid beds will be added in Sambhu Nath Pandit Hospital, 20 of which will be critical care unit (CCU) beds and 25 would be HDU beds.
The government would also set up general Covid beds at JB Roy State Ayurvedic Medical College and Hospital, Calcutta Homeopathic Medical College, DN De Homeopathic Medical College and Mahesh Bhattacharya Homoeopathic Medical College.