Durga Puja: How immersion fared at Hooghly ghats in Kolkata
This year, around 2,500 sets were immersed on the first two days of immersion — Monday and Tuesday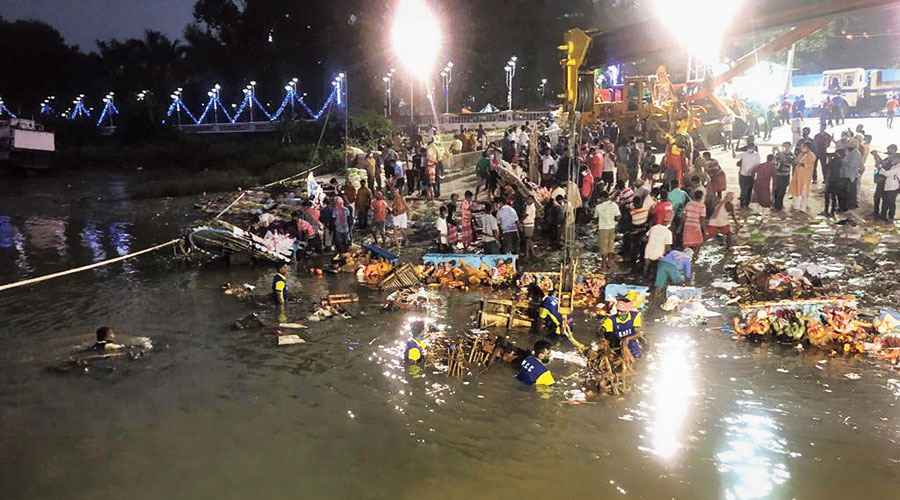 Idol immersion in the Hoogly during low tide on Monday.
Jayanta Basu
---
Calcutta
|
Published 29.10.20, 01:57 AM
|
---
Around 3,500 sets of idols — more than 12,000 in total — are immersed at Hooghly ghats in the city. This year, around 2,500 sets were immersed on the first two days of immersion — Monday and Tuesday. Here's what Metro saw across 16 ghats in Calcutta on the two days
Low-tide woes
The tide was out for most of Monday and Tuesday evening, when a large number of idols were immersed. During low tide, the water recedes from the banks, leaving a wide patch of mudflat that makes it difficult for labourers to immerse idols in water.
"During ebb tide, idols usually take a long time to immerse. So, the diffusing toxic colour and chemicals get mixed with water in larger concentrations and settle in the riverbed. They can affect the flora and fauna," said Arunabha Majumdar, a water pollution expert and former head of the environment sanitation department at the All India Institute of Hygiene and Public Health.
Majumdar pointed out that though the overall load of immersion pollution did not vary with tide, immersion during high tide was more environment-friendly because the high volume of water would dilute the concentration of the pollutants and lessened the impact.
"On both days, I found the structures (of idols) got embedded in the mudflats during low tide. It was proving difficult to extricate the structures and the delay was increasing the river pollution," said environment activist Subhas Datta.
Majumdar and Datta both suggested that the immersions be scheduled in a way that they coincided with high tide.
Idol accessories
While removing flowers from idols before immersion has more or less become a norm over the years, the accessories, especially cheap metal ornaments, are a major cause of pollution, too, said state pollution control board officials.
According to the National Mission of Clean Ganga, a central government agency, all accessories should be removed from an idol before it is immersed. "Removing the jewellery is difficult because of public sentiments," said a Calcutta Municipal Corporation official.
"We found in our 2016 study that the level of toxic heavy metals like lead, a component of paints, in the river water increases nearly four times, from 0.49mg per litre to 1.85mg, during immersion," said Krishnajyoti Goswami, a professor of biochemistry who published the findings in the Indian Journal of Applied Research.
Lopsided logistics
CMC sources said around 12,000 idols were immersed at 16 ghats. More than 80 per cent of them were immersed at the Baje Kadamtala, Gwalior and Nimtala ghats.
"The Baje Kadamtala and Nimtala ghats have good infrastructure, including cranes (used to lift the bamboo structures of idols after immersion). But the facilities are poor at the Gwalior ghat, where the maximum number of idols are immersed," a civic official said.