Dhaka flight back with 6-day-week schedule
Several other airlines, including Biman Bangladesh and SpiceJet, have applied for slots to operate flights between Calcutta and the Bangladesh capital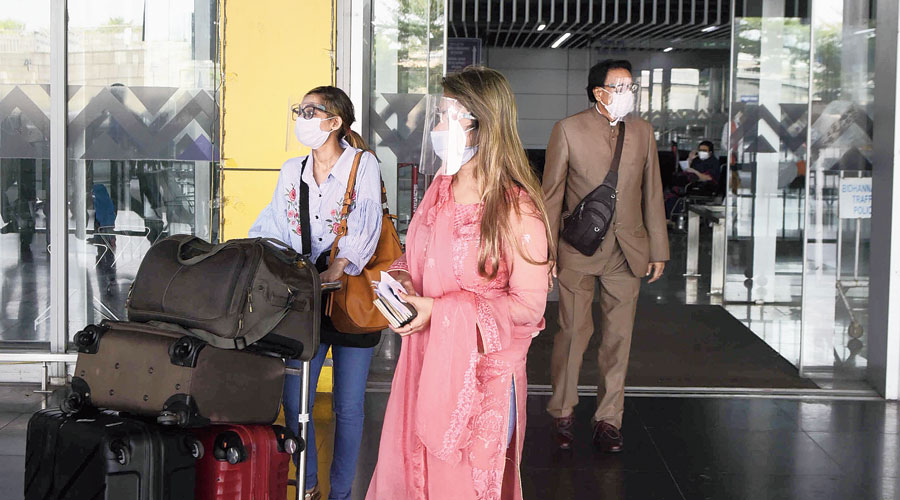 Fliers from Dhaka leave the airport on Wednesday afternoon.
Sanat Kr Sinha
---
Dum Dum
|
Published 29.10.20, 01:50 AM
|
---
Flights between Calcutta and Bangladesh resumed on Wednesday morning.
A US-Bangla Airlines flight from Dhaka landed at the Calcutta airport with 37 passengers around 10.15am and flew back to Dhaka with 30 passengers, airport officials said.
US-Bangla will operate flights between Calcutta and Dhaka six days a week, the officials said.
Several other airlines, including Biman Bangladesh and SpiceJet, have applied for slots to operate flights between Calcutta and Dhaka, they said.
Commercial flights from India to Dhaka had been stalled, like flights to all other international destinations, because of the Covid-19 pandemic. Only a few evacuation flights had operated some months ago.
Flights on the Calcutta-Dhaka route are now operating as part of an air bubble transport arrangement, which was established between India and Bangladesh on October 28 and will be in force till January 31 or till the resumption of regular international flights.
An air bubble is an arrangement between two countries to operate commercial passenger flights as regular services have been stalled because of the pandemic. For 32-year-old Ruby Khan, the air bubble gave her a chance to go back to her husband and son.
Khan had come to India to visit her husband's relatives in Ghatal, West Midnapore, and got stuck following the imposition of the lockdown on March 25.
"There were no trains and I could not go back. Flights had stopped, too. I will be seeing my five-year-old son after so many months," Khan said.
Wednesday's flight proved to be "extremely helpful" for 65-year-old Jharna Roy Choudhury, who has been diagnosed with cancer. She arrived in the city with husband Nilratan Dasgupta for treatment.
"Ever since doctors in Dhaka diagnosed her with cancer, we wanted to bring her to Calcutta for treatment. But we could not because flights were all suspended. The resumption of flights has been a boon for us," said Dasgupta, who is from Chittagong.
Hundreds of patients from Bangladesh visit Calcutta for treatment. A few patients have been coming by road with medical visas.
Sajjad Iqbal, a passenger on the US-Bangla flight, has come to the city for treatment of gastro-intestinal problems.
"We faced a lot of problems because of suspension of flights," Iqbal said.
Metro has published reports highlighting the problems faced by small and medium-scale hotels, eateries and foreign exchange stores in the absence of tourists from Bangladesh.
Airline operators said that now that flights have resumed, more patients from Bangladesh would come to Calcutta.