Cyclone threatens to derail girl's lone march through college
College student loses home, hope and books to Amphan; dream of becoming graduate shattered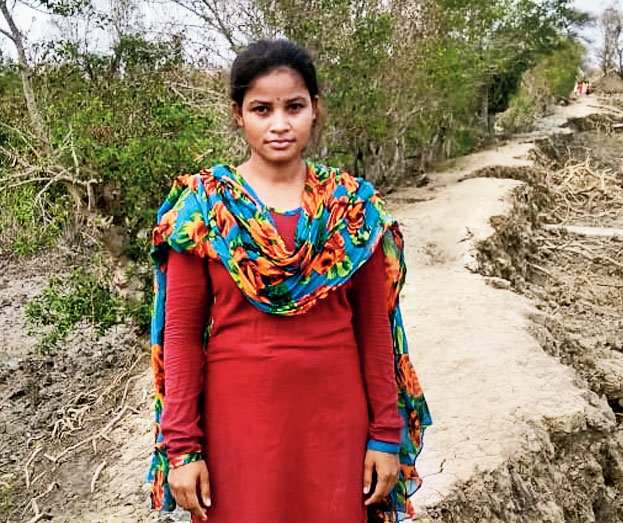 Rozina Molla
Telegraph picture
---
Calcutta
|
Published 26.05.20, 09:31 PM
|
---
She is the only girl from the village of Ghorkhali, along the banks of the Matla river near Canning in South 24-Parganas, who has not dropped out and managed to continue her studies till college.
Rozina Molla, 20, who is to write Calcutta University's BA Part III exams, and younger brother Imran, also a college student, had tried their best to protect their books, class notes and all other belongings while Cyclone Amphan was flattening large swathes of south Bengal.
But as the intensity of the cyclone increased, they lost all hope and were forced to run away to a nearby school that had been turned into a storm shelter, leaving behind all their belongings.
When they returned home after two days, everything had been swept away. The asbestos roof of their one-room house was blown off and the siblings are somehow managing to stay there by placing a plastic sheet over the house.
Rozina said she used to fund her studies by doing zari work that would fetch him Rs 100 to Rs 200 a week.
She would travel one-and-a-half-hours each way to college — Bankim Sardar College, near Canning — and back home daily.
The siblings had lost their father two years back. He died of heart attack when he was just 45. Their mother has not been keeping well, so they sent her to a relative's house nearby, which is of concrete and hence more stable than theirs.
"We have hardly seen good days... even when my father was alive. But we were a happy family. My father would always encourage us to study. After his death, my brother and I were about to drop out. But we did not. We worked hard so we could continue with our studies. But now, our books, class notes, exercise books, everything has been taken away by the storm," Rozina told Metro over the phone from her village.
"I had always cherished the dream to become a graduate. That dream has been shattered."
Ghorkhali has a population of around 2,500 and most of the residents are poor farmers and zari workers. A large number of girls and boys drop out before reaching Class X.
She is worried because Calcutta University has recently announced that the BA, BSc, BCom Part III and the BCom final semester exams would be held a month after the colleges and the university reopens.
The colleges are slated to reopen after June 10.
Tilak Chatterjee, the principal of Bankim Sardar College, said nearly 400 of his students were from Canning, Gosaba, Basanti and Jharkhali, in the Sunderbans. Almost all are facing the same uncertainty as Rozina because of the devastation wreaked by Amphan. "We are trying to provide books and notes to as many students as possible," said Chatterjee.
Teachers of the college are in touch with Rozina to offer her as much help as possible.
Prasenjit Samanta, one of the teachers of the college, said there was an inclination among people to stay back at their homes during a calamity till the last moment because they don't want to part with the small house — that's all they have.
"Some students could have saved their books if they had shifted to safer places before the cyclone struck," he said.