Dangling cable snip begins at last in parts of Calcutta
Civic officials, however, could not say if the CMC would undertake a similar drive across the city in the coming days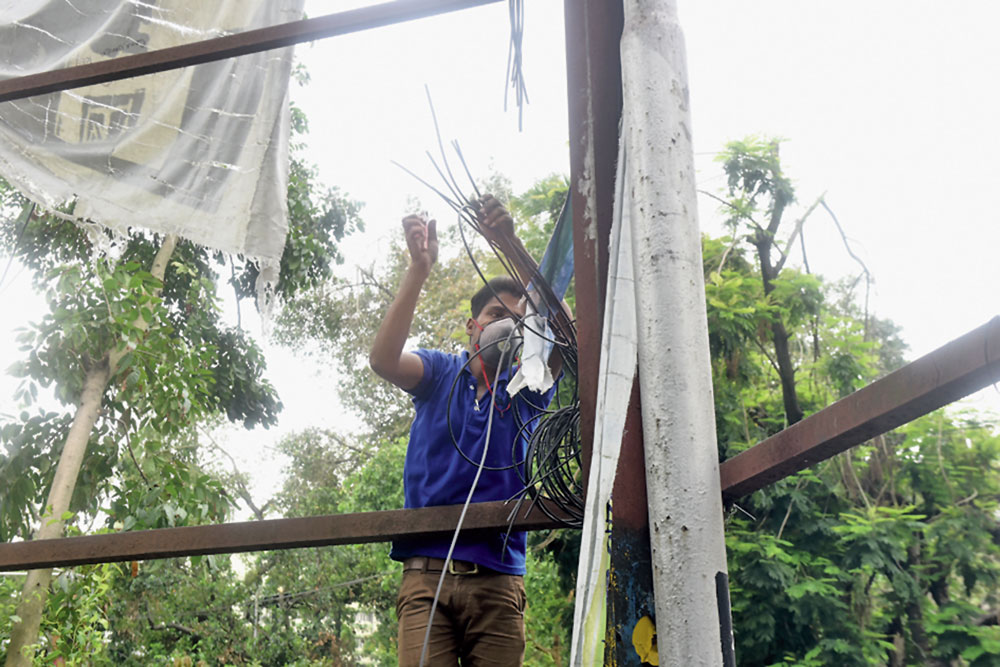 ---
|
Calcutta
|
Published 13.06.20, 09:34 PM
---
The Calcutta Municipal Corporation on Saturday snipped television and Internet cables in some places that were, at times, a risk to pedestrians and two-wheeler riders.
Civic officials, however, could not say if the CMC would undertake a similar drive across the city in the coming days.
Low-hanging cables along Rashbehari Avenue, Lansdowne Road, Gariahat Road South, Alipore Road, Belvedere Road, Baker Road and in the Hastings area were snipped on Saturday.
The action came after Firhad Hakim, the chairperson of the CMC's board of administrators, met multi-system operators (MSOs) twice in the aftermath of Cyclone Amphan in the past two weeks, a civic engineer said.
Earlier this month, MSOs had removed some defunct cables from along Harish Mukherjee Road and in Alipore after a meeting with Hakim.
Many Calcuttans asked if such action in select pockets for a few days would eliminate the risk posed to pedestrians and vehicles or do away with the cluttered look.
Metro has highlighted several times the risk posed by the innumerable cables tied around electric or lamp posts.
Thousands of lamp posts and electric posts were uprooted in the cyclone and in the process several thousand metres of various cables came dangerously close to the ground.
A resident of Garia, who rides a two-wheeler to his office in Esplanade, said such cables could get entangled with the wheels and result in an accident.
In January 2018, a teenager riding a motorbike without a helmet died of head injuries when his two-wheeler got entangled in a heap of cables on the Park Circus bridge.
Boby Banerjee, a resident of Garia, said electric and lamp posts in her neighbourhood acted as a junction for scores of cables. Whenever there is a storm, bundles of cable fall on the road and lie scattered, Banerjee said. "I have been hearing for the past three years that defunct cables would be removed. Does it take so much time to remove them?"
In a meeting with MSOs on Friday, CMC officials asked them to pass cables through PVC pipes (8inch diameter) on a stretch in Alipore, a CMC official said.
Earlier, there was a plan to have conduits under Harish Mukherjee Road and in a part of Alipore. "Underground conduits are costly… we are now focusing on PVC pipes because of budget constraints. The pipes will be tied to railings on footpaths," the CMC official said.
"If there are 50 TV and Internet cables along a road, we have found only 15 to be active," the official said. "The biggest problem is that service providers do not remove damaged cables when they install fresh ones."
The civic body has held several meetings with MSOs and cable operators in the past year, asking them to remove defunct cables.