Hooghly waters leap to 5ft
Across parts of Jagannath ghat, Armenian, Prinsep and Babughat water columns rose with gusts of wind and broke with deafening noise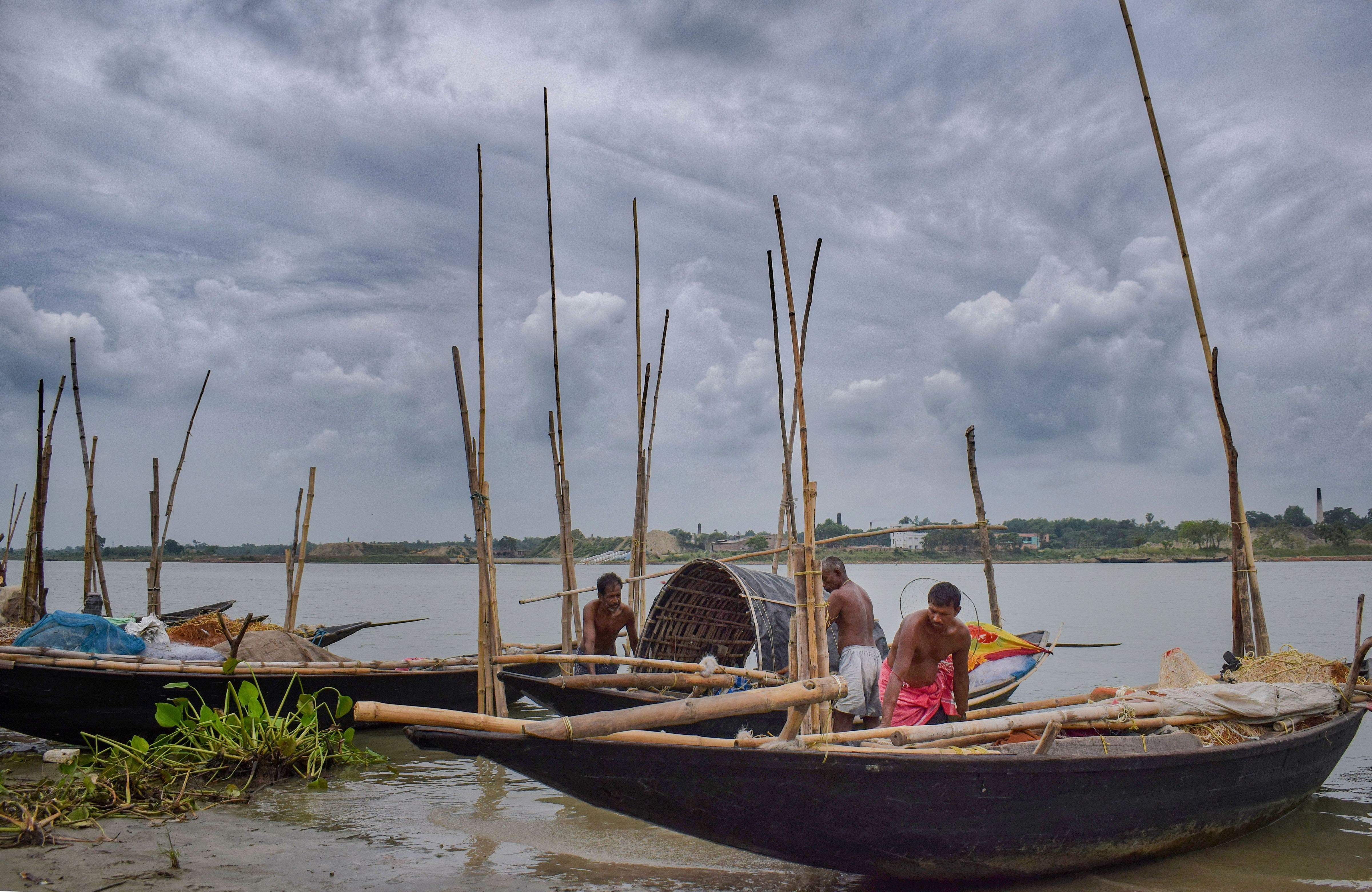 Fishermen anchor their boats along the banks of river Hooghly, ahead of the landfall of Cyclone Amphan, at Santipur, Nadia, Tuesday.
(PTI)
---
Calcutta
|
Published 21.05.20, 01:15 AM
|
---
Columns of water several feet high lashed across the ghats of Calcutta as if the river had turned into a sea as Amphan made its way inland.
Across parts of Jagannath ghat, Armenian, Prinsep and Babughat water columns rose with gusts of wind and broke with deafening noise.
River veterans like port personnel and the boatmen said the columns of water were as high as "five feet sometimes". They said they had not seen "waves like this in the river in many years".
Vessels anchored at Calcutta and Haldia dock kept swaying but Calcutta Port Trust officials said their tethers held firm.
"The turbulence in the water kept rising as the wind picked speed," said a CPT official. "It was a sight."
High mast cranes continued to sway even after they were firmly secured. At the emergency control rooms at Sagar and Haldia officers remained glued to the monitors while sending out warnings at regular intervals.
Along the banks of Hooghly, police officers kept making rounds since morning requesting visitors to different ghats to stay away.
"By afternoon, all the ghats were empty. As evening set in we could only see the water lashing on the steps of the ghats," said an officer of North Port Police Station.
The river traffic police had kept speed boats ready to move in if there was any call for help. There weren't any. Officers admitted it would have been nearly impossible to navigate the water.
"During high tides, the water level would rise by a maximum of two to two and a half feet," one officer said. "It was not even high tide in the evening and water levels rose by nearly five feet."