Covid takes heavy toll but still they dared to dream
At the 25th edition of The Telegraph school awards, poignant moments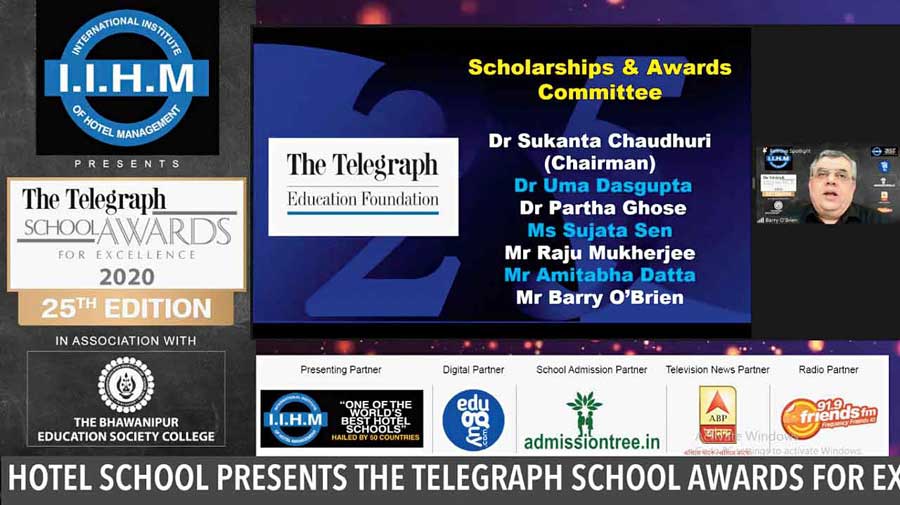 ---
Calcutta
|
Published 13.12.20, 02:15 AM
|
---
The pandemic took away their fathers, pushing their families into deeper poverty. But it could not take away their dreams.
Class VI student Kajal Das, daughter of a vegetable vendor who passed away a couple of months ago, continues to spend a long time every day, rain or shine, running on a patch of land in her Behala neighbourhood. She wants to realise her ambition of becoming an athlete.
Debanjan Sarkar, a roadside hawker's son who lost his father to Covid days before the NEET, and was himself afflicted with the coronavirus, still cracked the all-India exam. Both of them were awarded scholarships on Saturday at the IIHM presents The Telegraph School Awards for Excellence 2020, 25th Edition, in association with The Bhawanipur Education Society College.
After Kajal's father died, the last rites had to be deferred because she needed to go to her school, Paschim Barisha Kamala Vidyamandir, to collect the rice and vegetables being disbursed to students in lieu of the midday meal during the pandemic.
What Kajal calls home is a roof of plastic sheets and a tattered tin shed, supported by bamboo poles, at a slum in Sakherbazar. The house lacks a toilet, and electricity is a distant dream.
Till the pandemic killed her father, Kajal used to accompany him to a nearby market to sell vegetables.
But already a flame had been lit in January when she took part as a sprinter in an inter-district school competition and clocked impressive timings. The dream of becoming a professional 
athlete was born, and it drives her on amid the gloom around. On Saturday, Kajal was awarded the Admissiontree Scholarship.
"She knows she has to fight in order not to sink into the darkness of society. We salute her fighting spirit," said Barry O'Brien, a key initiator of the Awards Ceremony, who anchored the event for the 25th consecutive time.
Debanjan's father too was his family's sole breadwinner, earning about Rs 4,000 a month till the pandemic robbed him of even that meagre income.
Then, in the run-up to the all-India medical entrance exam, Covid-19 struck another blow, infecting both father and son and killing the father.
Debanjan, a resident of Ashoknagar in North 24-Parganas who studied at the Asokenagar Boys' Secondary School, had never let poverty hold him back, scoring 97 per cent in the Madhyamik and 96 per cent in his higher secondary exams. But he had never faced odds like this before.
"I had to clear the test. I had to become a doctor because it was my father's dream," Debanjan, who won the Mayukh Mitter Memorial Scholarship on Saturday, told The Telegraph.
Debanjan is now a first-year MBBS student at Calcutta Medical College.
If individuals like Kajal and Debanjan refused to be cowed down by the pandemic, institutions too rose to the challenge.
After the outbreak, the Adamas World School offered a part of its Barasat campus to the state government's Covid-19 effort.
The Nilgunj Road campus was transformed into a quarantine centre for 900 people between April 3 and mid-July, also housing several physicians and trained nurses.
The campus catered to the needs of North 24-Parganas. "We all need to help the government by providing either finance or infrastructure. We are all ready to face the situation together," Samit Ray, the chancellor of Adamas University, had said.
He had also contributed Rs 10 lakh to a Covid relief fund.
Calcutta Rescue, an NGO that works with slum children, distributed 50 smartphones in 10 slums. Around 300 children are using the phones by rotation to attend online classes. The NGO has provided the children with Wi-Fi connections and is helping them with digital learning.
Both Calcutta Rescue and the Adamas World School received special certificates for handling the pandemic under the Caring Minds Award for a "School That Cares".
The Lakshmipat Singhania Academy, Alipore, was joint winner of The Telegraph Education Foundation Award for Excellence in Extra Curricular Activities. The school had contributed Rs 870,000, collected from the management, staff and parents, to the state relief fund in support of those affected by Covid-19.