Test order to all private hospitals of Calcutta
Set up more isolation wards and laboratories, Bengal government tells private heal hubs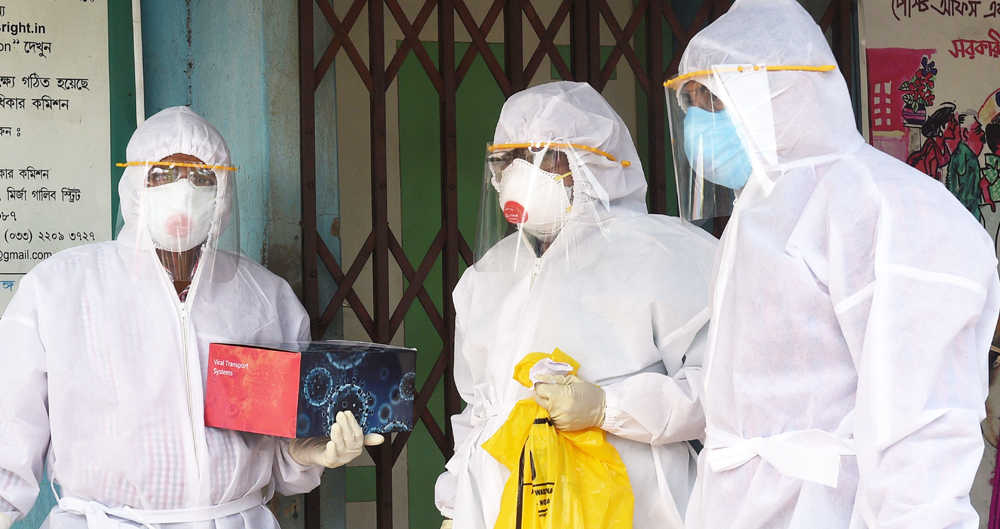 Medics wait on roadside to collect swab samples for Covid-19 test, during the ongoing nationwide Covid-19 lockdown, in Calcutta
PTI
---
Calcutta
|
Published 08.05.20, 12:19 AM
|
---
All private hospitals in Calcutta will have to set up coronavirus testing laboratories and increase the number of isolation beds, the state government told the healthcare units at a meeting in Swasthya Bhavan on Thursday.

The hospitals have been issued the twin directives because of a sudden surge in the number of people with Covid-19 symptoms turning up for treatment and asymptomatic patients admitted for other diseases testing positive for coronavirus infection, health department officials said.
"Start tests in all hospitals with RT PCR technology. Ensure all dialysis patients are tested before undertaking dialysis procedures," mentioned the minutes of the meeting, which was attended by representatives of 16 private hospitals in Calcutta.
RT PCR, or reverse transcription polymerase chain reaction, is a technique used to test swab samples.
At the meeting, the hospitals were asked to increase the number of isolation beds for Covid-19 patients and not to refuse any patient. They have been told to resume normal operations, including outpatient consultations and surgery.
Health department officials said the demand for Covid-19 tests had suddenly increased as most private hospitals in Calcutta were performing the coronavirus test on patients being admitted for other ailments.
"The demand for tests will go up further as more patients get admitted in the coming days," said an official.
Along with asymptomatic patients, the number of people being admitted with Covid-19 symptoms such as severe acute respiratory infection is also increasing, said private hospitals.
About a week back, a hospital with around 300 beds was sending less than 10 samples for Covid-19 tests every day.
"Now, we are sending 20 samples every day on an average as patients with other ailments or in need of surgeries are being admitted," said an official of a private hospital.
A large number of doctors, nurses and other health workers, too, are being tested.
Peerless Hospital, which had to stop admissions and OPD consultations after 70 doctors and nurses had to be quarantined, is sending 20 samples for tests daily. "We cannot send more samples at a time because of shortage of facilities," said an official.
In Bengal, 2,570 samples were tested on Wednesday. Health officials said more than 30,000 samples had been tested so far. The state has 16 Covid-19 testing centres, 12 of which are in Calcutta. Among them are several private facilities.
"More are needed," said a health department official.
Some hospitals have installed the machines for the test.
"We have installed all equipment and are waiting for the approval," said Alok Roy, the chairman of Medica Superspecialty Hospital.
"We will apply for NABL (National Accreditation Board for Testing and Calibration Laboratories) inspection this week. Our technicians have been trained," said R. Venkatesh, regional director, east, Narayana Health, which runs RN Tagore International Institute of Cardiac Sciences.
Sources said an investment of Rs 40 lakh to Rs 50 lakh was needed to set up a testing facility.
Additional reporting by Subhajoy Roy