Mask-less face police van ride in Calcutta
30 picked up at Central Avenue and fined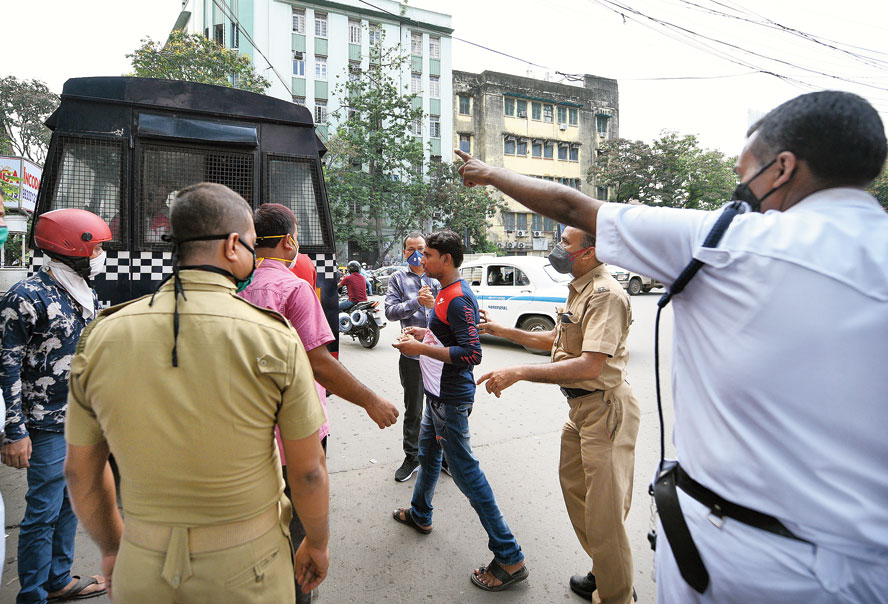 Cops ask a man not wearing a mask to board a police van in Chandni Chowk on Tuesday evening.
Picture by Gautam Bose
---
Calcutta
|
Published 24.06.20, 02:40 AM
|
---
A middle-aged man stepping out of an insurance office and a motorcyclist with a person on the pillion were among those police prosecuted on CR Avenue on Tuesday for having their faces uncovered.

In the afternoon, a team of cops — some in plain clothes — near E Mall stopped anyone who had not covered their faces, the police said.
The offenders were asked to board a police van. The van left for Bowbazar police station the moment it was full. "They were allowed to go after a warning and a fine," an officer said.
The drill was repeated once while The Telegraph was there.
Cops conducted similar drives at multiple places in the city, an officer in Lalbazar said.
Several motorists have been prosecuted in the past few days for not wearing masks, a traffic police officer said.
"As most establishments have opened, we are not prosecuting motorists for being out on the roads any more. But the drive against people stepping out of homes without masks is on," the officer in Lalbazar said.
On Tuesday, cops stopped the middle-aged man when he stepped out of an office of the Life Insurance Corporation of India. He was lost for words when cops sought an explanation for the absence of mask. "I came out for two minutes. I will go back again," he mumbled before being led into the van.
Another man, when stopped, pulled a mask out of his pocket. "I came to the Chandni market to repair my phone. I always carry a mask," he tried to explain. "The mask is for covering your face, not to be kept in your pocket," a policeman told him sternly before pushing him into the van.
"We have picked up at least 30 men in the past hour," a policeman told The Telegraph around 4.10pm.
At one point, there were three people waiting on the footpath as the van had gone to the police station.
One of the cops at Chandni Chowk was heard telling a colleague: "We should have pushed more people into the van."
The colleague did not seem impressed. "To increase their and our chances of getting infected… is that what you want," he asked.