Home survey runs into cloak of fear
Many people hiding their influenza-like symptoms and refusing to undergo the rapid antigen test when CMC officials visit their residences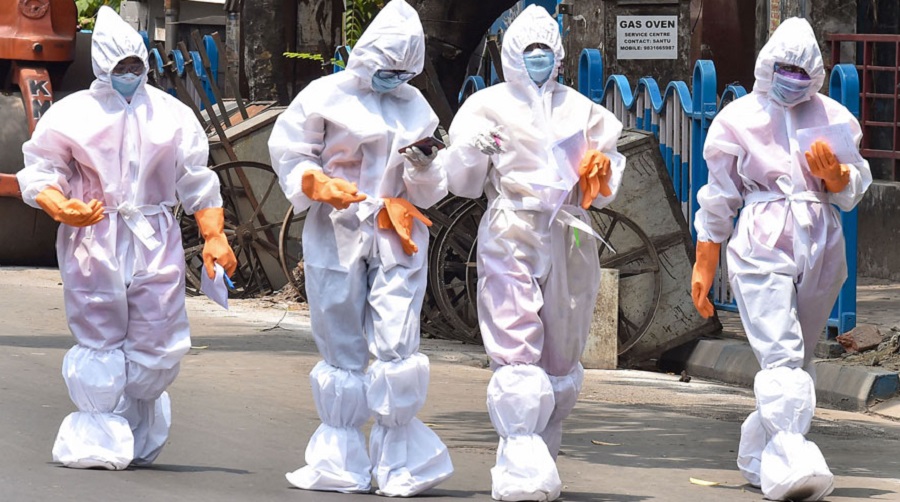 ---
|
Calcutta
|
Published 01.08.20, 02:13 AM
---
Many people suffering from influenza-like illnesses, signs of Covid-19, are hiding their symptoms when Calcutta Municipal Corporation personnel are visiting their homes, officials of the civic body and the state government said on Friday.
Many of them are later developing severe acute respiratory infection and testing positive for Covid-19, officials said. "Quite a few refused to undergo the rapid antigen test for Covid-19 on Friday," an official said.
Those conducting the survey said these people were hiding their symptoms and refusing to be tested out of fear.
"They are scared that if they test positive, they and their families will have to stay quarantined for at least 14 days and depend on others for their daily needs. They want to avoid that," an official said.
Officials recounted their experience in one ward in south Calcutta, where they visited houses in neighbourhoods that have seen multiple Covid-19 cases.
"About three per cent of the people whom we asked whether they have fever or other symptoms of Covid-19 said they did not have any. Later, those people are having acute respiratory distress and getting admitted to hospital and testing positive," said a CMC official.
"Later, when we asked them or their family members why they concealed their symptoms, they said they didn't want to be isolated from society."
Another CMC official said many residents of another pocket in south Calcutta, who are in quarantine because they came in close contact with Covid-19 patients, refused to undergo the rapid antigen test for the disease. These people did not have symptoms.
"They told us they didn't want to be tested because if the report was positive, they and their families would be quarantined. Their major concerns are staying confined at home for 14 days and depending on caregivers for all supplies. They don't want to depend on others," he said.
Public health experts said the fear factor was at its peak now. "If we can't allay the fear, then more and more people will conceal their symptoms and become critical. The only way to prevent this is counselling," said public health expert Abhijit Chowdhury.
Covid Care Network, an organisation comprising doctors, government officials and people who have recovered from Covid, will start visiting neighbourhoods in Calcutta to identify people with comorbidities.
"We are planning to approach local clubs to locate such people. They will then be registered with the network. We can counsel them to ensure they report any illness," said Chowdhury, a mentor of the network.