Antibody tests soon in Bengal
The rapid tests are likely to begin in the city on Monday or Tuesday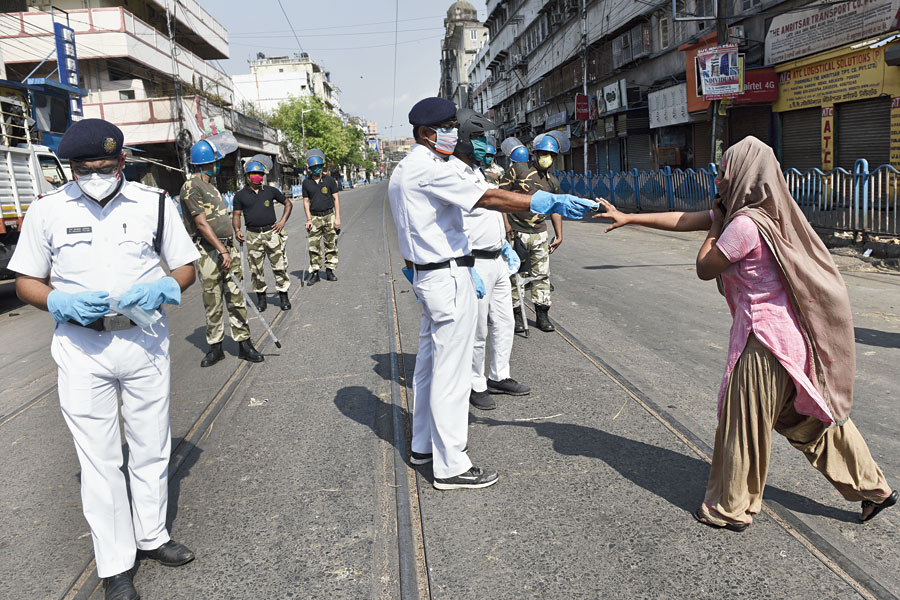 TAKE CARE: A combat force jawan of the city police hands over a mask to a woman who was using her dupatta to cover her face while walking down MG Road in the Mechhua Bazar area on Sunday.
Picture by Sanat Kumar Sinha
---
Calcutta
|
Published 19.04.20, 08:42 PM
|
---
Rapid antibody blood tests for Covid-19 will soon be introduced in Bengal as a "surveillance tool", the health department said on Sunday.
The rapid tests are likely to begin in the city on Monday or Tuesday, an official of the Calcutta Municipal Corporation (CMC) said. Blood samples would be collected instead of throat and nasal swab as is the practice in the existing tests for the coronavirus.
Public health professionals warned that rapid tests are not confirmatory, but would help gauge how many in the community have been infected with the novel coronavirus.
Rapid tests are done to identify if an antibody has developed in a person as a response mechanism against the novel coronavirus, public health experts said. The antibody would develop only when the person has been infected by SARS-CoV-2 and a positive result would thus confirm that s/he has been infected.
Rapid tests would be conducted only in red zones, where containment measures have been adopted, the health department has said.
The Telegraph spoke to experts to find out what are rapid tests and what purpose they serve.
Who will do the tests?
The Institute of Post Graduate Medical Education and Research (SSKM Hospital) would conduct the rapid tests in Calcutta, Howrah, Hooghly and South 24-Parganas.
The CMC would help conduct the tests in the city. It will pass on information about people with coronavirus-like symptoms collected from its door-to-door surveillance drive.
"Medical personnel from SSKM would collect blood samples," a CMC official said.
The rapid test kits
They are like strips on which the blood sample is dropped. The colour of the strip changes to indicate if the person has tested positive. The advantage is the results come within 30 minutes unlike the swab tests that take two days, said Shahid Jameel, a public health expert.
Is the test confirmatory?
"If someone tests negative, it doesn't necessarily mean the person is not infected," said Jameel, the CEO of the Welcome Trust-DBT India Alliance. "A person with the virus would manifest the antibody only from the seventh day after being infected."
Why rapid tests?
The test can be done at the doorstep. "It would have been best if we could do swab tests for community screening as well, but there is a shortage if kits for swab tests across the world. So even if India has money, it cannot buy the kits," said the professional.