Students find parents too caught up with phones
Device use a serious concern; parents need to lead by example, says psychiatrist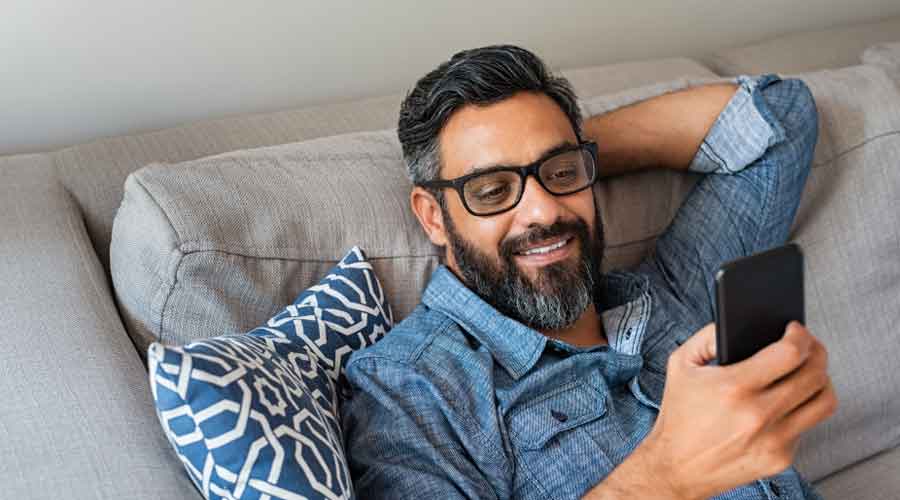 Parents should know how to give children time when they are ask for it instead of fiddling with their phones or watching TV, the head of a school said
Shutterstock
---
Calcutta
|
Published 11.08.20, 03:30 AM
|
---
Teenagers value family time but often find parents preoccupied with their devices and not trusting them to do something productive on the Net, a group of students have said.
Students of various schools attended a workshop for parents on positive parenting — organised by a city school which wanted parents to understand what their children want from them and where they maybe going wrong — on Saturday.
Parents should know how to give children time when they are ask for it instead of fiddling with their phones or watching TV, the head of a school said.
The gadget can be a "distraction" for an adolescent or a teenager as well as for adults who, too, fail to use it "responsibly" many times, a teacher said.
Julien Day School, Ganganagar, organised the workshop on positive parenting for parents of students of Classes IX to XII. Students of various schools voiced their thoughts during the workshop and parents heard them out.
"The session was organised to let children tell their parents directly what they want from them. Often, parents do not do a lot of things intentionally but it creates pressure on children even without parents realising," Bobby Baxter, principal of Julien Day School, Ganganagar, said.
"Children need to spend time on the phone or the Internet… to talk to their friends and they don't need parents to breathe down their neck always," he said.
A teenager said they valued the time they could spend with their families but parents were busy browsing the Net or on social media.
"Whenever teenagers are on the computer or phone it does not mean that we are aimlessly browsing… on many occasions we do productive work. Parents need to trust their children," Sreejib Pal, a Class XI student of Julien Day, said. "Online classes are tiring and we need breaks where we can refresh ourselves."
Often parents ignore signals because they are too preoccupied with their devices, according to teachers. "At times parents have to be sensitive to pick up the signals… when the child needs a break from studies, when they need to sit and watch TV or a film together and it is not necessarily passive viewing," Amita Prasad, director of Indus Valley World School, said.
"Children can understand when parents are hard at work and when they are not. Adults should have a sense of responsibility and not be slaves to gadgets always but know when they have to keep it away. They need to behave more maturely with gadgets and not behave as teenagers," Prasad said.
The pandemic has forced children to be inside homes for months and the feeling of not being heard can be very dominant in the absence of school and friends, according to psychiatrists.
"Children are used to their voices being heard by their peers and teachers. On many occasions teachers listen to children more than parents… since that school space is obliterated they need to be heard by their parents," psychiatrist Jai Ranjan Ram said.
"The use of a phone is a serious concern and instead of blaming children always for overuse, parents need to lead by example so that their instructions do not seem hollow."
"When the lockdown began parents did not know how they would spend so much time with their children because their day was structured in a certain way… whether it was spending time with their devices or at work," Reeta Chatterjee, administrator at Apeejay Schools, said.
"If a teenager is on the phone it can separate him/her from the family… similarly if parents are on the phone it will have the same impact on family life," Aditi Bhattacharya, a Class XI student of The Central Modern School, Barasat said.
Aditi said their parents were usually not single children like them. "Most of us are single child… we need that fruitful communication."