CMDA lines up measures for Rabindra Sarobar
Clubs in the area, often held responsible for polluting the lake waters, have been sent various directives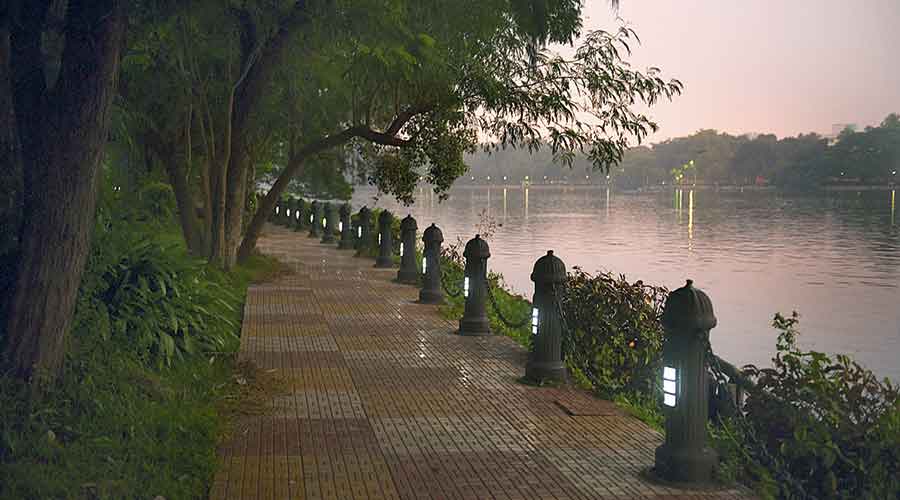 Rabindra Sarobar
File picture
---
Calcutta
|
Published 15.10.20, 05:22 AM
|
---
The Calcutta Metropolitan Development Authority, the custodian of Rabindra Sarobar, has decided on "a number of steps" for better maintenance of the lake environment.
Antara Acharya, the chief executive officer of the CMDA, told this to Metro on Wednesday. She said she had toured the lake area at least thrice since the end of September.
Her visits followed a Metro report on September 21 that spoke of the sorry state of affairs at Rabindra Sarobar, including the unchecked pollution in the lake waters.
"We found a few irregularities and violations and decided to split the 192-acre lake area, starting from the Golpark-end till SP Mukherjee Road, into seven zones — five land zones and two water zones — for better monitoring," Acharya said.
The CMDA is contemplating the creation of a division, specifically for the supervision of lakes, she said.
A nodal official has been entrusted with looking after each zone, a CMDA official said. The nodal official will have 10 workers with him/her. In case of any violation, morning workers and environmentalists can complain to such nodal officials.
Details about the seven nodal officials and their contact numbers will be displayed at the site office, which has been recently set up at the Rabindra Sarobar stadium complex on the lake grounds.
The clubs in the lake area, often held responsible by environmentalists and morning walkers for polluting the lake waters, have been sent various directives. These include:
Clubs have to organise battery-operated vehicles to manage solid waste
Provide their drainage plans with a certificate that drainage lines are not connected to the lake
Ensure plastic materials are prohibited on club premises
Have garbage bins in the lake area
Get ISO certificates on environment to confirm their environment-friendly status
"We plan to rejuvenate the abandoned lily pool, a popular destination for children a few decades ago," Acharya said.
The Metro report on September 21 had highlighted how the lake area was scattered with tree trunks and branches, even four months after Cyclone Amphan had struck.
Most of the dead trees have been removed and the lake waters cleaned in the past two weeks, a CMDA official said.
"It's a fact that almost four-fifth of the lake has been cleaned in the past few weeks," environmentalist S.M. Ghosh, a lake regular and a campaigner for the lake, said.
"Yes, the situation has improved considerably since September," Santanu Chatterjee, a morning walker and activist, said.
"Unless there is political willingness, the environment cannot be sustained properly," environment activist Subhas Datta said, referring to the state government's appeal before the National Green Tribunal to allow Chhath puja in the lake area.
The tribunal has dismissed the plea.
Dutta, however, alleged that the government was trying to encourage the puja in electoral interest.