City school observes Ambedkar Jayanti to 'glorify peace'
The programme at Scottish Church Collegiate School was preceded by a message sent to all children the previous day about being "same" despite differences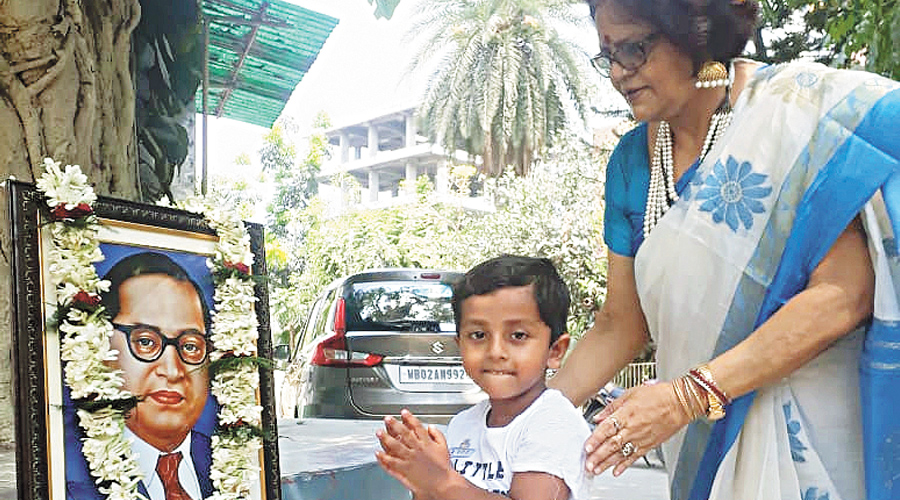 ---
Calcutta
|
Published 15.04.21, 12:57 AM
|
---
A school in the city observed the birth anniversary of B.R. Ambedkar, the father of the Constitution of India, because it felt it was important to "glorify peace, love and unity" in the midst of "violence and the barriers of caste, colour or religion". 
The programme at Scottish Church Collegiate School in Kestopur on Wednesday was preceded by a message sent to all children the previous day about being "same" despite speaking different languages, wearing different clothes and eating different food. 
"Whether we are Hindu, Muslim, Sikh, Buddhist, Christian, Parsi... we are all Indians. So he (B.R. Ambedkar) made a big book with rules to tell us how to live like good Indians and love one another always…. This book is called the Constitution," the message read. 
The school, which came up in November 2019, has students from Classes Lower Nursery to III and is under the Scottish Church Collegiate School on Bidhan Sarani. 
"It is important to glorify love, peace and unity, which are the essence of our democracy. We need to stand united, which is not happening now. When our children switch on the television they see so much of violence and hatred…. We talk about social skills but how do you develop those in the midst of barriers of caste, colour and religion," said Angela Ghose, acting principal, Scottish Church Collegiate School (Kestopur). 
The school has included the Preamble to the Constitution in the school diary. Ghose said it was not enough to have it in the diary; children should be made aware of it and explained why it is there in the diary. 
"As educators we have to make children aware not just of their rights but also duties and if we let the matter rest, we are letting children believe nothing wrong is happening," said Ghose. 
"Our children need to know that above academics, knowledge and marks is the understanding of human values, and as schools we can instil values in them." 
Some of the parents attended the programme. The school authorities feel it is important for parents to understand that the institution stands for equality. 
The programme was attended by the headmaster of the Scottish Church Collegiate School in north Calcutta, Bivash Saniel, who said it was important to highlight the ideals of people like Ambedkar.
"Our school stands for equality… .Ambedkar is the architect of what we as a country represent and today there is so much division on caste lines, culture lines and religion lines," said Saniel, also a member of the managing committee of the Kestopur school. 
Children did not attend the programme because of the pandemic. The idea was to get across the message through parents.
The parents who turned up on the campus were shown the Preamble to the Constitution. "Children need to know the Constitution and know about Ambedkar. Parents took home the message to their children," said Ghose.
"It was encouraging to see parents reading about B.R. Ambedkar. Many of them sent content they found on the internet about him."