Children pushed from school to work
NGOs have got reports that some of the little ones have started working in plastic factories and roadside shops, or have been engaged in loading and unloading of goods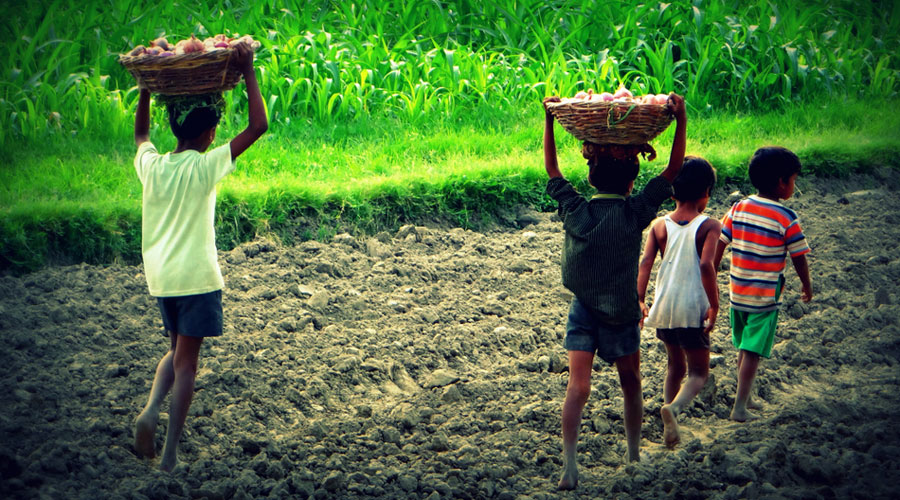 The children are being pushed to work and earn whatever little they can, said a member of another NGO.
Shutterstock
---
Calcutta
|
Published 07.10.20, 02:09 AM
|
---
Many school-going children from underprivileged families who ideally would have been in school have not just dropped out but have taken up odd jobs during the Covid pandemic, said those working with such children.
Many of the parents have no work and those who have are getting much less in payment than what they got before the pandemic, said the founder of an NGO that works with the children of such families.
The children are being pushed to work and earn whatever little they can, said a member of another NGO.
The NGOs have got reports that some of the children have started working in plastic factories and roadside shops, or have been engaged in loading and unloading of goods.
"A section of students is increasingly getting detached from studies and taking up jobs in plastic factories in the area or whatever they can manage," said Mamoon Akhtar, the founder of Samaritan Help Mission, which works among 6,500 children in Howrah.
"The parents have no money. Those who have got back work as labourers or in factories are getting half of what they would earn before. The children are helping out or are wandering in the slums," Akhtar said.
Some NGO workers feel dropping out of the school happened naturally in the absence of mobile phones or inability to recharge their phone balance. Since in-person classes cannot be held amid the pandemic, schools are conducting online classes or classes on digital platforms. The families of many children have not been able to pay school fees.
Supporting the family financially is now the top priority among the members, said a teacher.
"Children are taking up whatever work is coming their way. Many are working in roadside shops, which are now gradually opening up," said Arjun Dutta, the president of the NGO Calcutta Social Project, which works in south Calcutta.
"Children's education is a silent disaster during the pandemic, especially Class VI and VII upwards. Dropping out is common and earning is sporadic," said Dutta.
Getting work is not easy either. A teacher attached to an NGO has seen a child begging at a major intersection in the city. The parents first denied but later confessed that they had been pushed by circumstances, an NGO member said.
"Some parents are also pushing the children into begging because they have nothing to eat. The propensity to drop out has gone up during this crisis because many of the families do not have work as smaller units have closed down," said Vinita Saraf, the founder and trustee of Ek Tara, which mostly works with families in Tiljala and Topsia.
Members of Ek Tara have also been counselling families to not let children drop out but it is not easy to keep track during a pandemic.
"We are sending volunteers to the homes of the children we work with but it is hard to keep track and we are losing out a few children," said Saraf.
Lack of jobs has also forced some families to migrate back to the villages, she said.
The situation on the outskirts of the city is equally bad and some of the older children from those areas are migrating to big cities in search of work.
"Currently, the registration for Class XI is on and I noticed that about 10 per cent of the students have not turned up. I came to know that they have gone to other cities like Mumbai and Pune in search of work," said Chandan Maity, the headmaster of Krishnachandrapur High School
in Mathurapur, South 24-Parganas. He said some had taken up fishing in rivers but they at least turned up for registration for Class XI.