Chhath venue at Vivekananda Park razed
The club that was constructing the temporary pool for the Chhath rituals broke the walls that had been built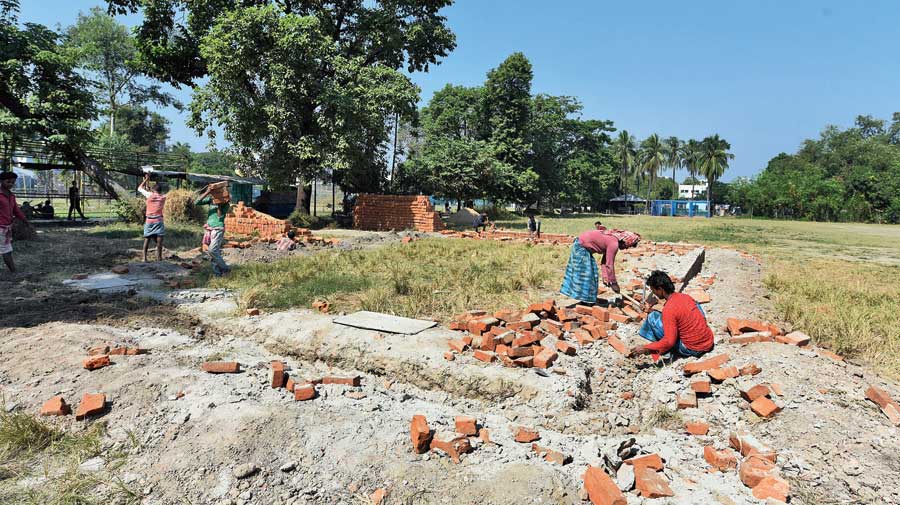 The Chhath Puja venue at Vivekananda Park being demolished on Tuesday afternoon.
Gautam Bose
---
Calcutta
|
Published 11.11.20, 02:27 AM
|
---
The Chhath Puja venue being built at Vivekananda Park since Friday, in violation of an order from the Calcutta Metropolitan Development Authority (CMDA), was pulled down on Tuesday.
The club that was constructing the temporary pool for the Chhath rituals broke the walls that had been built. When Metro visited the park on Tuesday afternoon, bricks were being removed. Some men were filling the trenches that had been dug to raise the walls.
An official of the CMDA, the custodian of the park, repeated on Tuesday that they did not give any permission to build the temporary pool inside the park. "The temporary structure was dismantled on Tuesday," the official said.  
The CMDA had ordered that the construction of the pool, undertaken by Cockler Lane Tarun Sangha, be stopped for the time being.
An engineer at the Calcutta Municipal Corporation (CMC) with years of experience in maintaining parks said temporary constructions for pujas should be allowed but on condition that the organisers would restore the grounds after the events were over.
"If any dais or a pool is constructed, it will inevitably damage a portion of the ground. There should be a clause that the party doing the temporary construction would restore the ground to the original condition," said the engineer.
"The clause should also mention that the custodian of the park will be the sole authority to decide if the resto-ration has been done properly or not."
The engineer rued the absence of such a clause when Durga Puja or Kali Puja pandals are erected inside parks of Calcutta.
Apart from Vivekananda Park, Rabindra Sarobar and Subhas Sarobar are among the parks and lakes that are looked after by the CMDA. The CMC is the custodian of over 700 parks, including Deshapriya Park, Tallah Park and Deshbandhu Park.
"The CMDA did not give us permission to build the temporary pool. We have dismantled the structure," said Sourav Basu, the president of Cockler Lane Tarun Sangha and also president of the Ward 86 unit of the Trinamul Congress.
The club had written to the CMDA for permission to build the pool and started work without waiting for the consent.
Sumita Banerjee, a green activist who has been vocal against the construction at Vivekananda Park, said the authorities should also impose strict conditions for erection of Puja pandals in parks.
"There are parks in Calcutta where Durga Puja or Kali Puja pandals are set up. Deshapriya Park is an example. They do considerable damage to the parks. The authorities should allow the pandals on condition that the organisers restore the grounds after the pujas are over. No one should be allowed to destroy the parks at will," said Banerjee.
Another activist said parks were common resources that were best kept reserved for people to walk, run and play.