City police orders 25 traffic guards to reduce multiple guardrails
The number of barriers, by Thursday afternoon, had reduced considerably on several arteries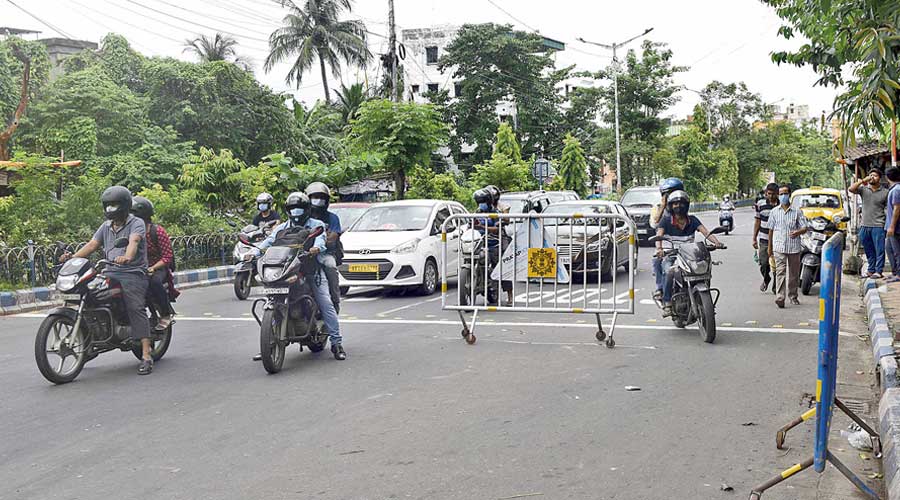 Multiple guardrails at one place, as in the picture The Telegraph published on Thursday, can cause traffic congestion and trigger accidents.
Picture by Gautam Bose
---
Calcutta
|
Published 13.08.21, 02:09 AM
|
---
One guardrail with retro-reflective tapes is enough to "alert a driver" about an intersection, the police top brass told the 25 traffic guards in the city on Thursday, forbidding them from putting up multiple barriers at one place.
Multiple guardrails at one point, the officers in charge of the traffic guards were told, only created congestion.
The Telegraph reported on Thursday how guardrails, instead of serving the desired purpose of streamlining traffic on busy thoroughfares, turned into a source of hazard for commuters.
A screenshot of the The Telegraph report headlined "Guardrail a source of danger" went out from the traffic control room at Lalbazar to the traffic guard heads, with a message on how prudent use of barriers could help avoid traffic congestion.
"At many crossings, different guards (referring to traffic guards) are using three guardrails to slow down vehicles, which is creating congestion. One retro-reflective guardrail is enough to alert drivers regarding a crossing. Also it will avoid traffic congestion," read the message sent by Arijit Sinha, the deputy commissioner of police in charge of the traffic department. By Thursday afternoon, the number of guardrails had reduced considerably on several arteries, including stretches of the Bypass, Rashbehari Avenue and the Rashbehari connector.
Retro-reflective material is made of tiny glass beads that reflect light and send a focused image back to the light source, in this case enabling a driver to locate the guardrail.
This newspaper focussed on five thoroughfares — Central Avenue, Prince Anwar Shah Road connector, EM Bypass, SP Mukherjee Road and Rashbehari connector — to show how guardrails were not just inconveniencing commuters but posing a threat to them, while contributing little in streamlining traffic.
They often cause accidents when two vehicles simultaneously try to negotiate their way through the narrow space between two barriers.
On many stretches on EM Bypass, for instance, guardrails were placed on one side, before or after the Stop Line. They neither helped slow down traffic nor helped pedestrians cross the road.
Officers said all traffic guards had been instructed to assess the requirement of guardrails and take a call on a case-by-case basis.
"What motorists want would not always be in line with what pedestrians want. Traffic police have to strike a balance between contrasting interests," Sinha told this newspaper.
Several senior officers in the traffic department said police commissioner Soumen Mitra had asked traffic guards about a month and a half back to avoid indiscriminate use of guardrails.
Sinha followed it up by passing on the instruction to all assistant commissioners and the officers in charge of traffic guards.