Book Fair not in January, dates uncertain: Guild
It was unanimously decided that the fair would lose its international branding if it was organised on a small scale with just a handful of regional publishers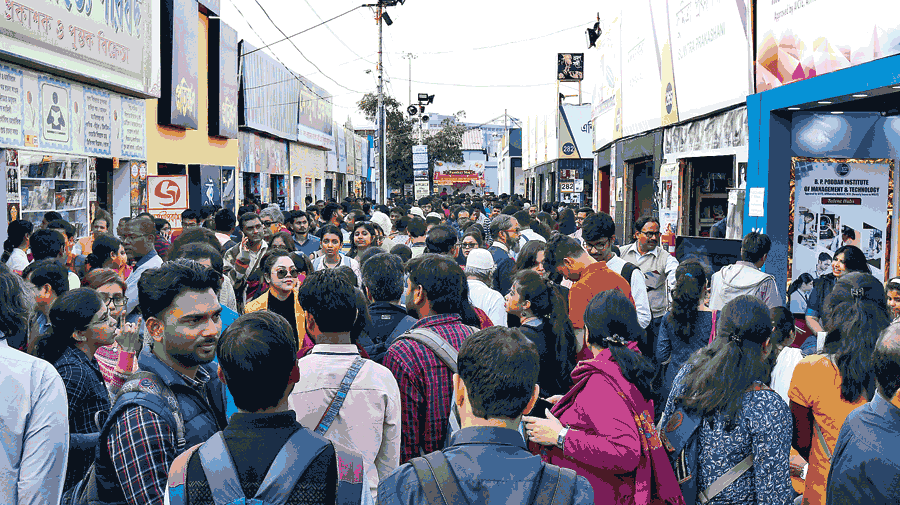 The book fair held in February at Central Park, Salt Lake
File picture
---
Calcutta
|
Published 28.12.20, 01:26 AM
|
---
The 45th edition of the International Calcutta Book Fair will not be held in January because of the Covid-19 pandemic, the Publishers and Booksellers Guild that organises the annual event, said.
The guild also said it was not in a position to say when the fair would be held next year.
The book fair was scheduled to be held from January 27 to February 7. 
"We are not in a position to organise the book fair this time amid the pandemic. We are not even sure when it can be held. It would have made little or no sense holding the fair in January with just a limited number of book lovers visiting just a handful of stalls. That's not what the International Calcutta Book Fair is all about," guild president Tridib Chattopadhayay said. 
"Publishers from several countries who were scheduled to participate in the fair have expressed their inability to turn up. Besides, international flights have been on hold."
With less than a month to go for the inauguration of the fair, guild members had met at a College Street address just ahead of Christmas to discuss what to do. It was unanimously decided that the fair would lose its international branding if it was organised on a small scale with just a handful of regional publishers. 
More than 700 stalls are set up at the book fair. Had the organisers gone ahead with the plan to hold the fair next month, there would have been less than half that many stalls.
The 2019 edition of the fair, which was held at Central Park in Salt Lake, had recorded a footfall of around 2 million. The state government had organised buses for book lovers to visit the venue from different corners of the city and its suburbs and to return home.
The International Calcutta Book Fair features on the calendar of the International Publishers Association (IPA) in Geneva. 
Guild officials said the final dates of the book fair would be decided in consultation with the IPA. 
This edition of Calcutta Book Fair would have had Bangladesh as the theme country. The neighbouring country is celebrating the centenary of Sheikh Mujibur Rahaman, the father of the 
nation, and the golden jubilee of the country's independence. 
Officials of the Publishers and Booksellers Guild said that initially there were plans to rescheduled the fair in March, but even that has been ruled out as of now. 
"The Calcutta Municipal Corporation and Assembly elections will be held next year. So it would not be wise to fix the dates of the fair right now," said a guild official. "In 2007, the fair was held in end-February."