'Assault' car suspect arrested in Dum Dum
The police said that Abhishek Kumar Pandey will be produced in court on Wednesday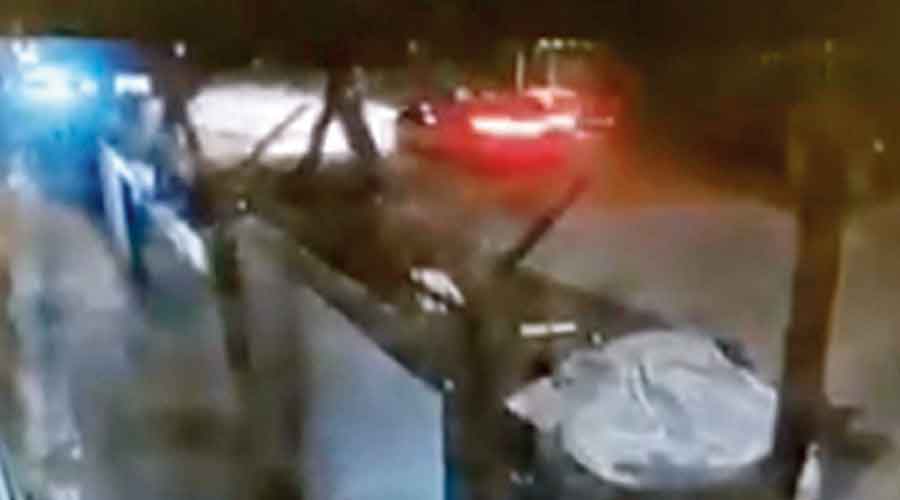 ---
|
Calcutta
|
Published 09.09.20, 02:10 AM
---
Abhishek Kumar Pandey, accused of assaulting and throwing out a woman from his Honda City and running over another woman while trying to flee on Saturday night, has been arrested in Dum Dum, police said on Tuesday night.
Investigators said his mobile phone was switched off but the GPRS on his phone was working. His movement was tracked first to a guest house in the Anandapur area and then in the Sealdah home of a lawyer, after which he had switched off the GPRS.
On Tuesday night, cops could again track him to a place near Dum Dum from where he was arrested.
Pandey will be produced in court on Wednesday, the police said.
He was apparently in a guest house in Mukundapur, around 4km from Anandapur police station, on Sunday night when the crime he has been accused of was being telecast on TV.
The only difference: the suspect in the TV news was named as Amitabha Bose.
The Telegraph on Tuesday spoke to the owner of the guest house where Pandey had apparently holed up for almost nine hours. The owner, Soumik Pandey, said he never suspected him as he was a regular at the guest house and that news on TV had said cops were looking for Amitabha Bose.
"He checked in around 8pm on Sunday and went to a room upstairs. Around 5am, he checked out. My manager told me that one of his little fingers had a cut mark. I don't remember which hand," Soumik Pandey said. "His Honda City was parked outside. I recognised it was his car; but had no clue that cops were looking for him. I always thought it was some Amitabha Bose."
Close to midnight on Saturday, Abhishek Pandey had thrown a woman out of his Honda City near Abhyudoy Housing Society and left another woman with a fractured leg and gash in the head when he tried to flee, police said.
"The car is registered in the name of Dewendra Kumar Pandey. It was registered in January 2017," an officer of Anandapur police station said. "The car's insurance is valid till December 2020."
On Saturday night, the two had driven around parts of the Bypass after having dinner at a restaurant in Patuli. From the Bypass, the two went to Ajoynagar, Garia, Kalikapur, and then to Anandapur, the police said.
"Abhishek Pandey has been to my guest house in the past. I know him for more than a year. He would at times come and stay alone, too," Soumik Pandey said. "If only I knew it was him the cops were looking for that night I would have immediately alerted them. Amitabha Bose naam tai confuse korey dilo (The name Amitabha Bose caused confusion)."
He didn't order for dinner that night. "Khub honto-donto hoye eshechhilo (He had reached in a huff). He just asked one of the service boys to switch on the TV in his room. He said he wanted news channels," the owner of the guest house said.
The police have collected details of Pandey's address and identity proof from the guest house register. Officers have scanned CCTV footage to see him enter and leave the guest house.
So why didn't they get to know of his whereabouts earlier?
"The name the victim had initially said in her complaint had left us bewildered," an officer said. "We kept groping in the dark for some time till the real identity emerged."