Bridge partially shut for repairs in Siliguri
The curb led to traffic congestion in the region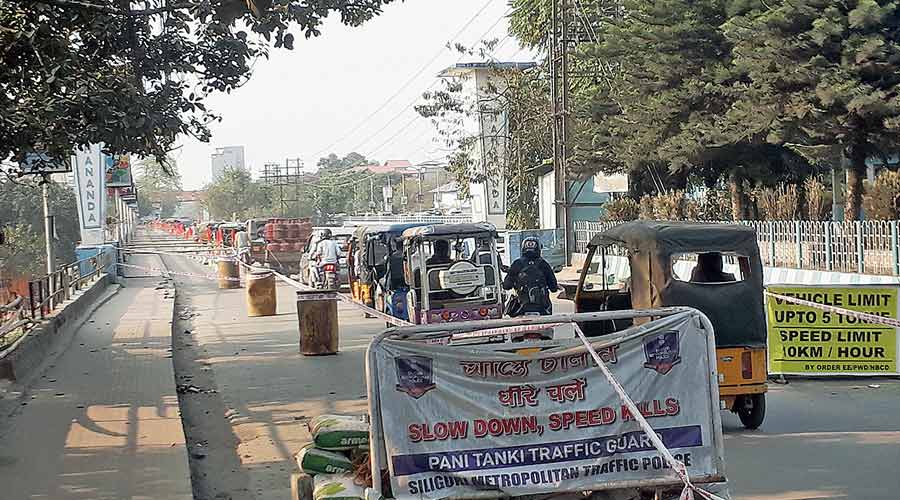 Totos move on one side of the bridge on Tuesday as repairs progress on the other side.
Picture by Passang Yolmo
---
Siliguri
|
Published 23.02.22, 03:18 AM
|
---
The district administration decided to close one of the two bridges partially over Mahananda river in Siliguri from Tuesday to February 27 for repairs.
The curb led to traffic congestion in the region.
"The state PWD (north Bengal construction division) will carry out some maintenance work on the structure of Mahananda Bridge. Considering these repairs, it was decided that vehicular movement (except Totos and two-wheelers) over it would be stopped for the next five days," an official of the Siliguri Metropolitan Police traffic department said.
Two parallel bridges run over Mahananda river with each serving for one-way traffic. The older bridge was constructed in 1967 while the second bridge was built in 1992.
The 1967 bridge has been partially closed for repairs while two-way traffic is being diverted through the newer Mahananda bridge.
Earlier, one-way traffic from Siliguri to areas like Matigara and Bagdogra airport would ply through the old bridge.
The PWD had conducted a similar maintenance and repair work on the old bridge from January 1 to January 4.
A police officer said that there were some traffic snarls in the area mainly during office hours.
"We are trying to regulate the traffic movement by setting up makeshift dividers over the new bridge and the approach road," the official said.
A traffic advisory has been issued for the vehicles entering the city from Bagdogra and Matigara area, asking them to take NH31 and enter the city through Sevoke Road.
Jalpaiguri and Cooch Behar bound buses are stopped at Naukaghat area of the city.
A bank employee from Matigara, asked about the detour,  said he would have to leave home earlier for now.