Border Security Force rescues 54 exotic birds from Nadia village
A spokesperson for the BSF's South Bengal Frontier said a patrolling team of the 54th battalion, acting on a tip-off, intercepted the group of smugglers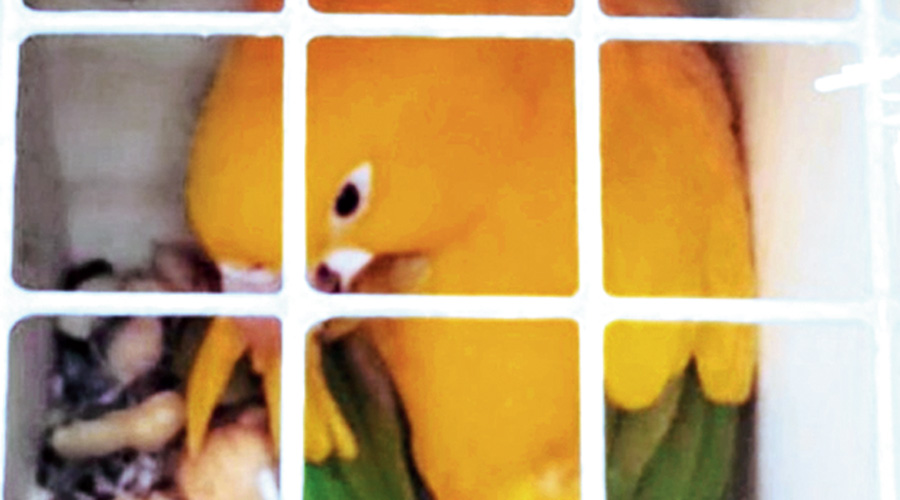 ---
Krishnagar
|
Published 26.02.21, 02:09 AM
|
---
As many as 54 exotic birds were rescued by the BSF from Bijoypur village in Nadia as they were being smuggled into the Indian side of the India-Bangladesh border on Wednesday evening.
BSF sources said a group of suspected smugglers had tried to enter India with the birds in seven cages when they were spotted by a border patrolling team. The smugglers managed to flee but left the cages behind.
The 54 birds included two Rosy-faced Lovebirds, 45 Budgerigars, one Timneh Parrot, two Major Mitchell's Cockatoo, and four Common Ravens. All were later handed over to the forest department.
A spokesperson for the BSF's South Bengal Frontier in Calcutta said a patrolling team of the 54th battalion, acting on a tip-off, intercepted the group of smugglers.
"They were carrying cages in their hands. Once they came closer to the border alignment, our personnel challenged them upon which they fled through the bushy vegetation," the spokesperson said.
"After a search in the area, we spotted the cages with the birds lying on the ground. The birds were rescued and fed before we informed forest department officials, who identified their species," the spokesperson added.
Sources said all five varieties of the birds were likely to have been caught in Bangladesh and smuggled to India to be handed over to an Indian counterpart.
Bird watcher Anupam Saha said that all five species were exotic.
"Most of these birds are also endangered species and are protected. However, these have a huge demand in India and abroad and each of them fetches a handsome price, which is the main attraction for the smugglers," Saha said.
"It is good that the birds, who are an integral part of nature, were rescued by the BSF," he said.