Bogtui carnage: CBI inspects totos 'used to transport petrol'
A teenager recalled how the goons had brought jars full of petrol in two vehicles and emptied them at a grocery store, where 10 people including him had taken shelter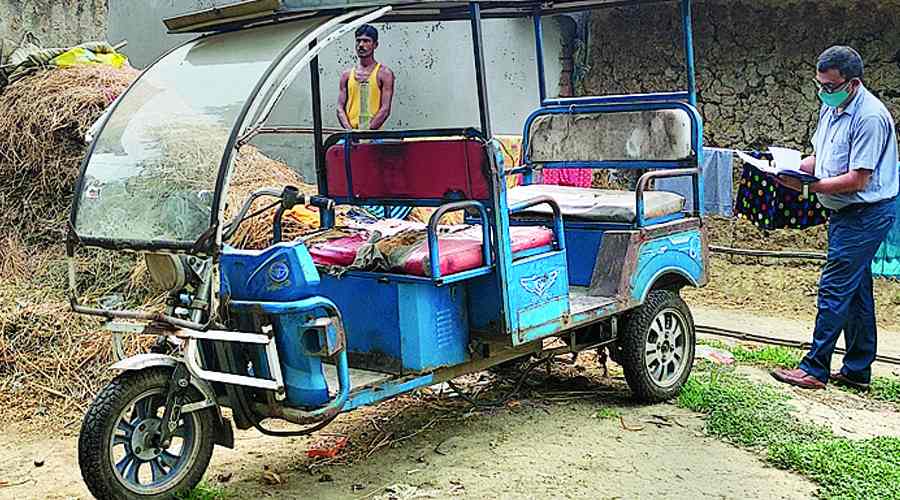 An officer on Saturday inspects one of the two Totos which were allegedly used to carry petrol jars on the night of carnage in Bogtui.
Pritam Das
---
Bogtui (Rampurhat)
|
Published 03.04.22, 12:18 AM
|
---
A CBI team on Saturday afternoon visited Kumadda village, 600 metres from Bogtui, and examined the two totos (battery run three-wheelers) that had allegedly been used to transport petrol on the night of March 21 for the arson.
The officials spoke to the family members of the carnage victims, who have shifted to a village adjacent to Bogtui, and recorded their statements.
They examined the two totos, took down their numbers and photographed the vehicles. "We have done the primary work regarding the totos. The accused will be interrogated on the totos and then we will proceed to the next phase of the investigation," said a CBI source.
The Telegraph had on March 30 reported the account of a teenager recalling how the goons had brought jars full of petrol in the two totos and emptied them inside a grocery store, where 10 people including him had taken shelter, before setting it on fire on the night of March 21.
Nazima Biwi, 40, who died at Rampurhat Medical College and Hospital on March 28, and was the ninth fatality of the carnage, had been hiding inside the grocery store.
The teenager and some of the other family members of the victims told the CBI that the goons could not take away the totos after the arson as police had entered the village.
"They were forced to hide the vehicles and they fled on motorbikes.… They left behind a bike as well," one of the eyewitnesses said.
From Kumadda, the sleuths went to Bogtui and recorded the statements of several villagers for over three hours.
Arabjan Biwi, one among many questioned by the CBI on Saturday, said she had bolted the door from inside when the goons were on a rampage. Arabjan's house is adjacent to the house of Sona Sheikh from where seven charred bodies were found.
The CBI team went to a hardware shop in front of the bungalow of the Rampurhat SDPO at Bogtui and asked them to show footage of the CCTV cameras installed at the establishment.
"If we get the footage, it will be clear if the totos were carrying petrol jars towards the village," said a source.
Psychiatrist aid
CBI sources said they would take the help of a psychiatrist to map the body language and reactions of the accused during interrogation.
The process is called a psychological assessment test in which a psychiatrist jots down the reaction of a person during interrogation.
CBI officials said all the arrested persons would be subjected to this exercise.
On Saturday, another set of CBI officers interrogated former Trinamul block president Anarul Hossain and four others arrested persons at their camp office in Rampurhat. In the evening, the suspended inspector in charge, Tridip Pramanik, was again summoned to the office.