Blame game over craters on Bypass stretch
The road remains damaged even though the monsoon left the state in October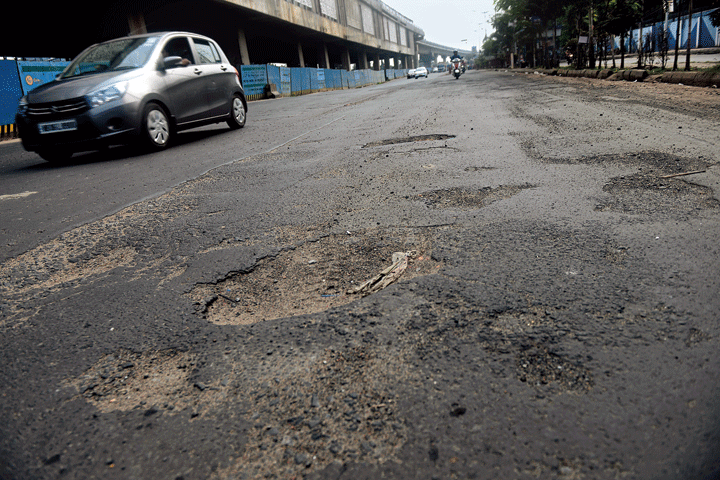 The battered stretch of the Science City-bound flank of the EM Bypass, near the Ruby hospital crossing.
Pictures by Bishwarup Dutta
---
Calcutta
|
Published 04.12.19, 10:13 PM
|
---
A stretch of the Science City-bound flank of the EM Bypass, near the Ruby hospital crossing, is dotted with multiple potholes forcing vehicles to swerve right and left to avoid them.
The road remains damaged even though the monsoon left the state in October.
The Rail Vikas Nigam Limited (RVNL) and the Calcutta Metropolitan Development Authority (CMDA) have blamed each other for the bad road. Both agencies are equally responsible for maintaining the stretch where a Metro construction is on.
A daily commuter said it was more than a month that the 150m stretch had been lying in such battered condition. Two-wheelers and four-wheelers suddenly have to slam brakes or are forced to swerve dangerously to avoid the craters, he said. The commuter apprehended an accident some day as vehicles swerve in high speed on the stretch.stretches," said the CMDA official, adding that it could be one of the reasons why the stretch gets damaged so often. An official of the CMDA, the custodian of the Bypass, said that the RVNL, which is building the New Garia-Airport Metro corridor, was tasked to maintain the stretch. The Ruby crossing station (Hemanta Mukherjee) is being built along the road where the potholes have appeared.
"The RVNL has even written to us and committed itself to maintaining the stretch. There are eight stations of Metro on the Bypass and RVNL is supposed to maintain a 250-metre stretch near each on both flanks of the Bypass," said the CMDA official.
An RVNL official countered the claim of the CMDA official. He said the RVNL was only supposed to pay for the repairs.
"The agreement between us and the CMDA is that they will do the repairs and we will pay," he said.
The RVNL official added that there were several other stretches on the Bypass, taken together about 2km, where Metro construction is not going on but the roads were still dotted with potholes. The repair of stretches of the Bypass has been a contentious issue between the RVNL and the CMDA.
On Sunday, a relatively less traffic day, Metro found all vehicles slowing down, veering right or left to avoid the potholes.
The broken stretch, towards the left of the 15metre-wide flank, was supposed to be a green verge and a cycle track and hence its bed is not very strong, the CMDA official said. The original road is now barricaded for the construction of the Hemanta Mukherjee station near the Ruby crossing.
"To create space for vehicles, the portion reserved originally for green verge and cycle track was made into a road. But it's not as hard as other