Blackout village scrambles for generators
Villagers spend sleepless nights in sultry weather while local gram panchayat's efforts to get the electricity board to fix the issue goes in vain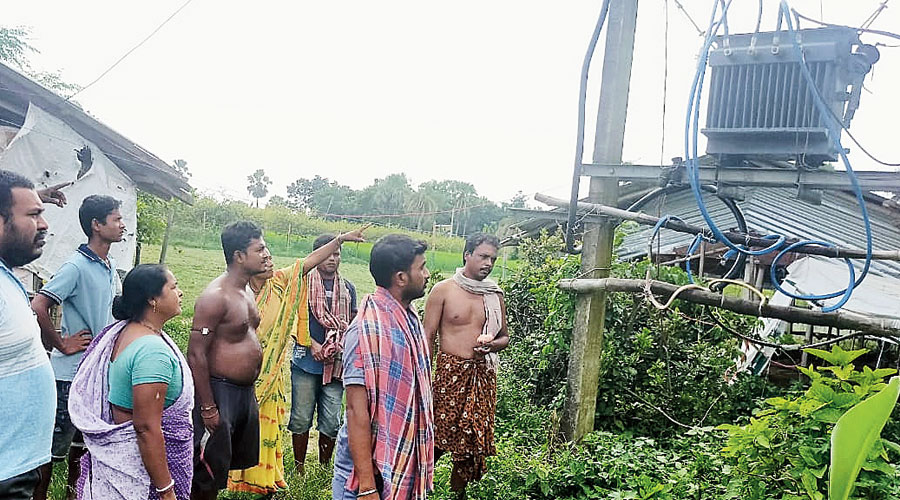 Muragachha Baishnav Para villagers point to the damaged transformer.
Picture by Dip Das
---
Burdwan
|
Published 20.09.20, 12:16 AM
|
---
Around 150 families of a village in East Burdwan's Kalna are spending thousands from their savings to hire generators as the entire area is facing a blackout for over a month with the lone transformer developing a snag on August 17.
Villagers of Muragachha Baishnav Para, which falls under Purbasthali police station and is 42km from Kalna, have sent at least a dozen reminders to the power supply office to repair or replace the transformer but in vain. Unable to bear the heat and humidity, villagers are shelling out thousands on generators to switch on lights and get fans moving.
"The cost to hire generators is huge, so have joined hands with others. As most villagers are farmers, not all can afford to hire generators. I had hired a dedicated generator but could not afford it beyond seven days," said Prosenjit Chakraborty, a farmer who also runs a shop in a nearby market.
Chakraborty, in the seven days, had ended up spending Rs 5,600. "During the lockdown period my income has dropped and I had to dip into my savings to pay for the generator's cost. The heat is unbearable and it is difficult to live without fans," he added.
Local electricians said they were charging Rs 200 to Rs 350 per day for generators without diesel. "To run a generator for about 15 hours per day will cost around Rs 1,200-Rs 1,500 because of the diesel cost involved. A generator requires a litre of diesel to run for 90 minutes. This means at the present market rate the cost to run a generator for 90 minutes is around Rs 100," an electrician said.
Akashi Das, a graduate preparing for her competitive exams, said her father, a farmer, spent Rs 25,000 on a generator in the past one month. "My father had to spend the money because I cannot study in the dark," said Akashi.
Those who cannot afford to hire generators are spending sleepless nights in the sultry weather.
"I work under an electrician and have no money to hire a generator for a month. We used the generator for three days and are now spending days and nights without electricity," said Sourav Das, a villager.
The local gram panchayat took up the plight of the villagers with the office of West Bengal State Electricity Supply Development Limited, but their effort went in vain.
"We can't imagine that a village is without power for over a month and no one is bothered…I had contacted the local power supply office but they did nothing," said Shyam Sundar Das, deputy chief and member of Kalekatala-I gram panchayat.
Power supply officials said the 25KV transformer of the village had burnt out at least twice in the recent past because of the area's power load. The officials said they had planned a 63KV transformer for the village and the process was taking time.
"The transformer will be replaced in a day or two," said Indranil Debnath, the station manager at the Kalna office of the WBSEDCL.
Asked why it took a month to replace a transformer, he said: "Two transformers were damaged in the past three months because of higher load. The process to install a 63KV transformer is taking time."