BJP's heartland losses jolt plan for Bengal rathyatra
Party drops plan to bring CMs of Madhya Pradesh, Chattisgarh and Rajasthan to Bengal for rath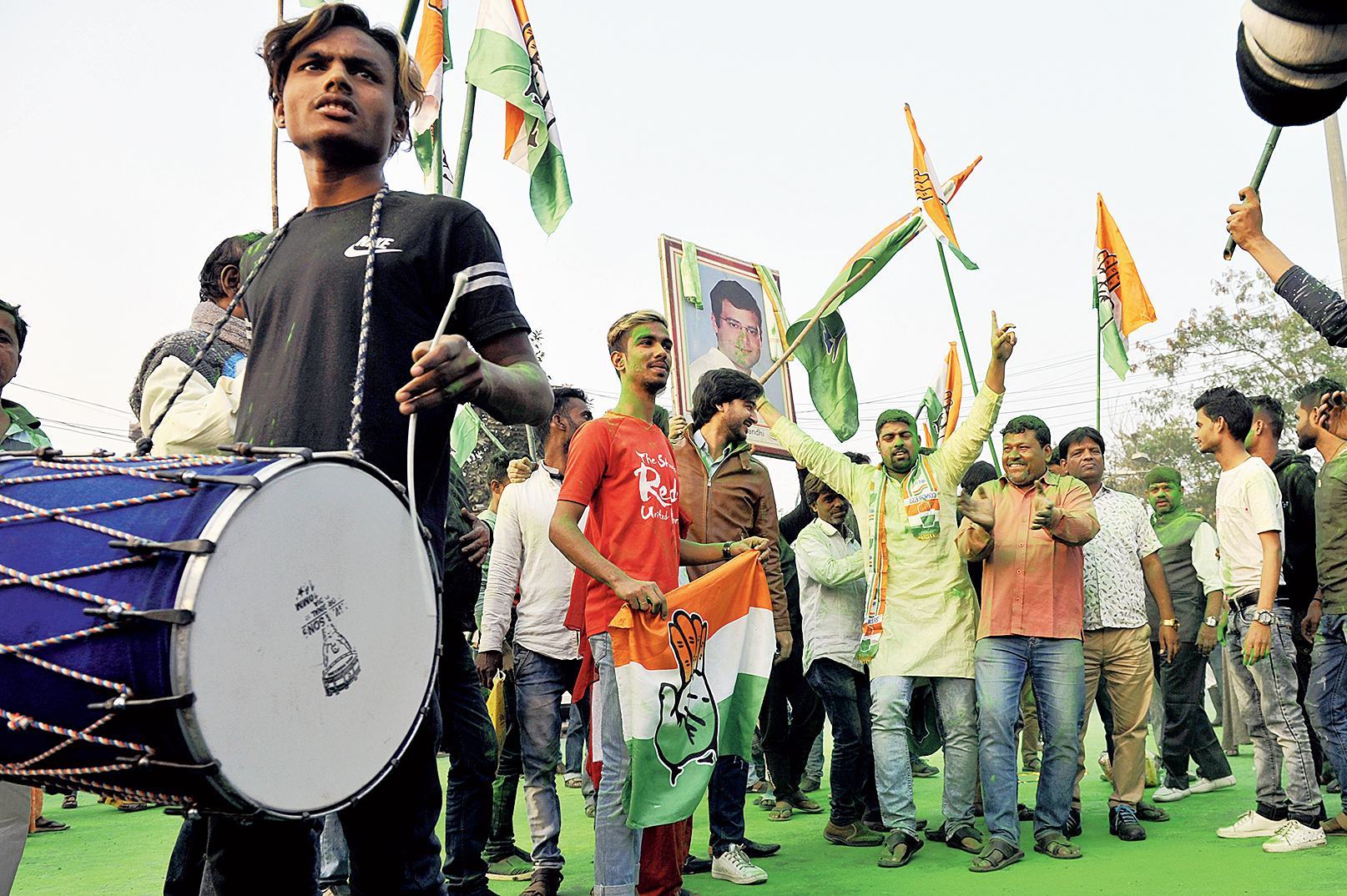 ---
|
Calcutta
|
Published 11.12.18, 09:30 PM
---
BJP workers in Bengal will be "demoralised" and the party's rathyatra, now caught in a legal jam, is likely to be derailed, a senior state leader said.

"What do I tell you? The workers were upbeat but they will feel a bit demoralised. Above all, our rathyatra programme will suffer," the leader said after the Assembly poll results on Tuesday.
His comments mirrored the mood at the BJP state headquarters on 6 Muralidhar Sen Lane in Calcutta, with the usual bustle missing.
"We wanted the CMs of Madhya Pradesh, Chattisgarh and Rajasthan to tour with our raths but we don't know whether we will get them after such results. Besides, who wants to parade leaders who have lost?" a BJP insider said.
According to him, central BJP leaders are likely to be preoccupied in Delhi with the post-poll equations, pushing the rathyatra down the priority list. "Already, there is a legal tangle around the programme. And now, this loss. Things do not look good," said a source.
Although the Lok Sabha elections are a few months away and a lot may change between now and voting — a truncated rathyatra is a possibility — there is little doubt that Tuesday's debacle has taken the steam out of the BJP camp in Bengal.
Barely 3km from the BJP office, Holi appeared to have arrived early at Bidhan Bhavan. Congress veterans couldn't recollect the last time party workers played with green abir or distributed sweets. "(Narendra) Modi had given a call for 'Congress-free India'. The results show the people have rejected the call. The Congress is like the Ganga, which goes through high and low tides," Bengal Congress chief Somen Mitra said after a bite of rosogolla.
A Congress rally lined up in Calcutta on Wednesday as part of protests against the Rafale deal will be turned into a victory rally, the state chief said.
Mitra reiterated that the state Congress unit was in favour of contesting the Lok Sabha polls single-handedly and not joining any coalition. "The results may not have much of a bearing on Bengal but it is good that the Congress is turning around in the heartland," said Congress MP Pradip Bhattacharya.
The mood was upbeat in the Left too, particularly in the CPM and the Forward Bloc. The CPM bagged the Shri Dungargarh and Bhadra seats in Rajasthan. The Bloc won Ramagundam in Telangana.
Bengal BJP chief Dilip Ghosh downplayed the outcome. "If the voters here were influenced by national trends, the BJP would have been ruling Bengal now." Ghosh's predecessor Rahul Sinha believed the results would motivate the state BJP to stay "connected with the masses".