BJP refers to icon to blast TMC
BJP leader alleged neglect of Chila Roy in what appeared to be an attempt by TMC to woo the Rajbanshi community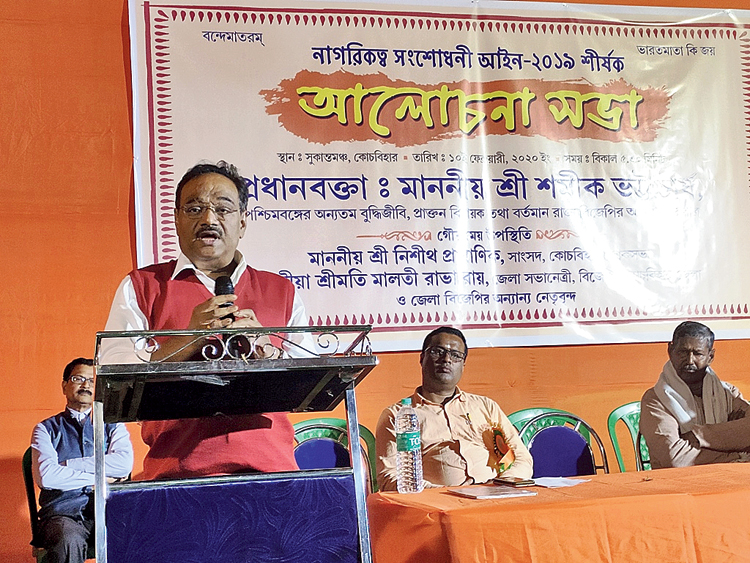 Samik Bhattacharya addresses the seminar in Cooch Behar on Monday.
(Main Uddin Chisti)
---
Cooch Behar
|
Published 11.02.20, 10:00 PM
|
---
The BJP has alleged that the Mamata Banerjee government failed to honour Rajbanshi icon Chila Roy while the 16th century warrior's birthday is a holiday in the neighbouring Assam.
Former MLA and BJP leader Samik Bhattacharya on Monday dwelt on the Bengal government's alleged neglect of Chila Roy in what appeared to be an attempt by the party to woo the Rajbanshi community.
Born into the Cooch Behar royal family in 1510, Chila Roy's original name was Shukladhwaj. He was the son of King Vishwa Singha and brother of King Naranarayan.
During Naranarayan's rule, Shukladhwaj was made the commander of the army. His prowess earned him the title "Chila Roy" (kite prince) and he was instrumental in expanding the boundaries of the king's territory and winning a number of battles in the Northeast.
Chila Roy was equally popular among Rajbanshis in Bengal and Assam. In 2005, the Assam government declared his birthday as a state holiday.
Speaking at a seminar on the Citizenship (Amendment) Act at Sukanta Mancha here on Monday, Bhattacharya said: "Trinamul has duped the Rajbanshi community. Earlier, the party had secured thousands of votes from the community. But when it lost in the Lok Sabha elections, the leaders started making negative remarks."
He said the birth anniversary of Chila Roy had been celebrated on Sunday (February 9) this year and it was a holiday in Assam.
"The holiday was declared not by the BJP government in Assam. It had been announced long back. The history associated with the Rajbanshi warrior is discussed at several forums in Bengal, but there is no mention of him in the history book. It is unfortunate that when people like Becharam Manna (Trinamul MLA) have found a place in the history syllabus (for his involvement in the Singur land movement), those like Chila Roy have been ignored," said Bhattacharya.
When Chila Roy's birthday had been declared a holiday in Assam in 2005, the Congress was in power there then.
A senior Trinamul leader sought to pooh-pooh Bhattacharya's remarks.
"The Rajbanshis are aware of the Trinamul government's initiatives for the community. Their language has been recognised, language academy and development board constituted and several social welfare schemes announced for their socio-economic development. Even in the state budget presented on Monday, a monthly pension was announced for the senior citizens of Scheduled Castes, which will definitely help thousands of Rajbanshis," the Trinamul leader said.