BJP latest tussle over Durga Puja celebration
According to sources, several party wings and individuals who had been integral parts of the puja over the past two years find themselves feeling 'left out' this year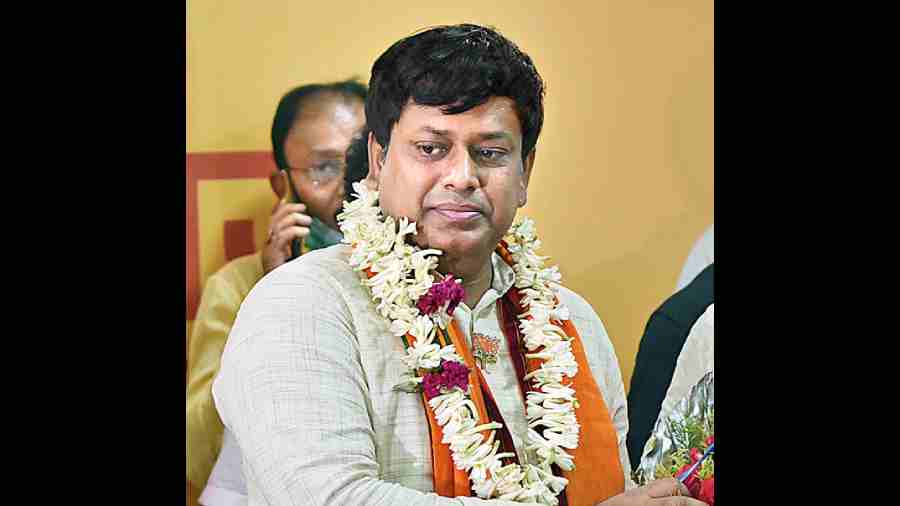 Sukanta Majumdar.
File photo
---
Calcutta
|
Published 23.09.22, 02:45 AM
|
---
Several factions of the Bengal BJP find themselves at loggerheads, yet again, over the latest edition of Durga Puja that is organised under the party's banner. 
According to sources, several party wings and individuals who had been integral parts of the puja over the past two years find themselves feeling "left out" this year. 
This year, the Puja will be organised by the youth and women's wings of the Calcutta North Suburban organisational district, unlike in the past two years, when it was organised by the party's cultural cell. Sources said that the development has not gone down well with the current convenor of the cell, Rudranil Ghosh.
"Rudrada has spoken to the state unit chief (Sukanta Majumdar) about his discontent. He has been appointed the convenor of our cell this year and he had plans for the puja, which he thinks he might not be able to execute if it is organised by someone else," a source in the cultural cell said.
Majumdar has already announced that the party will not organise the puja from 2023. Sources said that almost everyone is willing to be a part of the celebrations for one last time, for now, and that is why those who are being left out, are unhappy. "Had the women's wing or the youth wing been given the primary responsibility for the puja, it would have made them happier. Same is the case with the cultural cell," Ghosh told The Telegraph.
"But this is everyone's celebration and all of us will make our contributions to organise it in a grand way," he added. He didn't clarify if he had actually spoken to Majumdar about his discontent but added that it is only natural for party workers to speak to their chief on several issues.
Meanwhile, former state vice-president and the party's state unit veteran Pratap Banerjee— who had the largest individual involvement in the pujas of the past two years — has no role to play in the celebrations this time.
Banerjee didn't take calls from this newspaper. Majumdar said that everyone would have equal involvement in the celebrations.The BJP-led Centre decided to felicitate 30 selected artisans and artists involved in Durga Puja at a Union ministry of culture event in the city on Saturday.