Bitten by snake, youth takes it to hospital
Staff at Jangipur subdivisional hospital in Murshidabad were in for a shock on Sunday evening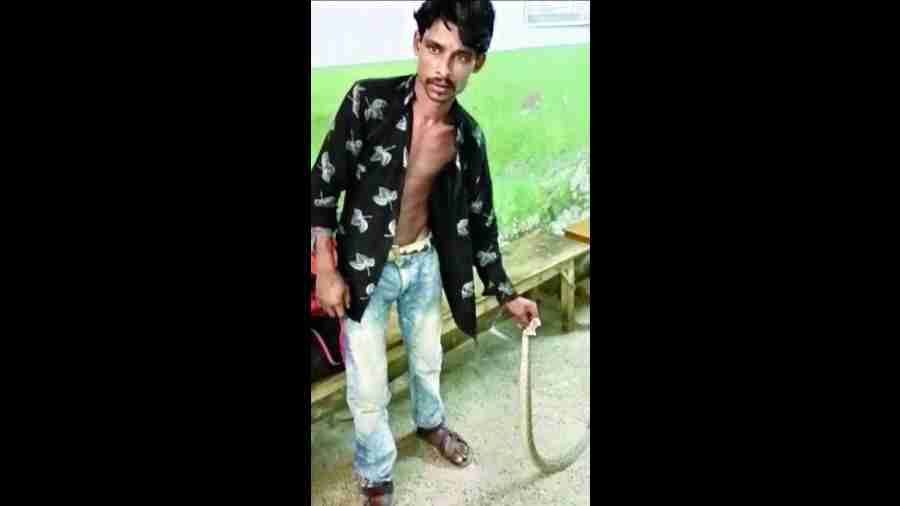 Manglu Sheikh with the Russell's viper at the Jangipur subdivisional hospital.
Picture by Samim Aktar
---
Behrampore
|
Published 25.10.22, 01:38 AM
|
---
A young man bitten by a venomous snake, grabbed the reptile and travelled three kilometers with it to get himself treated at a hospital in Murshidabad's Muhammadpur on Sunday evening.
The staff at the Jangipur subdivisional hospital in Murshidabad were in for a shock on Sunday evening when 22-year-old Manglu Sheikh walked up its stairs with an injury to the left hand and a Russell's viper held in the right.
"We had not seen this kind of an incident before. We were really scared," said Dr Prashanta Mandal, the assistant superintendent of the hospital.
"Manglu is currently out of danger but is still under treatment. The snake was handed over to the forest department," Mandal said.
According to Manglu, the snake bit him on Sunday evening when he was sitting with a friend underneath a mango tree behind his home in Muhammadpur.
 The snake bit him in his left hand and he immediately grabbed it by its neck.
Manglu, who earns his living as a labourer, then travelled for three kilometers to the hospital in an electric rickshaw with the snake held in his hand. "I had no intention of showing any bravery. I have heard that if doctors can identify the snake, it gets easier for them to treat the patient. This is why I carried the snake with me," Manglu told The Telegraph.
"In most cases, manifestation of snakebite depends on the snake's species and identification of the type of snake is important," said a doctor at the hospital.
Although Manglu, who is the father of one, refuses to claim any credit for the show of courage, his father Altaf cannot help but heap praises on his son. "My son has always been very brave since he was a child. He is still so even after he got married and became a father," Altaf said.