Bhutan's border lockdown sharpens petrol pain for residents of Jaigaon
The Alipurduar town locals need to drive down to Hashimara, 18km away, to buy fuel, when they would earlier get it from Phuentsholing, 300 metres away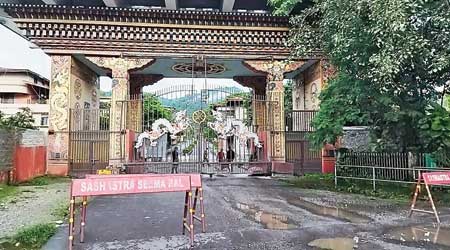 The closed gate at the India-Bhutan border in Jaigaon.
File picture
---
Alipurduar
|
Published 14.07.21, 02:09 AM
|
---
The residents of Jaigaon, the Alipurduar town that sits on the Bhutan border, are feeling the pinch of the runaway petroleum prices even more than Indians elsewhere.
The pandemic has put paid to their practice of hopping across the border to tank up in the Himalayan kingdom where the cost of fuel has always been lower. The nearest petrol pump is in Bhutan's commercial capital Phuentsholing, 300 metres from Jaigaon.
With the Bhutan government keeping the border gate closed since March last year because of the pandemic, Jaigaon residents need to drive down to Hashimara, 18km away, to buy fuel.
Jaigaon does not have a petrol pump. "Around two decades ago, local traders had twice taken the initiative of opening pumps here. But as most people fill up tanks in Phuentsholing, the pumps in Jaigaon closed down on both occasions," said Rama Shankar Gupta, the secretary of the Jaigaon Merchants' Association.
In Bhutan, which buys its fuel from India, petro products have traditionally been cheaper by Rs 10 to Rs 15 a litre because it does not levy taxes. That gulf has now widened.
On Tuesday, the price of a litre of petrol in Alipurduar was Rs 102.10, while that of a litre of diesel was Rs 93.51. In Bhutan petrol and diesel cost Nu 72.89 and Nu 70.87, respectively. Nu or Ngultrum is the national currency of Bhutan, the value of which is equal to the Indian rupee.
As the entry of vehicles to Bhutan, except for essential services, is barred now, Jaigaon residents were having to buy costlier petrol in India after making the fuel-guzzling journey to Hashimara.
But with petroleum prices crossing Rs 100, a 36km to-and-fro journey has become a deal breaker. Both private car owners and commercial transport operators are largely avoiding using their vehicles, further hobbling the local economy that has suffered a blow because of its reliance on trade with Bhutan that too has come down to a trickle in the pandemic.
"As we cannot enter Bhutan now, a car owner has to burn petrol worth Rs 300 only to travel to Hashimara to refill the tank. Amid the pandemic, when the income of people has taken a beating, many are not taking out their cars at all. Instead, they are using two-wheelers or local commercial vehicles like autorickshaws and trekkers," said Samir Lama, a government employee who commutes to Hasimara every day.
The plight of commercial vehicle operators is worse.
"Hardly 100 autorickshaws are on the road these days. This is because most of us are finding it tough to sustain as we have to travel to Hashimara to buy fuel. We cannot take more passengers as only 50 per cent of the seating capacity is allowed in view of pandemic restrictions," said an auto driver in Jaigaon.
"Moreover, passengers are not ready to pay more than the existing fares. We are keeping our fingers crossed and waiting for the day when the restrictions on travel to Bhutan will be eased, at least in Phuentsholing," he added.
While autos in the area used to ferry 12-15 passengers, now not more than seven are allowed.
Jaigaon has a population of around 1.25 lakh. According to sources in the local administration, there are around 500 autorickshaws, 200-odd light commercial vehicles, over 1,500 private vehicles (two and four-wheelers) and 200 trucks.
A trader in Jaigaon said the fuel price difference with Bhutan became sharper after July 2018 when GST was introduced in India.
"Since then, petroleum is exported to Bhutan at virtually zero tax rates. An excise duty has been levied by India, but that too is refunded to Bhutan," the trader said.
The Bhutan government does not levy any additional tax on imported fuel, which is why the cost is low there in comparison with India.