Bengal's Covid cases 3,197, toll 60 in a day
The state's mortality rate remained 1.94, still behind the national rate of 1.61%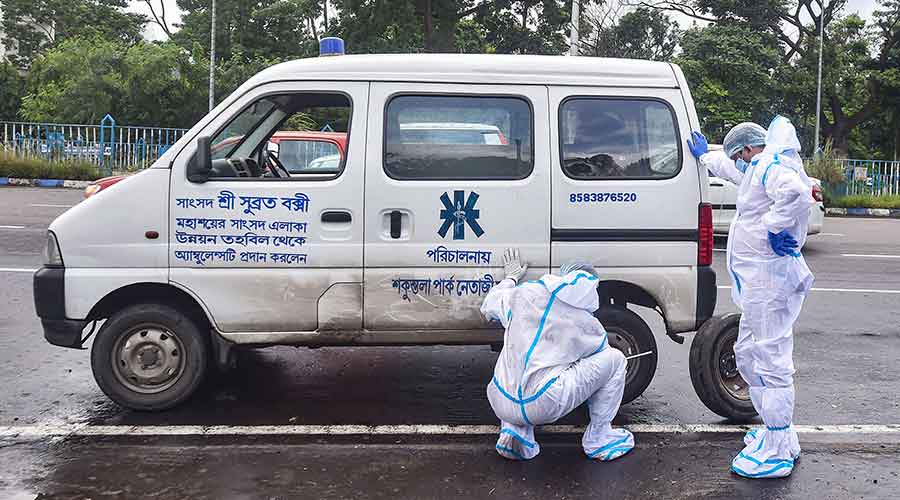 ---
|
Calcutta
|
Published 18.09.20, 01:52 AM
---
Bengal on Thursday logged 3,197 new Covid-19 cases, and 60 deaths, 22 of which occurred in Calcutta and 18 in North 24-Parganas.
Bengal also saw 2,948 recoveries, with the state's recovery rate rising further to 86.77 per cent, over 8 per cent higher than the national rate.
With this, the state has over 2.15 lakh infections, including over 1.87 lakh recoveries and 4,183 deaths.
Calcutta and North 24-Parganas districts have contributed 60 per cent of all Covid-19 deaths in the state.
The state's mortality rate remained 1.94, still behind the national rate of 1.61 per cent.
Of the total toll of 4,183, the state government reported 3,587 (85.8 per cent) as deaths with co-morbidity "present". There have been, over a month, 1,710 deaths of Covid-19 patients in Bengal of which 1,398 were reported comorbid. Bengal ranks sixth among states with the most deaths and high mortality rates.
In Covid-19, comorbidities are underlying health disorders, such as high blood pressure, diabetes, cardiovascular disease or kidney ailments. Most pandemic deaths around the world have been of infected persons with comorbidities.
In Bengal, hypertension has taken around a fourth of the lives of the Covid-19-infected persons, followed by diabetes, which claimed around a fifth, and cardiac ailments, which took around one-tenth.
"While the larger picture is unchanged over a month, a closer look reveals some shifts. For instance, the share of deaths attributed directly to Covid-19 has increased from 11.5 per cent to 14.2," said a minister.
Mortality rate among infected males improved in a month from 2.23 to 2.15 per cent, and in infected females from 1.73 to 1.57.
Though the 75-plus age group remains most susceptible to Covid deaths with a mortality rate of 13.4, compared to the age group of 61-75 years, at 6.29 per cent, it is the 61-75 age group that has seen the most deaths in absolute numbers from the pathogen. "Of the comorbid deaths, over 80 per cent were of persons between the ages of 61 and 75. That bracket accounts for 70 per cent of all Covid-19 deaths," said the minister.
On Thursday, the state also reported 45,536 tests, which took the total past 26.54 lakh, at 29,490 tests per million people.
Steady rise in testing, coupled with relatively lower cases being found has improved the positive confirmation rate from 8.9 on August 23 to 8.12 per cent. A decreasing positive confirmation rate is indicative of reducing levels of Covid-19 spread.
The state reported 33.39 per cent occupancy in the 12,675 beds earmarked for Covid-19 in the 92 dedicated hospitals for the pandemic.
Over 2.21 lakh telemedicine consultations have been provided, including 4,311 in the past 24 hours.