State govt orders district authorities to follow MGNREGA guidelines
The development is considered significant in the backdrop of Centre's decision to freeze funds under the scheme citing embezzlement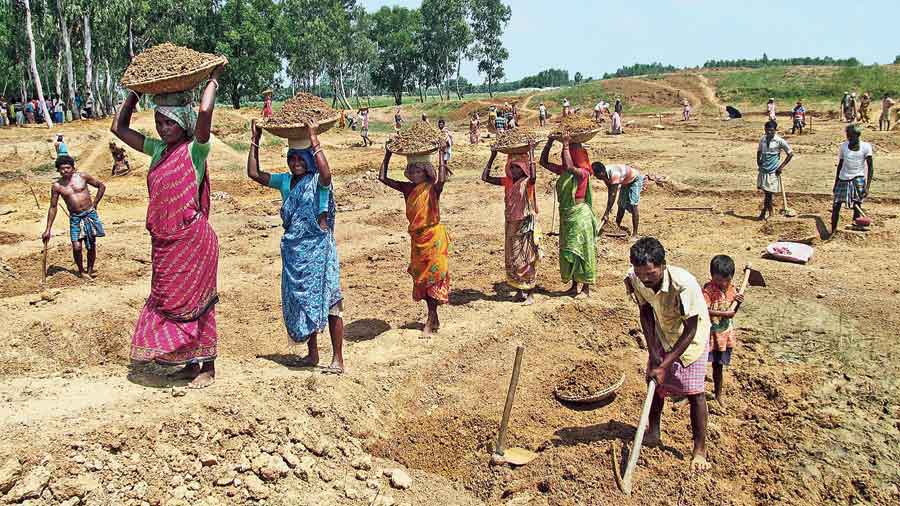 Work under the MGNREGA 100 days' scheme in Birbhum.
File picture
---
Calcutta
|
Published 17.08.22, 01:33 AM
|
---
The state panchayat and rural development department has asked district authorities to strictly follow all norms for projects under the 100 days' job scheme when central funds are released.
The development is considered significant in the backdrop of the Centre's decision to freeze funds under the scheme citing embezzlement.
"The development is significant for two reasons. First, it is a clear hint that the state does not want to face more allegations of funds misappropriation, second, with this letter, the state has virtually admitted to some loopholes...," said a government official.
Sources said that though the state had not received any money under the MGNREGA in 2022-23 financial year, it appears that its top brass was trying to ready the administration to implement the scheme smoothly as soon as funds  come.
"If the state issues an order like this to the districts, it also sends a message to the Centre. If the Centre is satisfied that the state is acting tough to prevent fund misuse, it can take initiatives to release funds soon," said another official. "The Centre wants the state to put a proper system in place to prevent fund misuse." 
District authorities were asked to carry out jobs permissible under the MGNREGA list only. "The Centre pointed out that Bengal had carried out projects not approved by the MGNREGA guidelines like roadside plantation in 2019-20 and 2020-21. The Centre had also asked the state to recover misappropriated funds," said an official.
The state also stressed on creating assets such as wells, ponds, among others, under the MGNREGA after the Centre raised this issue.
"No Asset-No Work rule has to be followed," reads the letter sent to the districts.
The state also asked district authorities to vet technical estimates and ensure job cards stay with the households.
"The Centre had raised these issues too. The state is trying to plug all loopholes to avoid any further embarrassment once funds are released this year," said an official.
Sources said that several central teams were in Bengal to find out loopholes in the implementation of MGNREGA in the past few years. Some teams are still here. "The teams wanted to see a mechanism to prevent misuse of funds. The letter from the panchayat department clearly hints that the state is acting tough after finding out that transparency and accountability could not be maintained always in the past, which were exposed by the central teams recently," said a senior bureaucrat.