Bengal government to send specialists for Covid treatment
The doctors will be responsible for daily rounds, attending calls and managing Covid patients round the clock at the hospitals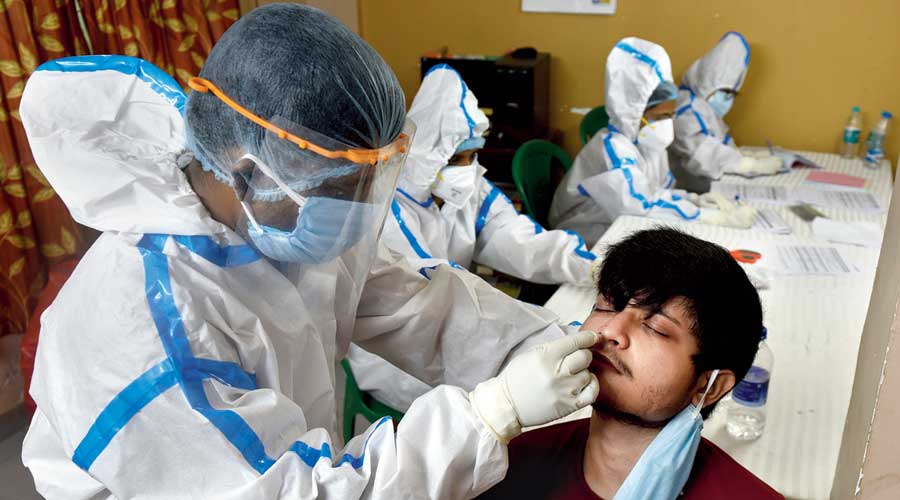 ---
|
Calcutta
|
Published 14.09.20, 03:03 AM
---
The Bengal government has decided to make available the best doctors at its disposal for treatment of novel coronavirus patients by tagging tertiary healthcare institutes with the dedicated Covid-19 hospitals nearby.
The decision is part of various measures the government has been taking to bring down Covid-19-related death rate to below 1 percent.
"Doctors of Covid hospitals have been doing a great job for the past six months. But it was felt that if they could be guided by senior and experienced doctors, the death rate could be brought under control," said a senior government official.
According to the plan, a team of doctors comprising experts in general medicine, chest medicine and anaesthesiology from medical colleges would be deputed to a nearby Covid hospital.
They would be responsible for daily rounds, attending calls and managing Covid patients round the clock at the hospitals.
In case of the districts without medical colleges, such teams would be composed of the doctors attached to district hospitals or super specialty hospitals.
For example, in Calcutta, expert doctors from IPGMER (SSKM hospital) would be deployed at M.R. Bangur Hospital and K.P.C. Medical College and Hospital, which are dedicated to the treatment of Covid patients. Similarly, a team from Calcutta National Medical College and Hospital would be engaged at CNCI, Rajarhat.
Specialist doctors from Bankura Sammilani Medical College and Hospital will offer their services at Onda super specialty hospital, which has been converted into a Covid hospital.
In the Birbhum district that doesn't have any medical college, a team of experts from Suri District Hospital would be deputed to local Hospital for Covid treatment.
Besides, the state government has also decided to set up a team comprising specialists in nephrology, cardiology and neurology from the SSKM hospital to treat Covid patients admitted to the M.R. Bangur Hospital which recorded a majority of the deaths from the pathogen in Calcutta in the past few months.
"The decision to form teams of expert doctors from tertiary hospitals has been taken to ensure that patients get all possible treatments at the Covid hospitals. As more than 80 per cent deaths are because of comorbidities, it is assumed that experienced doctors could offer better treatment and that's why they have been engaged at Covid hospitals," said a senior official.
A source said the idea of engaging senior most doctors from medical colleges, who are vastly experienced and have specialised degrees, to the Covid hospitals was initiated after it was found that the number of Covid deaths was relatively low at Calcutta Medical College and Hospital, where experts from all departments were managing patients.
According to a notification issued by the health department, each team would be deployed at the Covid hospitals for a period of one month. Another team would take over from the on-duty doctors after that period.
"This will help manage patients better and a continuity would be maintained," a health department official said.
Officials said that deployment of senior doctors from medical colleges and district hospitals would not affect day-to-day activities of the healthcare establishments to which they are attached as footfall of patients had already gone down by over 50 per cent at such facilities in the past few months.
"Existing doctors would be able to handle other patients visiting the hospitals easily as the pressure on the hospitals has decreased significantly over the past six months or so," said a source.