Govt to sell fish online to counter price rise
The lockdown has caused a shortage in supply and a consequent hike in prices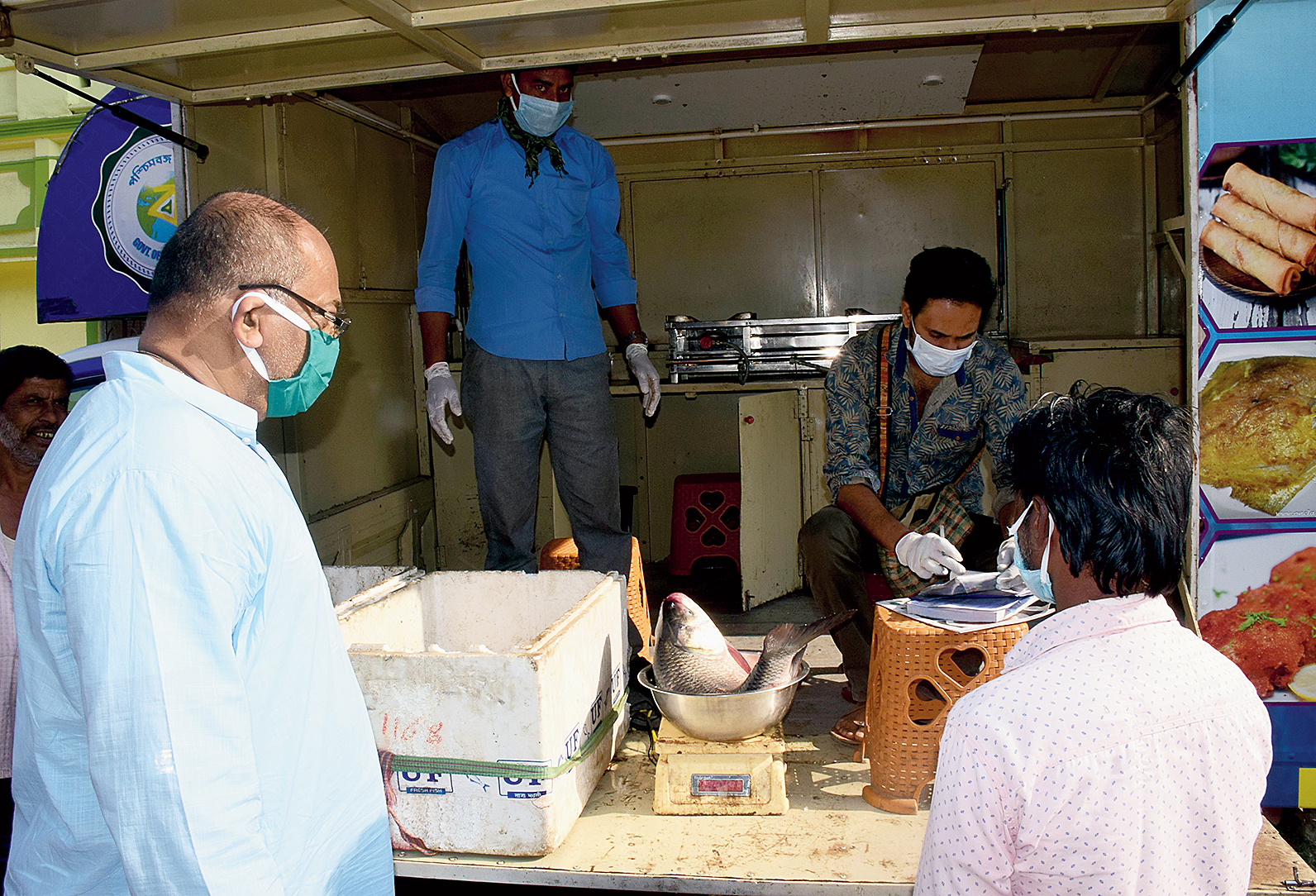 Minister Chandranath Sinha monitors the sale of fish from a government van in Bolpur on Saturday.
Picture by Amarnath Dutta
---
Bolpur(Birbhum)
|
Published 28.03.20, 08:23 PM
|
---
The Bengal fisheries development department has decided to directly sell fish to counter the rise in prices be¬cause of the coronavirusin¬duced lockdown.
While people in Calcutta can place their orders online and get fish delivered at home, those in the district towns of Bolpur, Burdwan, Durgapur and Digha can buy from vehi¬cles ferrying several varieties of fish.
The lockdown has caused a shortage in supply and a con¬sequent hike in prices.
Officials said 25 vehicles would sell fish in Calcutta (four vehicles), Bolpur, Burd¬wan, Durgapur and Digha.
Fisheries minister Chan¬dranath Sinha launched the project on Saturday morning in Bolpur where around 100kg of fish was sold to customers.
"We noticed there is a se¬vere shortage in the supply of fish to the markets as trans¬portation has been affected be¬cause of the lockdown. As a re¬sult, a few traders have jacked up prices of fish in the local markets. So, we decided to sell fish produced in our farms in the local markets," Sinha said.
Officials said the minister took the decision after com¬plaints of a sudden increase in the prices of fish were made in several areas of Bengal and Sinha visited a market in Bolpur.
"Because of low supply and high demand, traders had hiked the price of fish by Rs 100150 per kilogram. So, we decided to sell fish. All district officials in the fisheries de¬partment have been asked to supply fish to as many mar¬kets as they can," said a fish¬eries department official.
In a few districts, the de¬partment has planned to sell fish to the traders at fair price to meet the crisis in supply.
Sources in the fisheries department said the government owned several farms in districts such as Birbhum, Burdwan, South 24Parganas and East Midnapore, from where varieties like rui, katla and parshe were supplied.
Minister Sinha said the department would try to reach most towns in Bengal with their vehicles.
"I can't say that we will be able to reach all towns in the state, but I can assure we will sell at fair price," Sinha said.
In Calcutta, the department has resumed selling fish online after the facility was stopped a few months ago because of low demand.
Officials said that to avail oneself of the service, one would have to download the mobile application SFDC (State Fisheries Development Corporation) from Google Play Store. After signing into the app by providing the home address and mobile number, home delivery of fish will be a click away.
"We will charge Rs 25 for delivering dressed fish at the doorstep. The service was started on Saturday for buyers in Calcutta," said a fisheries department official.