Mamata Banerjee outlines her focus on industrialisation
The CM was in Panagarh to lay the foundation stone of a Rs 1,250-crore polyester film manufacturing factory of the Calcutta-based Dhunseri Group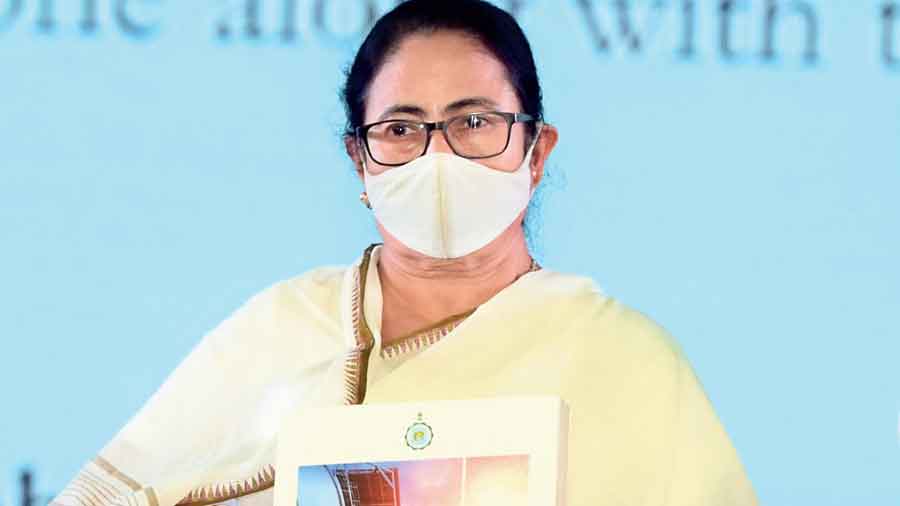 ---
Panagarh
|
Published 02.09.21, 12:47 AM
|
---
Chief minister Mamata Banerjee on Wednesday outlined her focus on industrialisation after highlighting that her government has done a lot in terms of social welfare, her announcement indicating that she would make job creation in Bengal a priority in her third term in office.
"We are already in the number one position in implementing social welfare schemes. Now my focus will be on industry and generating employment. We have already announced a number of big industrial projects at a cost of several hundreds crores and a series of industrial infrastructure in the state," Mamata said at the Panagarh Industrial Park in West Burdwan.
Mamata was in Panagarh to lay the foundation stone of a Rs 1,250-crore polyester film manufacturing factory of the Calcutta-based Dhunseri Group on around 30 acres at the industrial park. This project will also create direct and indirect employment of around 15,000, sources said. 
Since Mamata's government came to power for the third consecutive time and she took oath in May this year, the state government has launched Lakshmir Bhandar, a direct cash transfer scheme, for nearly 2 crore women. The state government has also launched an enhanced financial assistance scheme, Krishak Bandhu, for 62 lakh farmers.
Apart from these, the state has been running several welfare schemes such as pension for aged SC/ST people and widow pension.
"Now, the chief minister has decided to focus on industry, primarily for two reasons. First, she had promised 1.5 crore jobs for the youths in the state, and second, the state needs to generate more revenue to run welfare schemes," said a senior government official, adding that if industries come up, the state would earn more revenue through GST.
The chief minister rolled out a broad outline to make her plan a successful one.
"We have set up an empowered group of which I am the chairperson. We have also adopted a single-window formula to help and address the issues of industrialists. We have decided to hold at least one meeting in a month in this regard," she said.
Mamata then pointed out some projects on which she was relying heavily to change the scenario in the state.
She first mentioned the Rs 15,000-crore coal mining project of Deocha-Panchami, which according to her will change the industrial landscape of Birbhum, Burdwan, and several districts in the western parts of the state.
"There will be no scarcity of electricity in Bengal in the next 100 years once the coal mine project comes up. The cost of electricity will also be cheaper. The required land for the first phase of the project is ready from the government's land bank," she said while adding that the rehabilitation package for the next phase is also being prepared. 
Sources said that the state is banking on the project as it has the potential of creating 1 lakh direct and indirect jobs.
Mamata is also banking on the proposed deep sea port in East Midnapore's Tajpur.
"Work for the new sea port at Tajpur will start soon. The work was delayed because of the Centre. Presently we have only two ports in the state," she said.
She added that an industrial corridor named Jungle Mahal Sundari is also coming up between Hooghly's Dankuni to Raghunathpur in Purulia via Panagarh, Durgapur in West Burdwan and Borjora in Bankura districts.
"The industrial corridor will fetch an investment of Rs 72,000 crore and work is on. A dedicated freight corridor is also coming up between Dankuni and Amritsar. I had initiated the freight corridor when I was the railway minister. Lakhs of jobs will be generated from these initiatives," she said.
The chief minister also announced an ethanol production promotion policy of her government to give emphasis on biofuel. "The importance of ethanol as a biofuel is growing as it is cheaper and environment-friendly. The raw material of biofuel is rice which is cheap and easily available in Bengal. This new policy will encourage growing industries as well as help the farmers to increase their income," she said, adding around 50,000 jobs will be created from this initiative which will bring an investment of around Rs 1,500 crore.
"We will set up a data centre industry in the state. Our aim is also to set up a data handling and storage hub here that can cater to the demand of not only the eastern zone but also Bangladesh, Nepal and Bhutan. The state government will help industrialists to set up the hub," she added.
She asked officials to take initiatives to hold the Bengal Global Business Summit this year after a gap of two years to focus on drawing investment in the state.
Oil price 'pain'
Chief minister Mamata Banerjee on Wednesday expressed pain over the BJP government's "apathy" towards rising petrol prices and appealed to Prime Minister Narendra Modi to intervene.
"I would request the Hon'ble Prime Minister to kindly act upon the concerns of our people and withdraw such hikes, immediately," she added.