Bengal chief minister's call to create jobs for migrants
Mamata Banerjee tried to send out a message that the government was keen on creating employment opportunities in the state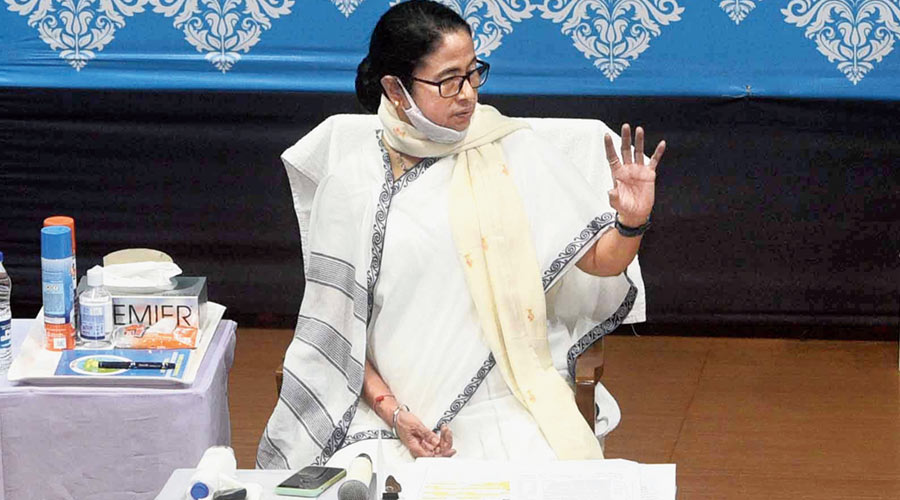 ---
Siliguri
|
Published 26.10.21, 01:25 AM
|
---
Chief minister Mamata Banerjee on Monday instructed various functionaries of the government — from ministers to bureaucrats — to explore all possible options to create employment opportunities for migrant workers in the state in a bid to rebut the Opposition's allegation that jobs are shrinking in Bengal.
The chief minister, while attending an administrative review meeting of Jalpaiguri and Alipurduar districts at Uttarkanya — the branch of the state secretariat here — tried to send out a message that the government was keen on creating employment opportunities in Bengal.
"Several youths from our state migrate to other states for jobs. There, they toil hard and have to bear considerable expenses for their stay. We have to take initiatives and motivate them so that instead of moving out, they stay here and get engaged in small businesses. We have to create self-help groups of youths through which they can carry out different works and can make a living," she said.
Over the past few years, BJP leaders, including central ministers, have asked why youths from here had to move to far-flung states like Kerala and Rajasthan to make a living for themselves.
While elaborating on the need to create jobs to discourage migration of the working population from the state, Mamata also asked Moloy Ghatak, the state minister in-charge of the labour department, to update the data of the state's employment bank.
Keeping her focus on employment, the chief minister asked H.K. Dwivedi, the chief secretary, to immediately initiate the process of recruiting retired persons and corporate professionals as joint secretaries in various departments on contractual basis.
"Publish an advertisement immediately for recruitment of 50 such people. Half of them would be posted in the districts (one in each district) while the remaining would be posted in various departments. This will help in easing the workload," said Mamata.
Later, she asked her officers to try and engage jobless youths in homestay tourism.
She also asked the officers to focus on the textile sector and engage self-help groups as well as youths in powerlooms.