Bengal boys of 'the good war'
Our volunteers in World War II are mostly forgotten, says Diya Gupta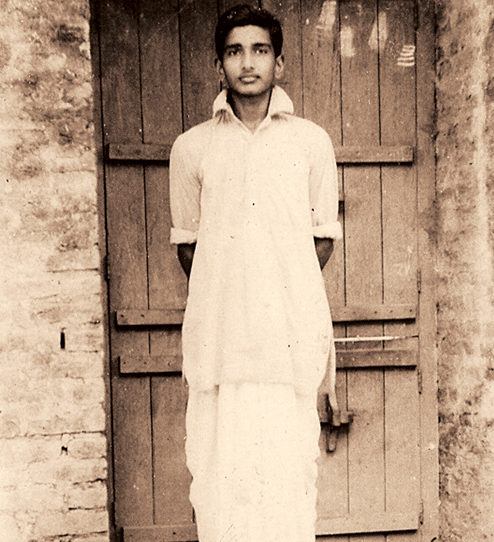 ---
Published 05.04.15, 12:00 AM
|
---
"The best moments... are when you come across something - a thought, a feeling, a way of looking at things - that you'd thought special, particular to you. And here it is, set down by someone else, a person you've never met, maybe even someone long dead. And it's as if a hand has come out and taken yours."
- The History Boys
It was on my second visit to the Imperial War Museum in London, where archives on British and Commonwealth conflicts are stored, that I uncovered Biren's story. I wasn't in the best frame of mind for research. The electricity company had sent me an exorbitant bill, I couldn't get the broadband service to work in my new flat, and I had just been squashed from all sides by London's peak-hour commuter crush. Rather out of sorts, I looked at my notes.
Captain Birendranath Mazumdar. A doctor from Calcutta. Imprisoned by the Germans in World War II, but escaped. I put the headphones on.
A voice crackled in my ears. "I joined the Royal Army Medical Corps in September 1939, and was posted as a general medical officer at the 17th Base Hospital at Etaples in France." Though the voice was hoarse and quavering with age, the intonations were unmistakably - and endearingly - Bengali.
Biren was escorting patients in a convoy of ambulances to Boulogne for better medical care when German tanks started shooting at them. He was commanded to turn back by a German lieutenant, who informed him that he would not be reaching Boulogne.
"I had nothing to eat, nothing to drink, and had to walk. I had to ask for permission to go to the toilet."
A non-combatant, Biren had been transformed into a prisoner of war when France capitulated to German forces. I was listening intently by now; the small irritations of my day having vanished.
There is something peculiarly evocative about the human voice. Wearing headphones and listening to Biren speak not only shut out the sights and sounds of the Imperial War Museum, it made Biren inhabit my mind for the next three hours. The textbook story of 'The Good War', where Allied forces defeat the evil Nazis and in which non-European volunteers are almost entirely ignored, crumbled in the face of the complex and grim realities of his lived experience.
School to battlefield
A few months earlier, I had discovered the story of another Bengali volunteer, Ajit, entirely by chance, while chatting with a friend over a drink in a Calcutta bar, with football rowdily being played on a giant TV screen behind us.
Aniket Mitra remembers his days as a young boy listening to stories of his grandfather's adventures in strange lands. After performing badly in his IA examinations and unsure of his prospects (and, more likely, fearing the wrath of his family), the 17-year-old Ajit Kumar Mitra ran away from his home in Dhaka and travelled to Mumbai, where he signed up as a volunteer reserve in the British Indian Army. He was sent to Iraq and North Africa with the Punjab Regiment, where he served in the famous Battle of El Alamein under Lieutenant-General Bernard Montgomery. The first major offensive against the Axis forces where the Allies achieved a decisive victory, this battle was a psychological and strategic turning point in the war.
"It's strange now to think that he was really there - my Dadu whom I knew and loved," reminisced Aniket. "When I was a child, Dadu's stories were just like fairy tales. I was entranced. I was familiar with these names and places long before I read them in history books."
Aniket remembers one incident in particular about Ajit's time at El Alamein. The soldiers were watching Gone with the Wind in the middle of the desert - a son et lumiere show. All of a sudden, the Axis forces attacked. The British troops, including the Indian Army, ran for cover in the midst of fierce bombing. Ajit was lucky enough to find a truck under which he hid. But shrapnel pierced his right eye, leaving it permanently damaged. He was to wear the scars of El Alamein for the rest of his life.
"The right lens of Dadu's spectacles was the thickest that I have ever seen," said Aniket. "It protected the damaged eye."
Ajit was also sent to fight in the Burma campaign, where he opposed the Japanese forces, and along with them, Subhas Chandra Bose and the Indian National Army.
"I wish I knew what he thought about fighting the INA," said Aniket. It was a turbulent political time, and impossible to second-guess Ajit's own affiliations. He certainly did not defect. Was he simply performing his role as a soldier in the British Indian Army, combating the Japanese, and the INA happened to be on the other side?
Soup, bread, loneliness
Biren too encountered the INA, although he never visited East Asia. The Germans consistently tried to recruit him, tempting him to "join his countrymen" in Germany, but he refused each time. He also openly disagreed with the German officers, telling them he did not have enough supplies to treat patients with, particularly at the camp in Marienberg (a German town), where Russian prisoners with gunshot wounds and amputated legs kept asking him for help.
His insubordination led him to be shuttled between 17 prisoner-of-war camps, where Biren was shocked not so much at his living conditions but at the behaviour of fellow prisoners. The Red Cross had distributed food parcels to the prisoners, but no one would share his food with newcomers: "I had read so many books of the First World War and the camaraderie there, which was of first-class importance... it was absolutely missing here."
He lived instead on paltry German rations - soup, black coffee and bread. "It was funny for me. I was the only easterner there, and they were all Englishmen, Dutch and others... they had the food but they wouldn't share it... I couldn't believe my eyes."
Biren was finally transferred to the high-security officers' prisoner-of-war camp at Colditz in the heart of Hitler's Third Reich. "I didn't know where I was. All I heard was the click of the key as the door shut. I was, to say the least, miserable and lost."
Biren recounted vividly how the British officers refused to acknowledge that he was one of them, and word got around about him being a German spy, which made his life unbearable at the camp.
Eventually, Biren was sent off to Berlin, travelling first class, to meet "someone". He did not know whom. This turned out to be Subhas Chandra Bose. "I was one of those who disliked British rule in India because I had seen in my country the oppression of the British," explained Biren. But he too did not defect.
"Mr Bose, I cannot, and I would not... You had the opportunity to resign and then you escaped from India. I haven't had the opportunity to resign. And anyway, I was taught since I was a child by my father that a promise once made, verbal or written, you have got to abide by, no matter what happens."
Doing a Gandhi
The next morning, Biren was taken back to Colditz, this time travelling third class. But "there was no doubt in my mind that I had done the right thing."
Biren staged a five-week-long hunger strike at Colditz (the British officers called it "doing a Gandhi") that resulted in his transfer to an Indian prisoner-of-war camp. From here, with two Indian allies, he managed to escape and reached the Swiss border. After the war, he lived in England, married an English woman and continued to practise medicine.
Ajit came to Calcutta at the end of the war and never went back to Dhaka. World War II was closely followed by the rupturing of the Indian subcontinent, horrific communal violence and riots of the Partition. The soldier Ajit now worked as a government official in the railways, and lived in Behala, where he helped to establish societies for the displaced people of East Bengal - Juba Sangathan Club for the youth; Sishu Tirtha, a school for children from less privileged families, and the South Suburban Club.
Clearly a figurehead in his local community, Ajit also acknowledged to his grandson that he himself had killed many people during his war years. "I was so young that I never questioned the morality of his actions," said Aniket.
"I never got around to asking him how he felt about the fact of taking someone's life. As a 10-year-old boy, it just felt part of the whole adventure."
Was it for adventure that Biren and Ajit volunteered? Reconstructing the past and recovering narratives is not an easy task. There are many gaps and elisions in our memories, both personal and cultural; in how and what we remember. Two-and-a-half million soldiers from undivided India fought in World War II, forming the largest volunteer army in the world at the time. Today, this is a largely overlooked fact. The challenge lies in piecing together a new, non-Eurocentric perspective of this war and of its forgotten people. Biren and Ajit's stories are a start.
Diya Gupta is a Phd researcher at King's College London, working on Indian soldiers in World War II. If you had someone in your family who took part in this war, she can be reached at diya.80@gmail.com