Bengal government allots Rs 64 crore for court building
Judges from Calcutta visit proposed site in Alipurduar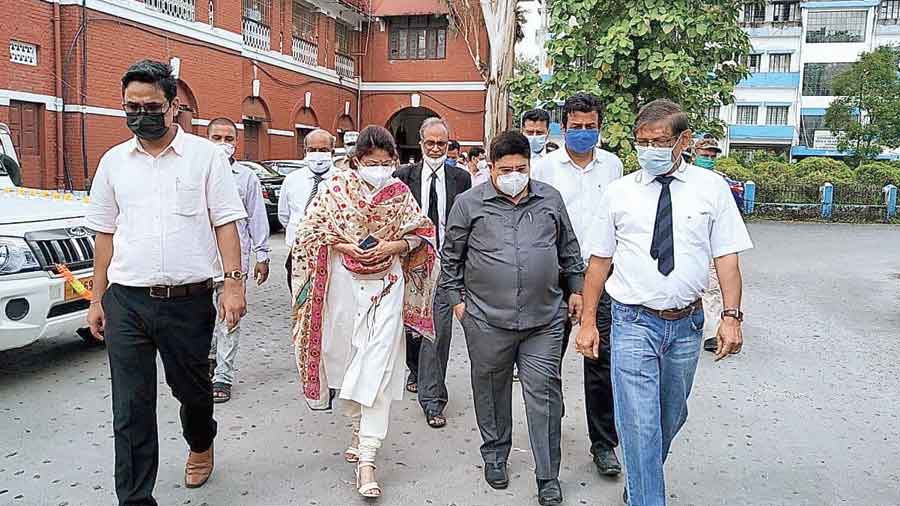 ---
Alipurduar
|
Published 19.09.21, 02:10 AM
|
---
Two judges from Calcutta High Court on Saturday visited Alipurduar's existing court campus and the proposed site where the building of the district and sessions court would be built, after the state government recently approved Rs 64 crore for its construction.
Alipurduar became a separate district in 2014 — it was carved out of the Jalpaiguri district — and the district court is yet to come up here.
The Mamata Banerjee government has decided to build a G-plus-six storey building in Alipurduar where the district and sessions court and some other courts will be set up.
Justice Tapabrata Chakraborty and Justice Rajashekhar Mantha of Calcutta High Court reached Alipurduar on Saturday morning. They were accompanied by members of the judiciary from Jalpaiguri and Alipurduar, along with representatives of the local bar association.
"The state has approved Rs 64 crore for construction of the seven-storey building where all the courts would be accommodated. We thank the chief minister and also Calcutta High Court as today (Saturday), two senior judges visited the campus and the proposed site of the building. They will submit a report to Calcutta High Court and we hope the process to set up the district court would be initiated soon," said Surhid Majumder, secretary, Alipurduar Bar Association.
A lawyer based in Alipurduar said because of the absence of a district court, proceedings of all cases pertaining to the district court are carried out in Jalpaiguri. "Whether it is the police and other government agencies or the litigants, all have to travel over 100km from Alipurduar on a regular basis," the lawyer said.
From places like Jaigaon and Kumargram, one has to travel nearly 150km to reach Jalpaiguri.
The lawyer said that on September 7, the bar association had sent a letter to the Acting Chief Justice of Calcutta High Court, Rajesh Bindal, and had urged him to expedite the process of setting up the district court here.
"It is good that soon after our letter, the acting Chief Justice sent these two judges here to check out the available land and for other ancillary information," the lawyer added.
Though administrative officials remained tight-lipped over the judges' visit, sources said the district and sessions judges' court is likely to be opened soon on an existing building on a temporary basis. "It will take around two-and-half years to get the new building ready. There is information that Calcutta High Court does not want people to face inconvenience anymore, so the district court is likely to be opened soon in another building," said a source.