Bengal government advice on tea bonus impasse
As the stalemate lingered, the state govt intervened and "advised" the management to pay bonus in two parts on October 4 and 30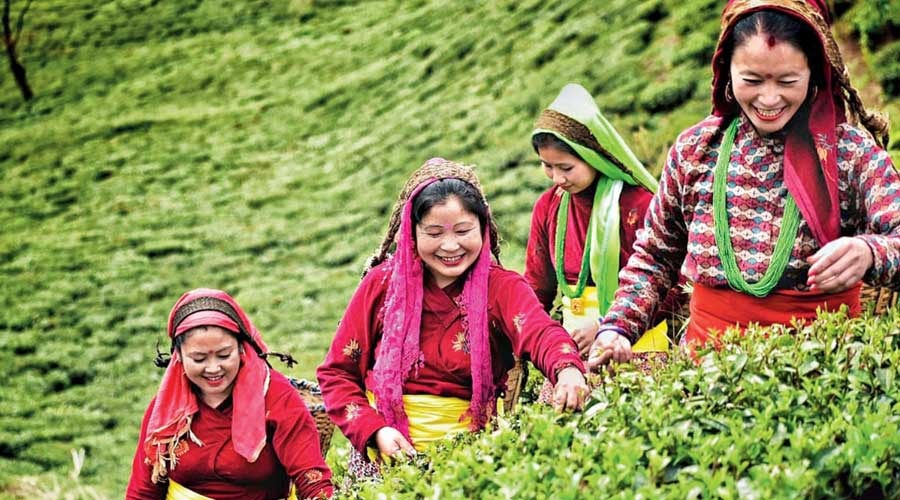 ---
Darjeeling
|
Published 29.09.21, 02:51 AM
|
---
The state government intervened on the deadlock over bonus between hill tea planters and workers' unions on Tuesday, advising planters to give the bonus in two instalments in October.
In the third bonus settlement meeting for the Darjeeling tea industry, held in Siliguri, the management again insisted on paying bonus to hill tea garden workers in two instalments. The eight hill tea unions, too, stuck to their stand of bonus at one go, which they said gardens in the Dooars and Terai had agreed upon.
As the stalemate lingered, the state government intervened and "advised" the management to pay bonus in two parts on October 4 and 30.
Sources said minister of state (independent charge) of labour department, Becharam Manna, who was not physically present at the meeting, intervened through official channels to work out a solution.
As in the earlier two meetings, the management cited that with exports of Darjeeling tea hit amid the pandemic and subsequent lack of cash flow, bonus could be paid in two instalments, one before Durga Puja and the rest by March 31, 2022. The unions said bonus should be paid at the rate of 20 per cent of the workers' total annual earnings (with a ceiling of Rs 15,500) at one go.
The state advisory said the 20 per cent bonus is "to be paid in two instalments", 15 per cent by October 4 and the rest 5 per cent by October 30. It was also stated that the practice of splitting the bonus, prevailing for three years in a row "shall be stopped from next year." The bonus ceiling was agreed at Rs 15,500.A copy of a letter by Md Rizwan, additional labour commissioner, north Bengal zone, to the state labour commissioner, details the proceedings of the meeting.
"Bonus talks are mostly settled between the union and management. This is probably the first time that the government has intervened with such a unique settlement," said an industry veteran.
A trade union leader who was part of the meeting said: "We protest this settlement." If the government discards unions, what can we say? If workers accept 15 per cent as first instalment, what can we say?"
There are 87 tea gardens in the Darjeeling Tea industry.