Beloved architect no more
Austen Plant's legacy: Lovely cottages in hills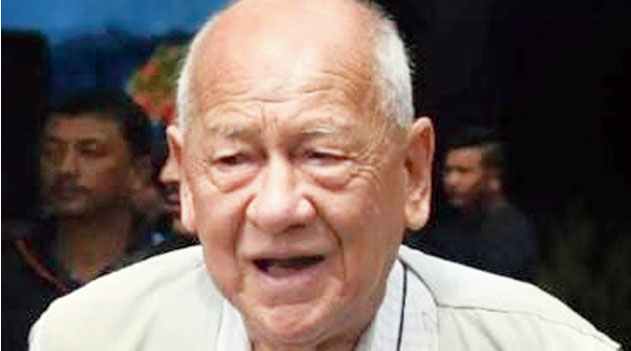 ---
---
Austen Plant, who designed beautiful Swiss cottages in Mirik and the trekkers' huts in Sandakphu, is no more. He was 82.
A familiar face in the hills, Plant was one of the last British passport holders in Darjeeling and recalcitrant to the idea of settling in England. He died in Calcutta's Woodlands Hospital on Thursday morning. He is survived by his wife Shalla, daughter Sharon, son Sean and his grandkids.
Rushed to Calcutta on June 22 for the treatment of a stomach ailment, he passed away "peacefully in his sleep" early on Thursday, a family statement said.
Plant was a Darjeeling representative of the British Deputy High Commission in Calcutta. But his main claim to fame is his distinct architecture, replete with sloping roofs, wide windows and use of greenery.
"He has left his imprint not just on his beautifully designed Swiss Cottages, trekkers' huts in Sandakphu, the tourist lodge at Gokul and other buildings, but on Darjeeling through his immense love for the place and its people," said Rajesh Chhetri, a Rotarian.
Born in Burma, Plant came to Darjeeling as a child with his mother and siblings during War World II. "The war had separated the family from their father. After many years, their father also came for a retreat to Darjeeling and a family reunion took place," said Ajoy Edwards, a family friend of the Plants.
Sunirmal Chakravarthi, former principal of La Martiniere for Boys, Calcutta, and a family friend, said Plant was never keen about going back to England. "He must have visited England a couple of times in his lifetime. He loved Darjeeling. He was really fond of people here, his friends, the local spicy alu dum."
A jazz enthusiast, among Plant's many friends were well-known musicians Louis Banks and Anjan Dutt.
In one of his articles for The Telegraph, Anjan Dutta had quoted Plant as saying: "It's (Darjeeling) the friendliest place, Anjan. The quality of life you get here you can't buy anywhere else. Despite the bandhs, the crises, the people are always so bloody kind."
The Rotary Club of Darjeeling, of which Plant was a member, held a memorial in his honour on Thursday evening. Darjeeling MP Raju Bista and GTA chairman Anit Thapa condoled the death.
Plant and his educator wife Shalla, known for their hospitality and a wide circle of friends, had recently thrown open their house, The English Cottage, situated on the Mall, to tourists as a homestay.