Baul international
Read more below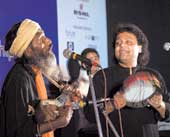 ---
Published 18.11.07, 12:00 AM
|
---
Golam Fakir performs with Tanmoy Bose at a city hotel
In May this year, a performance by baul Gour Khepa was organised by Patrick Ghosh on the rooftop of Ballygunge AC Market. "Gour Khyapa has spoken to the skies," writes Patrick on his blog, www.patrixghoxe.blogspot.com. The day's rainfall seemed to have stopped under the influence of Khepa's music.
The performance was for collecting money for Gour's treatment. He would rather earn the money by doing what he knows best than accept charity.
Gour Khyapa is one of the last of the older generation of bauls, which had the likes of Purna Das taking their music to the West. Yet, though Gour has done his share of globe-trotting, travelling with Paban Das and Subal Gosain, he has shunned the palatial house, the wealth and the trappings of fame. He lives in a modest one-storeyed house in Bolpur, near Santiniketan.
Kartik Das on song at Swabhumi. Picture by Sandip Sammadar
At 60, Gour retains the simplicity he began with. He still takes to the road, travelling from one fair to another. At poet Joydeb's birthplace, Kenduli, he avoids the crowd. At the fair, where bauls congregate to sing through the night, he stays not in high profile akhras but in a clearing in a bamboo grove nearby. His khepi, his companion or wife Parbati, cooks at the makeshift oven while their young daughter Laxmi mills around the informal adda that springs up around Gour. Visitors collect and Gour begins to sing.
Thus go the lines of Lalan ditty: "Amar gharer chabi porer o haate/ ami kemone khuliya se dhan dekhbo chokhete" (The keys to my house are in another's hand. How will I open the door to see the treasure it hides?) Without the gatekeeper who holds the keys, the song goes on to say, the singer wanders in the darkness.
Update
A look at the other corners in Kenduli, however, shows how baul music has travelled in time. Much like the Poush Mela in Santiniketan, Kenduli is now an event in the cultural calendar of middle-class Bengalis. Tents and Tata Sumos line its fringes. Music is not just baul either. There's kirtan playing on several stages, stalls are selling VCDs, with Baul-er Aul Katha by Chhayarani and Radhakrishn-er Jagarani Gaan sharing shelf space with one Premer Kanta.
Purna Das Baul
The look can be trendy — and international. Kenduli is a hub for the foreigner looking for spiritual epiphany. Moner Manush, Sadhan Bairagya's ashram, is the mela's most high-profile haunt. Called "Japani ashram" because of the large number of Japanese there, it is cordoned off by a fence with a signboard that refuses entry without permission. Several makeshift straw apartments, presumably an approximation of the simple life, lodge visitors, many of whom are foreigners.
Kauri, 42, from Nakayama in Japan, is one of them. She had met Sadhan in Japan in 1999. She liked the music and decided to come to India. The "baul religion" attracts her. "I like the philosophy of many kinds of love that makes up baul philosophy," she says in a haze of alcohol and smoke. Sadhan has a Japanese companion named Maki Kazumi.

Urban influence
This is not new. The winds of change began to blow during the Sixties. Recalls Khaled Chowdhury, who travelled across Bengal in the Sixties, archiving folk music, and compiled an anthology titled Folk Music and Folk Literature: "When I visited Kenduli in 1969, it had begun to be taken over by urban influences. Loud-speakers blared Purna Das's songs. The singer himself came and left with a foreign lady. He didn't even sing."
Drugs, sex and music have always been an alluring part of the exotic Orient package for the jaded foreigner in search of escape, whether it was Maharishi Mahesh Yogi's ashram (of The Beatles fame) in Rishikesh, or Sadhan Bairagya's in Kenduli. The smell of grass fills the air at the akhras as men, dressed in saffron and patchwork robes drag at earthen chillums.
But now more than ever the sound of baul music is changing. It's getting mixed too with new notes, some of which the purists don't approve of.
If baul is becoming more international by the day, it is also attracting many new elements and a new variety of singers back home. In a flat in south Calcutta, two young men are practising with their instruments. Sandip Samaddar and Satyaki Banerjee front the group Calcutta Cycle that plays baul and fakiri music. Sandip, a final year student of Indian Art College, plays the khamak, ektara and khonjira, and Satyaki sings. The duo has organised the Baul Fakir Utsab every year where bauls across the state congregate. Golam Fakir of Gourbhanga village in Nadia plays with them.
Utpal Fakir, born a Calcuttan who has converted to "baul", is a BSNL employee who lives in a modest house near Jadavpur. His wife "Sahaj Maa" is a history graduate from St Xavier's College. They are city-breds who have converted into baul.
"You cannot try to hold on to an ideal 'original' form. Music will evolve under the influences it receives, and there will be a fusion of styles, just as the nuances of a baul song changes over places as it absorbs the dialect and musical influences of the region," says Sandip.
Rising demand
The record companies feel this is dynamism and love it. Saregama HMV, which has several albums of Purna Das on its roster, has released three albums with Utpal Fakir and Sahaj Maa.
The couple's first album, titled Folktale (2005), had tabla player Bickram Ghosh arranging the music. This was followed by Baulani (2006) and Mon Ujaan (2007). A video of the song Mon baul, baul mon re from the duo's latest album airs on Incoda TV at Metro stations, where Sahaj Maa sways to songs written by Utpal Fakir, who followed original bauls for 27 years — much as groupies follow rock musicians — before being accepted as a baul. Utpal Fakir has to his credit a book of verse titled Ichhe Khyapar Ayna Mahal, which was published in 2004 and dedicated to his guru Sadhan Bairagya. In the book, a po-mo Fakir discourses heavily. "Existentialism theke postmodernism-er haoa morog-er leje Lalan Fakir-er ektara beje uthlo." (Lalan Fakir's ektara has played upon the tail of the wind-vane, striding existentialism and post-modernism).
Performers at a Sufi music conference in the city.
Says S.F. Karim, chief manager (content), Saregama HMV: "Baul music, along with folk music, has a niche market that is not limited to the Bengali audience. While sales do not usually go through the roof, there is a steady demand throughout the year." Folktale was, according to Karim, a runaway success, with its songs being aired even on MTV. "The singers receive royalty, not only for the number of cassettes and CDs sold, but even on downloads and other digital formats in which music is accessed," he says.
Record companies want more. They are making inroads into baul land, the arid stretches of Birbhum, for fresh voices. "We don't want to flow with the tide and would rather look for new talent," says Karim. Saregama's latest import is Rathin Kisku, an "adivasi baul", a Santhal who sings baul songs. His album Pran Bhore Gai was launched at Max Mueller Bhavan in August. That others are jumping onto the bandwagon is evident in the recording list of a local music company, Prime Music. The company's baul album, Amar Sonar Bangla by Kartik Das, Manoj and Manisha Nair was released in 2006.
And the number of celeb bauls is rising. Kartik Das is one. He is publicity-savvy, has the requisite attention-grabbing credo of having toured foreign climes. The India Festival at Washington DC in 1985 was one of his first stops, and he has travelled to Atlantic City for the Banga Sammelan and to Hiroshima for the Wall Festival. He is also a regular in fusion band Oikyotan fronted by ex-Krosswindz singer, Bonnie.
Tradition vs commerce
With baul music and philosophy reacting to so many influences, not many are happy. "Allegories about daily life in baul music embodied a deeper philosophy, but it needed a certain orientation to recognise it. Now the words are only empty names. The song and the lifestyle that give it birth are no longer connected," Chowdhury laments.
Gour Khepa has strong opinions. "These are the days for synthetic material. You have plastic bauls, for whom drinking and smoking ganja is everything and for whom success is measured in terms of the number of cassettes you bring out." He talks in metaphors: "Earlier we had rosogolla made of milk. Now, they make it with soyabean," he says, to his own raucous laughter.
Says Sandip: "Awareness of commercial possibilities is welcome. But commercial interest sometimes ends up taking prominence over the quality of music."
Today, external ornamentation is more important than the simplicity of the music, feel some. "The music has been altered to fit urban tastes, as the target audience is in the cities. Earlier bauls would beg for food as they sang, today they look for concerts. The dialect is no longer regional, but a homogenised 'folk' that is popular in cities," Chowdhury says. Everybody sings like Purna Das since he achieved international fame.
But Kartik Das defends the new music. "Who will cater to bauls when you can buy a recorded CD of songs for Rs 10? Now they want loud music and percussion that they can dance to," says Kartik Das of the village crowd that, he says, no longer shows the reverence for the baul they once did.
Says Utpal Fakir: "Certain bands sing modernised versions of folk songs. They have no right to deface tradition." But the "modernisation" he has effected in his songs, using acoustic guitar and synthesiser, is, however, "his contribution to the genre". Which is necessary because "we are no longer in Lalan's times".
Meanwhile, the baul robe, once entirely a patchwork piece, is now ordered and made. Many aspiring baul singers now apply for a passport even as he learns to sing. And "Dalan kotha tyajya kori, gachhtala korechhi shar," goes a baul song. (Abandoning courtyards and palaces, I have made the shelter of the tree my home). Purna Das lives in a palatial house, though he calls it Gachhtala (the shelter of a tree).
the original music
Baul music draws on Sufi thought, Buddhist Sahajiya and Vaishnavism. It is secular in content. "Ja achhe bramhande, tahai achhe dehamande" is a key tenet. A human being is a microcosm that reflects the larger macrcosm of the universe
Gurugyan, Dehatatto and Manastatto — the three stages of spiritual uplift, communal harmony and the sorrow of separation are the subjects of the songs
The music is also influenced by the area it hails from. In the east of Bengal, it carries Bhatiyali influences, in the north, it is Bhawaiya, while the Rarh region has influences of jhumur
The songs written by Panju Shah, Lalan Fakir, Bhaba Pagla and Radheshyam are frequently sung