Bandh? Get eyes checked: CM Rosy picture at airport, not everywhere
Read more below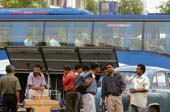 ---
---
(Top): An air-conditioned Volvo bus waits to ferry passengers from Calcutta airport to other parts of the city. (Above): A passenger is stranded at Howrah station, as there were no taxis on the road on Wednesday. Pictures by Amit Datta and Sanat Kumar Sinha
A pleasant surprise was awaiting Sanjay Sabharwal when he stepped out of Netaji Subhas Chandra Bose International Airport on Wednesday afternoon. Aware of the strike call by Citu, the businessman was prepared for the worst at the airport, but he was proved wrong.
"I paid just Rs 100 and an air-conditioned Volvo bus dropped me near my home in Tollygunge. I was really impressed," said Sabharwal, after returning from Mumbai.
The Airports Authority of India had made the special provisions to ferry air travellers to various parts of the city. On Wednesday, a taxi strike coincided with the Citu strike in the unorganised sector.
But unlike in the past, the sectoral strike did not snowball into a full-fledged bandh.
Chief minister Buddhadeb Bhattacharjee had a suggestion for those failing to recognise the change. "You should get your eyes checked," said Bhattacharjee, referring to a question on a bandh-like situation in Calcutta.
Though the impact of the strike was far from a bandh, people — leaving home for office or other work – were inconvenienced.
As there were no special buses for people travelling by train, the usual sight of passengers stranded in the taxi stand was seen at both Howrah and Sealdah stations.
"Some unscrupulous car-owners are making a killing. I was asked to pay Rs 400 for a ride from Howrah to Sealdah," said Ananda Banerjee, a resident of Uttarpara. Finally, he and his family hauled their luggage and walked to the CSTC bus stand.
Though fewer in numbers, private and state buses were seen on the road on Wednesday, while local train and Metro Railway services maintained their normal schedule.
"We had exempted buses and minibuses from the strike. Owners pulled out on some routes while on others, bus employees went off the road because of poor passenger turnout," said Citu state president Shyamal Chakraborty, while calling the strike a success.
But there were also reports that Citu supporters had crossed the line at some places in enforcing the strike.
"The strike supporters forced our employees to join in. When they refused to, they forced us to down shutters," said Kafil Ahmed, a footwear trader on Rabindra Sarani.
In some places, autorickshaw drivers and rickshaw-pullers were heckled for not taking part in the strike.
"These are isolated incidents and insignificant. We are opposed to any coercion and had told our supporters not to force anyone into joining the strike,'' said Citu's Chakraborty.
However, not taking any chances, most shop-owners in major markets in the city had voluntarily downed shutters. Small businesses suffered, as the employees did not turn up. The strike also had an impact on the financial sector, with ATMs of both public and private-sector banks remaining closed, as the security guards stayed away.
The chambers, known for their vociferous opposition to disruption, played down the effect of the strike. "The impact on trade and commerce was minimum. This is the first time that something like this has happened," said D.P. Nag, secretary, Bengal National Chamber of Commerce and Industry.