Awareness key to rare disease control
Programme held on rare diseases, organised by the Organisation for Rare Diseases India, in Calcutta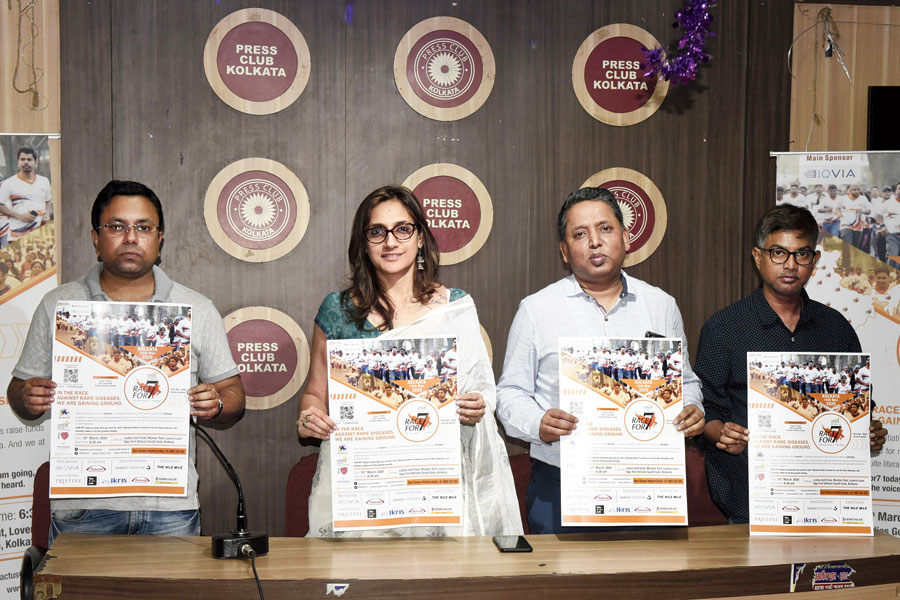 (From left) Parents of children with rare diseases, along with geneticist Dipanjana Datta, at the programme on Thursday.
Picture by Sanat Kumar Sinha
---
Calcutta
|
Published 12.03.20, 08:07 PM
|
---
Awareness of rare diseases is "very low" in India, it delays diagnosis and families have to face insensitive comments, parents of children suffering from such diseases said on Thursday.
A rare disease is one with low prevalence; it affects a small number of people. Muscular dystrophy, haemophilia, thalassaemia, sickle-cell anaemia, autoimmune diseases and Edwards' Syndrome are a few rare diseases, according to doctors.
The parents were speaking at a programme on rare diseases, organised by the Organisation for Rare Diseases India.
Family members of patients said the "prohibitively expensive" treatment of some of the diseases was a reason why many give up.
A family member of a patient suffering from muscular dystrophy said the treatment costs the family close to Rs 40,000 a month.
Between 6-8 per cent of any country's population suffer from rare diseases, according to the first draft policy on rare diseases prepared by the health ministry last year.
Dilip Singh's seven-year-old son suffers from Duchenne muscular dystrophy, a condition where the muscles get weak and wasted with time.
Singh and his wife, Prity, took him to a doctor when he kept falling while walking. But doctors failed to diagnose the disease. When he was four years old and unable to run, Prity insisted something was wrong.
"They would tell us that we were putting unnecessary pressure on our son. It took seven months to diagnose he was suffering from DMB," Singh said.
The post-diagnosis phase, too, wasn't easy. "A doctor told me to plan a second child as my first child was a 'waste'," Singh said. Such an "insensitive comment" hurt parents because "our child is our world", he said. The couple's son is now a Class II student.
Suvro Das' one-year-old daughter was diagnosed with Edwards' Syndrome a month after her birth. A chromosomal disorder triggers the condition that can affects the heart or kidneys. It can be diagnosed in the prenatal stage.
People know so little about it that they would always tell Das that the child would not survive beyond two or three months. "She has turned one," he said.
A parent said they needed a wheelchair — one for indoor and one for outdoor activities — as his child could not walk well. Conducting tests every two months and visiting a host of specialist doctors at short intervals is difficult for an average middle-class family, the parent said.
The draft policy speaks about such expensive treatment while calling for the inclusion of rare diseases under insurance coverage, which is not the case now. "The impact on families is often catastrophic — emotional as well as financial — as the cost of treatment is prohibitively high."
Both Das and Singh said low awareness of rare diseases was a "big barrier" in the management of such diseases.
Dipanjana Datta, a genetic counsellor, had helped both the parents in the post-diagnosis phase. "I know of a woman in the US who is now 23. An early diagnosis means the disease management can start early. It can prolong the life of a patient."
Increased awareness will help in early diagnosis. "Most parents of children suffering from DMB take their child to an orthopaedic; but a neurologist is better suited to diagnose this disease," Datta said.
A run has been organised on the Maidan on Sunday to raise awareness among people.