Attacks spark CM-BJP duel in Bengal
'The suspected BJP workers had stopped Scorpio when the lawyers had gone to an eatery in Gurap'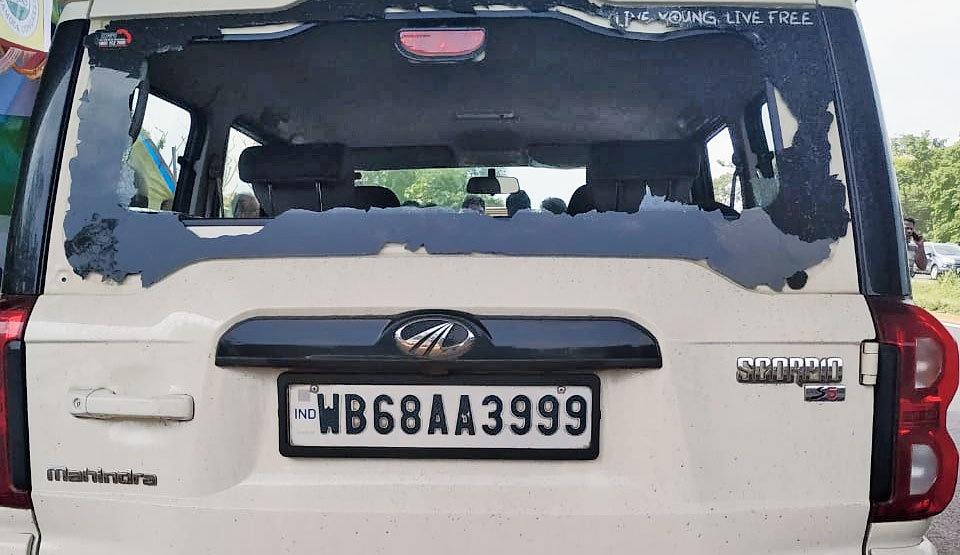 ---
|
Calcutta
|
Published 21.07.19, 07:23 PM
---
Mamata Banerjee on Sunday sent an apparent message to Trinamul Congress workers across Bengal to put up resistance against the BJP's alleged attempts to usurp its political space through use of force.
Addressing the Martyrs' Day rally, Mamata said at many places, Trinamul workers had been prevented from going to the Martyrs' Day venue in Calcutta.
"Party workers were forced out of buses in Gurap and Arambagh (in Hooghly), Patashpur (in East Midnapore) and Midnapore (in West Midnapore). Organise protest meetings at all these places tomorrow," Mamata said.
The chief minister then warned the BJP. "Don't forget, you will also hold meetings and rallies. If Trinamul pays back in the same coin, then what will happen? Are you ready? We have maintained decency so far."
In response, Bengal BJP president and Midnapore MP Dilip Ghosh said his party had not been allowed to hold any meetings in the state. "Still, we held packed meetings at Brigade Parade Grounds and in Siliguri on the same day, both addressed by Prime Minister Narendra Modi. So, don't try to scare us," said Ghosh.
The verbal duel was the fallout of an incident on Sunday morning when a group of suspected BJP workers ransacked a Scorpio carrying eight lawyers belonging to Trinamul's legal cell in Bankura.
The lawyers were on their way to the rally in Calcutta and they alleged that the BJP supporters had tried to drag them out from the car near Gurap.
Sources said the suspected BJP workers had stopped Scorpio when the lawyers had gone to an eatery in Gurap.
"As soon as our vehicle reached the eatery, a group of youths surrounded our car asking us to get down. They threatened that we would not be allowed to go to the rally as all Trinamul people had taken cut money," said Atanu Dey, an assistant public prosecutor of Bankura court and a member of Trinamul's legal cell.
The group, allegedly armed with sticks and brickbats, also attacked two other vehicles, including a reserved bus, and beat up Trinamul supporters who were on the way to Calcutta. The Trinamul supporters then blocked the Durgapur Express Highway for over half an hour and the lawyers lodged a police complaint.
The BJP has denied the allegation. "This is a false allegation. The entire incident was stage-managed by Trinamul," said Subir Nag, BJP's Hooghly district president.
In another incident, four buses carrying Trinamul workers were stopped and attacked allegedly by a group of BJP workers at Katabari in Bankura's Onda on Saturday night. Police drove away the BJP workers and freed the buses.
Eleven BJP workers were arrested in connection with the attack on the buses.
Additional reporting by Abhijeet Chatterjee