Party applying Bihar lessons in Bengal
Assembly polls: CPI(M–L) leaders call for non-BJP forces to unite
The idea is to ensure that the saffron party is defeated in each and every seat, says party's general secretary Dipankar Bhattacharya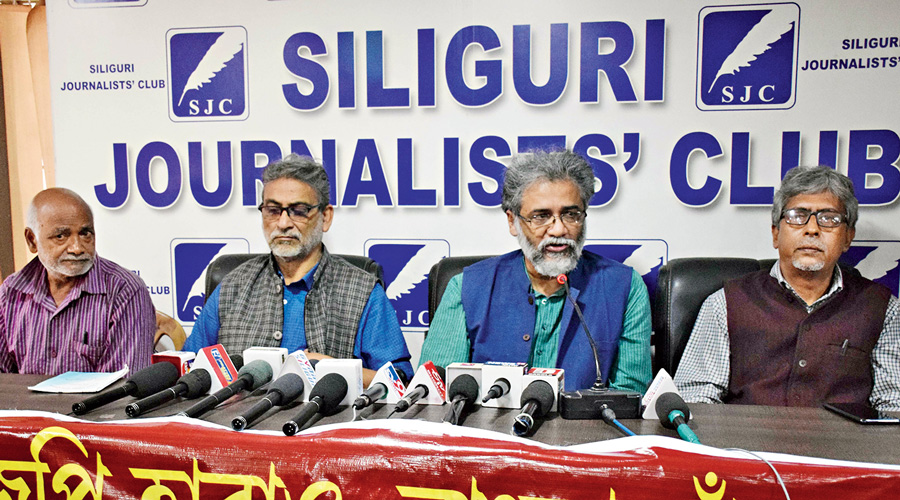 CPI-ML (Liberation) general secretary Dipankar Bhattacharya (second from right) with other party leaders in Siliguri on Monday.
Passang Yolmo
---
Siliguri
|
Published 09.03.21, 01:13 AM
|
---
Senior leaders of the Communist Party of India (Marxist–Leninist) Liberation on Monday called for all non-BJP forces to unite for the upcoming Bengal Assembly polls.
At a news meet in Siliguri, leaders of the CPI-ML (Liberation) announced they would field candidates in 12 Assembly seats in Bengal, support some Left candidates in some other seats and iterated afresh the party's stand of supporting the strongest non-BJP candidate in each seat elsewhere.
"We will field candidates in 12 seats and in some other seats we will support the Left candidates. As far as the remaining 250-odd Assembly seats are concerned, we would like to appeal to all the anti-BJP political parties to stand together and encourage people to vote for the strongest non-BJP candidate for the seat concerned," said Dipankar Bhattacharya, the general secretary of the party.
"The idea is to ensure that the BJP is defeated in each and every seat as they are our principal political opposition," Bhattacharya added.
Of the 12 Assembly seats where CPI-ML (Liberation) will field its candidates, three are in north Bengal. These are Phansidewa in Darjeeling district, Maynaguri of Jalpaiguri district and Mothabari of Malda district.
The other nine seats are Khargram of Murshidabad, Nakashipara and Krishnanagar Dakshin of Nadia, Uttarpara and Dhanekhali of Hooghly, Ranibandh and Onda of Bankura district, and Jamalpur and Manteswar of East Burdwan.
"The BJP is trying to come to power in Bengal by some means or other. Their only objective is to establish a single party system that will rule in every tier, right from the Centre to the panchayats. This has grossly affected the federal structure of our country. We would like to extend our support to political parties which are opposing these aggressive policies of the BJP," said Bhattacharya.
Such an assertion comes after his party managed to win 12 of 19 seats at the Assembly elections held in Bihar a ths ago, opined political observers.
An observer pointed out that though the CPI-ML sought to apply Bihar's lessons in Bengal, the latter's political situation was different. "In the Bihar polls, the party had sent forth the missive that every effort should be put in to defeat the BJP. It helped the Mahagathbandhan in Bihar win a number of seats. Now that Bengal polls are drawing near, they are iterating the same narrative. But Bengal's political equations are different from Bihar's," he said.