'Apolitical' Adivasi forum show of strength
This first-of-its kind Adivasi Ekta Hulsai Manch, formed in June,  is being considered significant by electoral players although the forum called itself apolitical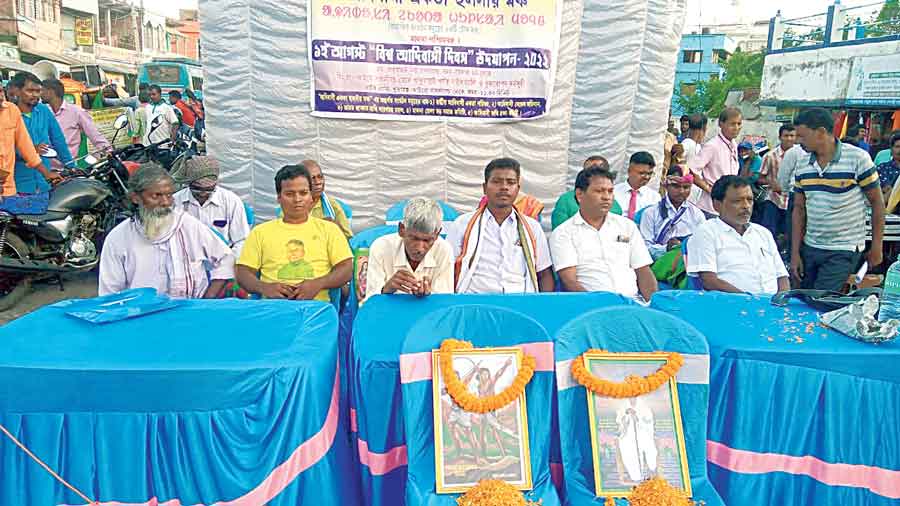 A meeting of Adivasi Ekta Hulsai Manch, a forum of five tribal outfits, at Pakuahat, Malda, on Tuesday.
Soumya De Sarkar
---
Malda
|
Published 10.08.22, 12:28 AM
|
---
Five tribal organisations in Malda teamed up to raise community-specific issues on Tuesday, the International Day of the World's Indigenous Peoples. This first-of-its kind Adivasi Ekta Hulsai Manch, formed in June,  is being considered significant by electoral players although the forum called itself apolitical.
The Adivasi Ekta Hulsai Manch comprises of Rashtriya Adivasi Ekta Parishad, Adivasi Sengel Aviyaan, Bharat Jakat Majhi Pargana Mahal, Malda Zilla Har Samaj Committee and Adivasi Jami Raksha Committee.The manch celebrated the International Day of the World's Indigenous Peoples at the Pakuahaat area of Bamangola block in Malda.
Manch coordinator Nirmal Soren, a schoolteacher, said it was formed after "much thought and discussion"."We have received support from organisations such as Adivasi Sengel Employees' Morcha, Adivasi Sushil Sikshak Samaj, Tribal Professors' Association, among others, which further fortified our mission," Soren said."Consolidation on community lines can change the contours of politics in any region. Even though the forum has called itself apolitical it can emerge as a deciding factor in many situations if it sustains," said a political observer.
To start with, the forum is raising issues like teaching the Santali language using Ol-Chiki letters in colleges and universities and seeking a check on "illegal" transaction of tribal land, among others.
"Education in Santali language is still not available in Gour Banga University and colleges under it. Community members facing financial hardship are forced to go to other universities," said Supriya Hembram of Adivasi Sushil Sikshak Samaj.Community leaders have also started meeting block officials and police seeking intervention to stop illegal dealings of tribal land.
"Tribal-owned land cannot be sold to or occupied by non-tribals unless various conditions are met. But corrupt land sharks try to capture tribal land by cheating innocent tribal people. This practice should stop immediately," said Baburam Kisku, a leader of the manch.although the forum has positioned itself as an apolitical body, it  is being closely watched by political parties at a time when panchayat elections are not too far away.
Observers believe that political parties have to take the apolitical manch into confidence henceforth for the upcoming polls.The tribal population plays a decisive role in three of the 12 Assembly seats in Malda.In 2019, the BJP managed to garner a major vote share of the tribal population in the region.
The administration is also looking at the issues raised by the tribal forum with all seriousness."Strict orders have been issued to all land and land revenue offices in the district so that no tribal land can be illegally handed over and mutation done," said Nitin Singhania, district magistrate.
The first public meeting of the Manch was seen as a show of strength by many. A motorbike rally with hundreds of youths was brought out in the area. There was a significant presence of women at the Pakuahaat function."We are not into politics. But our aim is to ensure all benefits for the tribal people who have a long way to go to be socially established," said a manch leader.