Apni Roti: An initiative to feed the hungry
A mobile chapati-vending truck winds through some of Calcutta's hungriest alleys serving piping hot chapatis with ghee and pickle to the needy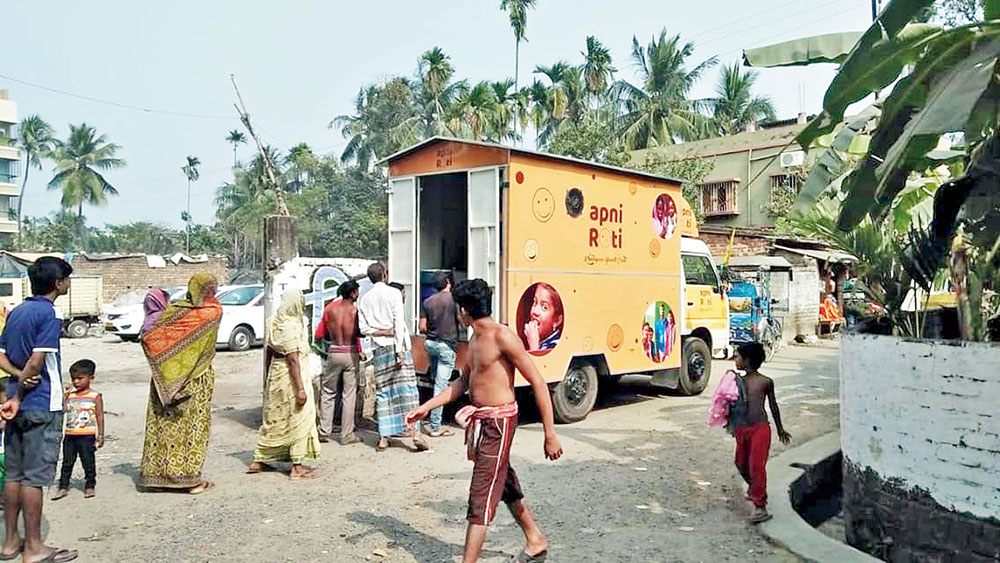 ---
---
One hot afternoon, an orange truck with smileys drives into a south Calcutta slum — known as the Chetla Lock Gate slum. Six-year-old Durga is squatting under a tubewell. Four-year-old Priya is playing a game of blocks with her grandmother. Nine-year-old Ritwik has just returned from school. All of them rush towards the truck, which has the words "Apni Roti" written on it in English letters. In a matter of minutes there are almost 60 people in the crooked queue outside the truck.
Apni Roti is an initiative of the 39-year-old entrepreneur, Vikash Agarwal. This truck is actually a mobile roti-vending machine. Agarwal tells The Telegraph, "I saw that most organisations distribute leftover food to the needy. I feel everyone deserves a hot, fresh, hygienic meal." Started in January 2019, Agarwal's Apni Roti travels to serve piping hot rotis with ghee and pickle, and occasionally sweets, to the needy. The roti-vending machine produces 1,000 rotis an hour. "We try to cover slum areas and city outskirts. We also go to areas near government schools and hospitals," he adds.
Agarwal has been able to gather a team of volunteers who support the day-to-day operations and distribution. Apni Roti uses WhatsApp to streamline these operations and volunteering efforts. "While we finalise the itinerary a week in advance, we are able to engage our volunteers effectively by sharing the live location of the van. We have a WhatsApp group called Apni Roti Squad, wherein volunteers share suggestions regarding areas that can be added to our existing itinerary," he says.
At Chetla Lock Gate, volunteer Debopriya Dey is trying to apprise the women of the area about the initiative. She has an Apni Roti badge pinned to her floral white kurta. The women, dressed in cotton saris, nighties and dupattas, most of them barefoot, are walking towards the truck. One of them whispers to another, "I won't have to cook dinner tonight. There was no ration at home anyway." Mothers, young and old, are dragging their children out of their homes and making sure they secure a place in the queue. Men in lungis and vests, khaki trousers and tees, are peeping into the van to see what is happening. The expressions of the people gathered around vary from confused to excited.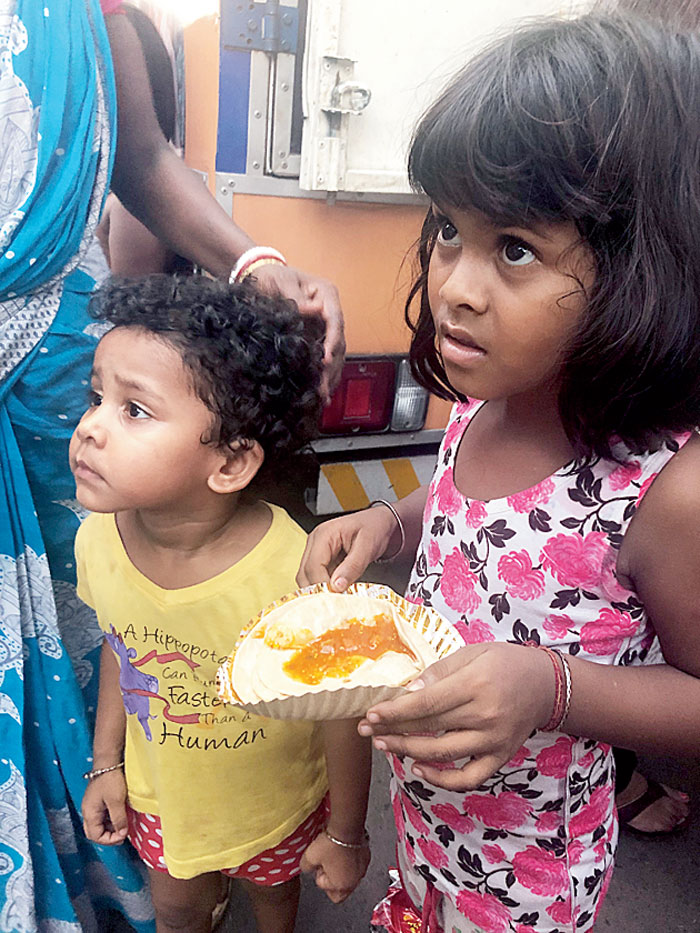 In the meantime, a young man inside the truck is feeding kilos of flour into a machine. From the other end, round, fluffy rotis are emerging and sliding into a basket. Someone comments on the aroma of the fresh rotis.
Once the basket is full, a volunteer sits at the truck's doorstep, rubs a spoon of ghee on four rotis, puts a generous dollop of pickle on the pile and serves it in a foil plate. Kobita mashi, a woman in her early 50s who works as a domestic help in Alipore, is enthralled by the contraption. "Hebby," is her word of commendation.
Nilima Halder is hollering at a hutment. She is basically asking her family to come out and eat something before it's all over. She, however, tells Dey with a note of challenge, perhaps born of habit, that it is impossible to feed all the people in the slum. "There are too many of us," she says. Munni, who is also from this slum, acts bosswoman. She screams with her mouth full of pan masala, "Don't give food to the middle-aged ones. Give it to the little ones and the elderly first." A 10-year-old is prancing around, screaming, "Luchi, luchi." One child comes out of his house with a tiffin box, which in all likelihood he hopes to fill up.
Once his or her turn at the queue comes, the hungry little girl or boy takes the hot plate and dashes home. Some stand and stare at the food before gulping it all down. Some call out to their mothers or mashis as the plate is too hot for them to hold. Some mothers prod their children to return to the queue yet again; seconds.
Curly-haired Rohit Pal is a 15-year-old studying at Chetla Boys' School. He stands around with his friends as they wolf down the roti and lick their fingers. He asks cheekily, "Who is feeding us today? Didi or Modi?" and everyone starts laughing.
Over the last five months, the Apni Roti truck has travelled not just within and around the city, but also to Bihar and Jharkhand. "We run an ashram in Banka district in Bihar, where we provide food and accommodation to the underprivileged. It is called the Shivohum Balaji Seva Trust," says Agarwal.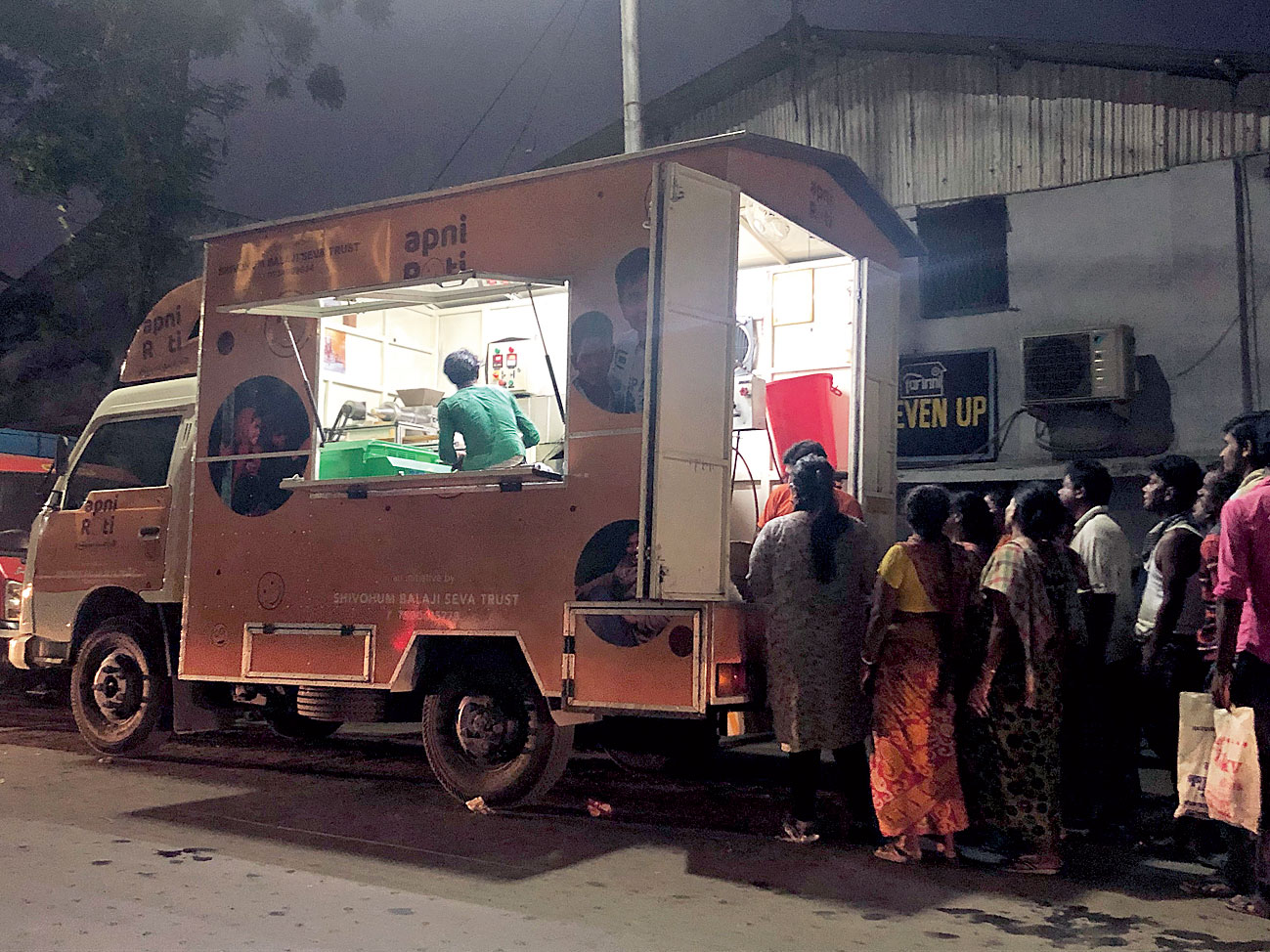 He traces the Apni Roti story to 2015, when his mother, Krishna Devi Agarwal, would regularly visit the Baba Baidyanath temple in Deoghar, Jharkhand. Having been there, she wanted to provide food and accommodation to the pilgrims who could not afford either. The family then built an ashram in Banka district and another one at Gangasagar in West Bengal.
Says Agarwal, "Later, when I saw the concept of meals on wheels, it inspired me. I wanted to serve basic food that I was having at my own home. We brought this machine from Gurgaon last September and the entire set-up was complete by December-end."
While Dey, a recent graduate from Asutosh College, is volunteering for the first time, Dum Dum resident Shiv Kumar Mahato, a student of Bangabasi College, has been associated with the cause since March. He talks about the previous day's experience when the truck was at Dum Dum Cantonment's Pramodnagar. "The crowd automatically comes when they see this truck.
At times, it is difficult to make them believe that the food comes at no cost. Some thought it was an advertisement for a brand of flour or the roti machine." He adds, "Yesterday we used 25 kilos of flour and 5 kilos of pickle. We fed 300 people."
At the Chetla slum, the queue appears to be of the same length, no matter when you are checking. People join, take and leave and some join again. The pushing and shoving is constant. Some seem to think the orange truck is from the Bharatiya Janata Party stable. Truck driver Chandan Das says when the monsoons arrive, the truck will park itself at different venues in Jharkhand's Babadham for the entire month.
Agarwal hopes to increase the number of vans, first in Calcutta and then across Bengal and Jharkhand. He says, "In just a couple of months, we have been able to reach out to 1.5 lakh people through just one van. Imagine how much more we can do, if we increase that number to 10 vans."