Preserving faith at the Dakshineshwar Kali temple
The 164-year-old temple in Calcutta is a fine complex of imagery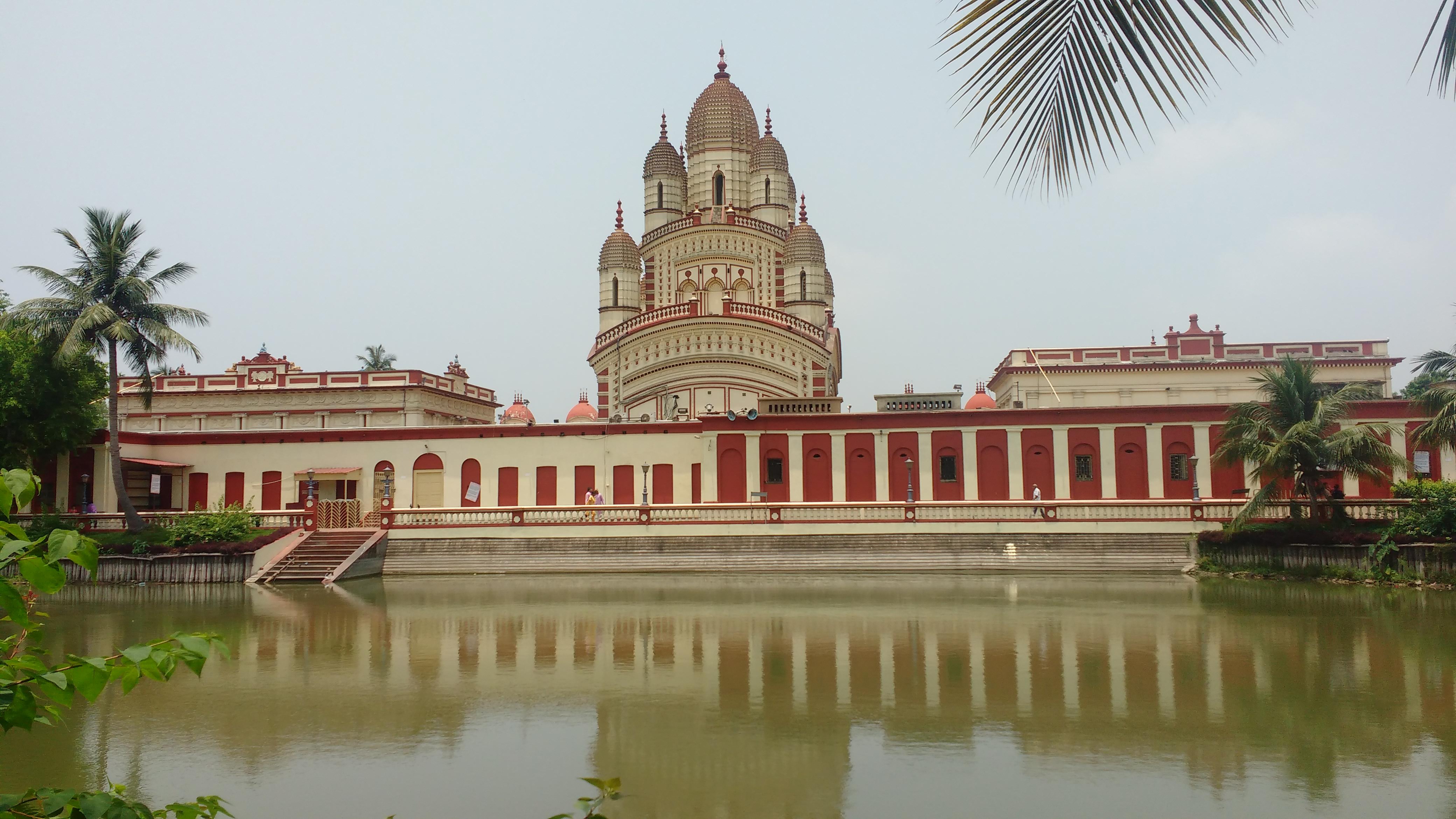 Dakshineshwar Kali temple
Paromita Kar
---
Published 13.07.19, 08:12 PM
|
---
There are ways of seeing things and there are ways of not seeing things. Then there are things that themselves tell what must be seen, like the writing on the wall. Or images on the same wall that speak of a heritage, legacy and culture, in over a thousand unspoken words.
The Dakshineshwar Kali temple is a fine complex of imagery. It is that concurrence of noble thought and firm action which we often invoke in order to make a case for Bengal's progressiveness. Founded in 1855 by the brave and blessed Rani Rashmoni — the same whose benevolence resulted in the founding of the Imperial Library (National Library of India) and Hindu College (Presidency University) — the temple's existence serves as a lesson most relevant though quite forgotten.
And yet what struck me first during my recent visit to the place was feet burn. The large central courtyard was simmering in the June sun, the unabated devotion of which hits you in the face and melts down your neck and back. Barefoot, I hopped, skipped and made a dash for the row of identical looking small temples to the right, in the hope of finding some calm for my soles. To the left was the main shrine of goddess Kali — or Bhabatarini, the dispeller of darkness. But the spot was chock-a-block with men, women, children and the elderly waiting patiently to offer prayers, oblivious to any heat stress.
The 12 Shiva temples sit on a raised platform overlooking the riverfront, the bathing ghat and the happenings therein. Many people like to take a dip in these waters before setting foot on to the courtyard. It was on these steps that Sri Ramakrishna Paramhansa bathed his body, mind and soul before beginning his daily activities as head priest. It was also on these grounds, in Panchabati amidst the banyan and bel, that he undertook his spiritual pursuits — in Christianity and Islam too — for over 12 years.
Faith, they say, can move mountains, and also make little actions look more beautiful. From my vantage point, metaphors vied for attention. A grandmother in a wet sari running clumsily after an imp of a grandchild, naked and squealing as if playing out a pre-bath ritual. Women sporting dazzling vermilion combing their tresses into submission. A young girl draped in a yellow sari, hair plastered and plaited, moving towards the goddess, the agility of her being made more conspicuous by her long, white danglers.
A sweet smell of incense hung in the air. My faith was restored soon enough as I took a deep breath in the shade of a smart little canopy — a leafy vine in play with an almost bare tree, the trunks of the vine themselves in tango with sturdy electrical wiring. A father looked on as his little girl bathed each of the six large pebble-heads — uniformly — with the contents of a 600ml bottle. Then there was this rugged looking man in torn jeans, streaked hair and beads, eyes closed, kneeling.
I skimmed across the courtyard to the natmandir, an open prayer hall ensconced by large, handsome pillars. It is said that Bhairavi Brahmini, one of Ramakrishna's spiritual teachers, proclaimed him as the Almighty's incarnation at this very spot. The afternoon air was languid and buzzing with the sound of the khanjani, although blunted by the breeze from the long-stemmed ceiling fans. To each his own, they say. Finding a perfect spot for romance, a young couple was locked in gaze in Bhabatarini's powerful presence.
My search for water brought me to an empty corridor. Some of the offices of the temple complex are located here, as is a water cooler. A canine lay there, undisturbed, in deepest comfort. This sanctum sanctorum, which forms the south and eastern boundaries of the courtyard, has several portraits hung on the walls. Some were recognisable — Khudiram, Preetilata, Madhusudan Dutt, Kabir, Krishna, Jesus, Kazi Nazrul, Mahavir, Rishi Aurobindo... I had to read the names of some others to identify them — Keshab Chandra Sen, Totapuri, Meerabai, Sadhak Byamakhyapa… There was also space for Max Muller, William Hastie, Roma Rola, Christopher Isherwood… and Tipu Sultan.
This place is but an organic amalgamation that defines itself in the eyes of the world, from the religious perspective. The 40 or so portraits were installed a decade ago by the Trust, in keeping with its standing as a symbol of 19th century Renaissance and its role in the freedom movement.
There has never been a better time to preserve that faith.