Anubrata appeal to allow '500 votes'
'I have only one request to you. We will poll 500 to 600 votes ourselves and please allow it. I am requesting you with folded hands'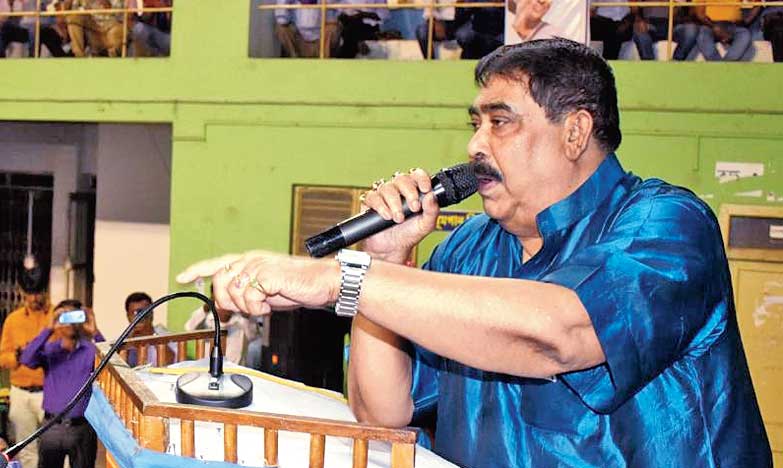 ---
|
Suri
|
Published 07.04.19, 07:21 PM
---
Birbhum district Trinamul chief Anubrata Mondal on Sunday asked school teachers, most of whom were requisitioned for election duty, "with folded hands" to allow party workers to "poll 500 to 600 votes" — a statement that prompted Opposition to allege that the ruling party was planning to rig the elections.
Speaking at a meeting of Trinamul's education cell in Suri, Mondal said: "I have only one request to you. We will poll 500 to 600 votes ourselves and please allow it. I am requesting you with folded hands."
Most of the teachers in the audience have been requisitioned by the Election Commission for poll duty and will man voting booths as presiding officers and other polling personnel.
Mondal also said: "There is nothing to be scared of. I will ask Pralay (Pralay Nayek, district president of Trinamul teachers' cell) to give you the (phone) numbers of respective block committee presidents. If you face any convenience, I will be responsible."
The BJP and the CPM said they would lodge complaints with the Election Commission on Monday.
Later, Mondal said: "I actually meant mock votes when I said 'polled votes'. I have requested them (teachers) to allow us to cast 500-600 mock votes."
A district official said every EVM was checked by casting 50 votes at a polling booth before the voting begins.
District magistrate Moumita Godara Basu said: "I have heard about the speech. I will take appropriate action after going through the video of the speech."