Anti-Agnipath protests turn ugly: Trains scrapped, 20,000 held up
Eastern Railway cancelled around 15 long-distance trains while the Northeast Frontier Railway (NFR) called off at least 12 trains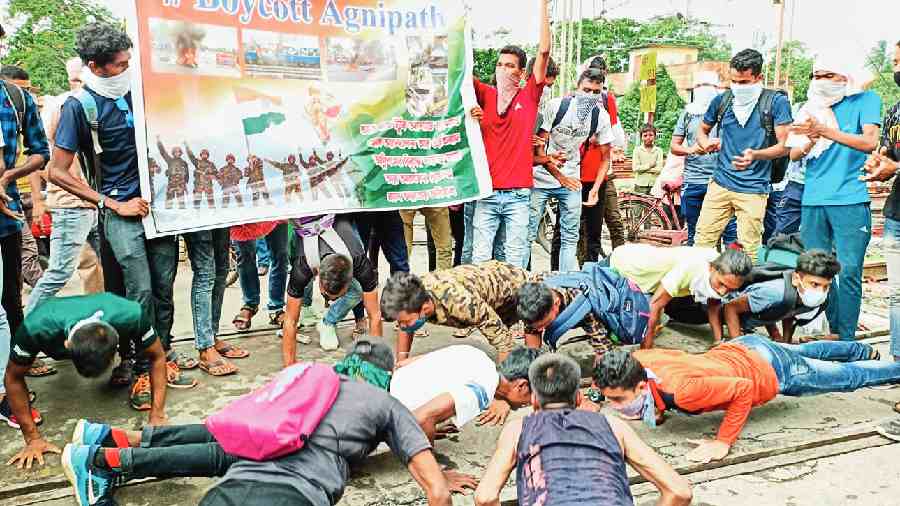 Protesters perform exercise at a level crossing near Barrackpore railway station in North 24-Parganas on Saturday.
Ankit Mukherjee
---
Siliguri
|
Published 19.06.22, 01:40 AM
|
---
Over 25 trains that pass through Bengal,  including the Rajdhani, were cancelled on Saturday because of the protests on tracks against the Agnipath recruitment scheme and the Bihar bandh, holding up more than 20,000 passengers at various stations.
Eastern Railway cancelled around 15 long-distance trains while the Northeast Frontier Railway (NFR) called off at least 12 trains. These trains connect various destinations in north, central and west India and pass through Bengal. The Rajdhanis that travel between Delhi and the Northeast were among those cancelled.
"The trains have been cancelled because of the agitation by youths at various stations of north and central India and the strike in Bihar. A number of trains have been torched in the past two days. Keeping in mind the safety of passengers as well as railway properties, the decision was taken to cancel the trains," an NFR official said.
Among some of the important trains that were cancelled were the Howrah-Kathgodam Bagh Express, Howrah-Jammu Tawi Himgiri Express, Malda Town-Delhi Farakka Express, Dibrugarh-Lalgarh Avadh Assam Express, New Jalpaiguri-New Delhi Express, Dibrugarh-Kanyakumari Vivek Express and the Delhi-Kamakhya Brahmaputra Mail.
At least 20,000 passengers who were supposed to take these trains have got stranded at stations such as Howrah, Sealdah, New Jalpaiguri, Guwahati and Burdwan. The passengers said they came to know about the cancellations only after reaching the stations. While some passengers protested and demanded that the trains be run with adequate security, others queued up at counters to cancel tickets and explore other travel options.
Mohammad Rahaman at Burdwan station said: "I reached the station to take the Jammu-Tawi Express but learnt that it had been cancelled. I work in a company that installs cellphone towers in Jammu. If train services do not return to normal soon, I'll have to take a flight as I have to join work."
In most stations across Bengal, from where these long-distance trains originate or have halts, the retiring rooms, platforms and foot overbridges were cramped with passengers.
At New Jalpaiguri, the largest junction in north Bengal, many tourists who had been to the Darjeeling hills squatted on the platforms or tried to book flight tickets or plan their return home on trains on other routes.
Ramesh Sharma, a Delhi resident who had been to Darjeeling with his family, said: "We have tickets for a Delhi-bound train but after reaching here we came to know that it has been cancelled. Some people are talking about flights from Bagdogra and I am trying to check out the fares and availability," he said.