Anit Thapa eyes civic elections to three hill towns
All three civic bodies are currently being run by state government appointed administrators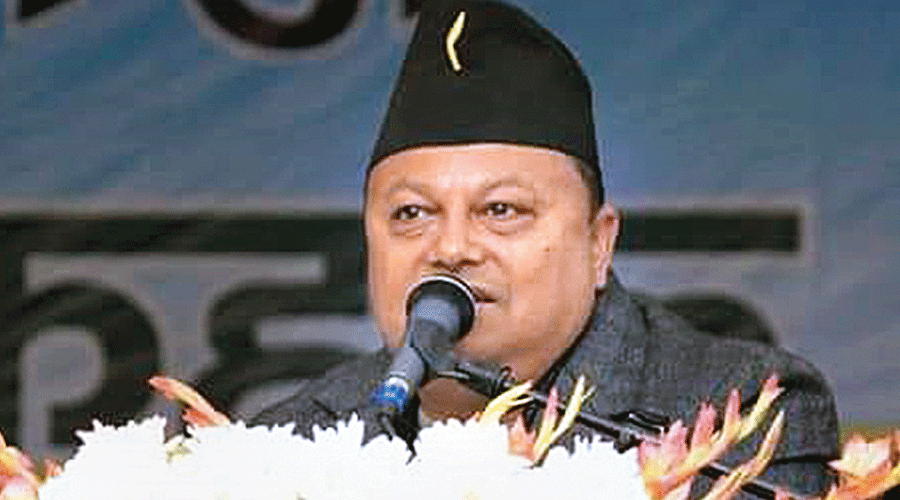 ---
Darjeeling
|
Published 24.08.22, 01:25 AM
|
---
The Bharatiya Gorkha Prajatantrik Morcha (BGPM) has cast its sights on elections to Kalimpong, Kurseong and Mirik civic bodies following its electoral success in the Gorkhaland Territorial Administration (GTA).
Party chief Anit Thapa is leading the charge and cheering party supporters to be prepared for polls as early as in September.
All three civic bodies are currently being run by state government appointed administrators.
Thapa, who is currently visiting Kalimpong for the first time after the GTA election win in June, said: "Civic elections in the hills can be held as early as in September."
Thapa's party, the BGPM, shares a cordial relationship with Bengal's ruling Trinamul Congress, and his statement is being taken with seriousness in hill politics.
The BGPM chief reached Kalimpong on Sunday and started holding a number of organisational meetings, especially with the youth wings, to strengthen the party. Thapa is also the chief executive of the GTA. Party sources maintain that the BGPM is hoping that their GTA win will help them win the three hill municipalities.
In 2017, the Mirik municipality was won by Trinamul and the BGPM is expected to go for an understanding with Trinamul in that civic body. In Kurseong and Kalimpong, when the BGPM was formed last year, the chairman and board members joined the new party.
"The party is eager to retain the Kurseong and Kalimpong civic bodies," said a party source.
Since 2017, Thapa's party had lost the Darjeeling Lok Sabha election and Darjeeling Assembly by-elections in 2019, Darjeeling Assembly seat in 2021 and Darjeeling municipality elections in 2022.
Darjeeling municipality was won by the newly formed Hamro Party, which is headed by Ajoy Edwards.
The win in the GTA elections, however, has made BGPM the most powerful political party in the hills at the moment.
However, in a surprise, Edwards's party on Sunday won the election of the managing committee of Shanti Rani High School in Sonada, 16km from Darjeeling town.
Addressing the winning members in Darjeeling on Monday, Edwards, however, stressed on the need to hold rural polls in the hills.
"The civic bodies are taking care of the urban bodies in the hills but rural areas too need much attention. We want elections to rural bodies to be held as soon as possible," said Edwards.
Elections to one tier gram panchayats were last held 22 years ago in 2000 across Darjeeling hills. The state government is looking at holding panchayat elections in the rest of Bengal by February next year. Many hill parties want rural polls to be held in Darjeeling hills along with the rest of the state.